My investment approach is based on what I learned from Warren Buffett. My aim is to buy pieces of companies that are trading for significantly less than the company is worth. To do that the first thing I have to be able to do is value a company with a reasonable level of precision. If I can't value a company, I can't know if its shares are undervalued.
And if I don't feel reasonably comfortable that a company's shares are undervalued, I'm not interested in owning it.
That value investing approach is one reason why for the most part I steer clear of companies exploring for resources. There is no way to know the value of an exploration prospect until the drill bit actually hits targeted depth. Up until then it is all probabilities and hunches, which is more like speculation than investing in my mind.
Pershing Gold - A Business Model Without Exploration Risk
My bias towards avoiding exploration risk is why Pershing Gold (NASDAQ:PGLC) interests me. Pershing's business model focuses on acquiring at bargain prices known deposits that have been "abandoned" or left behind for non-technical reasons. Pershing doesn't take exploration risk, it buys assets on the cheap that have been left unexploited by prior owners for reasons such as:
- Lack of sufficient landholdings
- Poor management
- Bankruptcy caused by an overleveraged balance sheet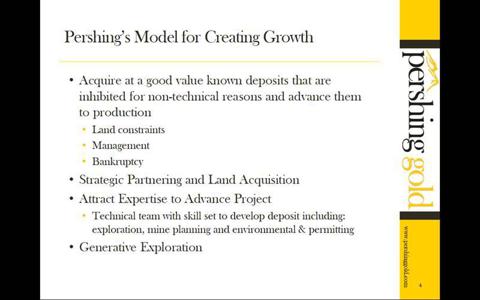 In its first major venture Pershing has acquired for a song The Relief Canyon Mine in Nevada out of bankruptcy. The mine has produced gold intermittently since 1984 and was abandoned when the prior owner ran into financial difficulties. Pershing has been consolidating land around the mine as it prepares it for a resumption of drilling and an expansion of the resource in place.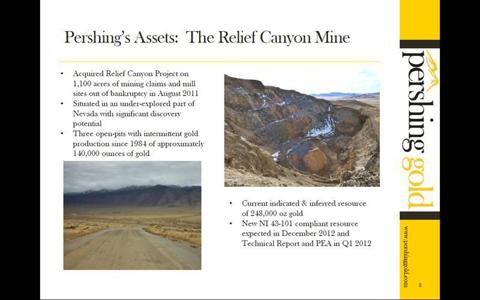 The People - Motivated With A Background of Success
In addition to liking the business model, I like the people/investors behind Pershing Gold.
CEO Stephen Alfers
In accepting the job of CEO at Pershing Gold, Mr. Alfers gave up a very high-ranking position (Chief of U.S. Operations) at the multi-billion dollar Franco-Nevada Corporation (NYSE:FNV). Alfers has 30 years of experience in the mining industry in Nevada, and his move from a comfortable high-paying job at a big company to this development stage entity indicates his level of belief in the project. You don't make a move like this to relax and collect a pay check, you do it to try and make a bundle of cash by growing a business.
Here is his bio from the Pershing website:
Stephen D. Alfers became PGC's Executive Chairman, President and Chief Executive Officer in March 2012. Prior to accepting this position with Pershing Gold Corporation f/k/a Sagebrush Gold, Ltd., Mr. Alfers was with Franco-Nevada Corporation (NYSE:) where he served as Chief of U.S. Operations from 2007 until the end of 2011. Before joining Franco-Nevada Corp, Mr. Alfers was President and CEO of NewWest Gold Corporation, where he developed a large portfolio of promising Nevada gold properties including Long Canyon, Sandman, and Northumberland.

A well recognized authority in the U.S. Mining Law, public land law, and mining transactions, Mr. Alfers' career includes twenty years of experience as a partner in several prestigious mining, oil and gas, and natural resource development law firms where he specialized in representing large, international mining and oil and gas clients. In his capacity as a mining law expert, Mr. Alfers has advised the United Nations, foreign governments, and Congressional committees. Mr. Alfers has extensive experience in developing and executing corporate financing arrangements, complex mining transactions, mergers and acquisitions, and in directing legal and government affairs.
Large Shareholder and Billionaire Philip Frost
Call me crazy, but I like to follow the smart money. I also like it when the company I own has some very deep pockets behind it in case something goes wrong and some financial assistance is required.
Pershing Gold has that with one Philip Frost who owns 19% of the company. Frost made his fortune by selling drug manufacturer Ivax to Teva Pharmaceuticals for $7.6 billion in 2005. As of September 2012, Forbes ranks Frost as number 190 on the Forbes 400 and pegs his net worth at $2.4 billion.
Having Frost's deep pockets behind the company should greatly increase the chances that access to capital is always going to be available. His big financial interest in the company also lends credibility to the project.
Coeur D'Alene (NYSE:CDE)
Coeur purchased almost 11 million shares of Pershing in a June private placement. Not only does Coeur bring deep pockets like Philip Frost, but its expertise in the mining sector is a further sign that the Relief Canyon mine is more than just another high-risk development. It also creates a natural acquirer of Pershing at some point out in the future.
Recent Insider Transactions
The Relief Canyon Mine currently has indicated and inferred resource of 248,000 oz. Pershing has indicated that it thinks that its new NI 43-101 Report will show an increase in that figure to 600,000 to 750,000 oz. That is a material piece of information that could change the value of Pershing's assets.
That new NI 43-101 is expected to be released any day now, which makes recent insider transactions if not noteworthy, at least interesting.
Large shareholder Frost sold some shares Dec 28, Dec 26 and Dec 21. These sales reduced the size of Frost's position in Pershing by about 6%, but given their timing immediately before year end with the "Fiscal Cliff" approaching I take them to be tax planning related and not a bearish view on the company.
On the other hand, over the past month Director Barry Honig invested well over $1 million of his own money buying Pershing shares here and here, which is very interesting given the imminent NI 43-101.
Any time an insider makes an acquisition I'm intrigued, when it is the kind of dollar amount involved in Honig's purchases I really sit up and pay attention.
Pershing could be a producing gold miner in a little over a year, if and when that occurs its share price could be materially adjusted higher.
Disclosure: I have no positions in any stocks mentioned, and no plans to initiate any positions within the next 72 hours. I wrote this article myself, and it expresses my own opinions. I am not receiving compensation for it (other than from Seeking Alpha). I have no business relationship with any company whose stock is mentioned in this article.