Today's daily chart discusses the various "types" offering advice in the investment arena. We say "types" because one can more or less categorize this human meat into four distinct groups: strategists, analysts, pundits and fools. That's not to say some aren't doing double duty: there are certainly analysts and strategists wearing clown hats, and punditry can often pass for genuine analysis; the combinations are virtually endless. But generally speaking, the categories hold – and this week we're showcasing the bunch to give you a sense of where the markets stand today and where they're headed.
Let's start with the analysts.
First off, if there ever was a group that needed analysis, it's the analysts. These poor saps suffer from the worst record of prognosticating on the street. Here are just a few tidbits to chew on: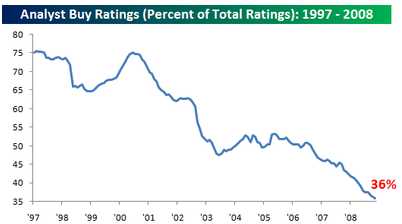 Go back ten years, through the dot.com bust and the subsequent unraveling of markets in 2000, and you won't find a time when Wall Street analysts were more shy about issuing a "buy" recommendation. At last reading, Bloomberg reported only 36% of stocks warranted a "buy" rating.
Wait a second. We thought "buy" recommendations were supposed to be more abundant at market bottoms and "sell" recommendations at market tops.
Apparently not.
Could it be that at their least bullish levels in the last decade (now), the analysts are signaling a major buying opportunity? Take a look below for potential confirmation:
Here are JP Morgan's calls on General Motors (GM) for the last five years. If there's such a thing as financial comedy, this is it. The firm's auto analyst was uncannily adept at issuing "buy" signals while GM was plummeting – and "holds" while it was moving sideways, waiting to plummet again!
Give this man a bonus.
As you can see, JP Morgan's most recent call on November 13th was a "hold" at just over three dollars. Might this be a precursor to GM's imminent demise?
From the Pathetic to the Poetic
Try this on: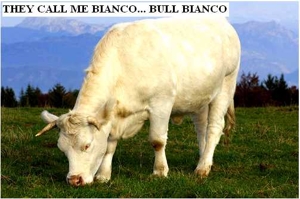 UBS analyst, David Bianco, in a move destined to land him as either dog or hero, has called for a 53% rise in stock prices next year. Says this bull in the whitest of clothing:
We believe 2009 will bring signs of a dawn in confidence with the first faint light appearing earlier than most investors expect.
Mr. Bianco. Poetic. We never knew you had it in you.
Whether the lad has things correct or not (and he just may), he is, at least, consistent. Word is that at this time last year he was prophesying similar outsized gains for the averages. OOPS!
The Sober Strategists
For some reason, the strategists are a much more sober bunch. Maybe because they have to account for more than just the workings of a single company or stock sector, or maybe because they're just plain smarter, the strategists usually get the bigger picture right and make their allocations more or less with wisdom.
Here are a couple of names in the investment strategist parade who've made (daring) calls of late. Sounds like they've worked through their issues – unlike the analysts in need of analysts mentioned above.
James Montier, Chief Strategist at French Financial Giant, Societe Generale, says
[The S&P 500 is] "distinctly cheap," [offering] "…a value investor's version of heaven. With all of these opportunities available I have never been more bullish! Will I be early? Almost certainly yes, but if I can find assets with attractive returns and I have a long time horizon I would be mad to turn them down.
Sounds like Monsieur Jimmy's excited.
Here's Barton Biggs, Head Strategist at Traxis Partners, who says,
I have no idea when the next bull market starts, but I do think we are setting up for the mother of all bear market rallies…
Why?
[T]here is compelling evidence that investors, hedge funds, pension and mutual funds, and the public are not just talking bearish, they have raised astounding amounts of cash.

Second, valuations are cheap. 4 per cent dividend return on the S&P 500 exceeds the yield on the ten and thirty year Treasury bonds for the first time in fifty years.

The Dow has had the steepest decline since the 1930s, and the spread between the price and the 200 day moving average at 34 per cent is the greatest since July 19, 1932.
Given your druthers, take the strategists.
What do we do with a useless pundit?
A funny thing: the Wall Street Journal's mega financial portal, WSJ Digital Network, features a column called "Outside the Box," penned by a chap called Howard Gold, whose writings, it turns out, are neither outside the box nor gold. Genius Gold revealed the following eye popping bit of financial…er, journalism under the title, Why I've turned bearish:
I wasn't struck by lightning. I didn't have an epiphany. Just the steady drip, drip, drip of bad news has turned me from my longstanding optimistic view on U.S. markets to a much more sober outlook for the next several years, an evolution that readers of this column may have observed over recent months.
To his credit, the know-nothing did have the wherewithal to point out his mistake, albeit unknowingly, when he said:
But isn't it a little late in the game to be turning bearish, after stocks are down more than 40%? Could my "surrender" be part of the capitulation that signals a market bottom?
No doubt it is, pundit. And for nailing your own stupidity right on the head we confer upon you the moniker, "bandit" – not pundit – the cross-eyed, squawking and useless sidekick of Jonny Quest (for those who remember).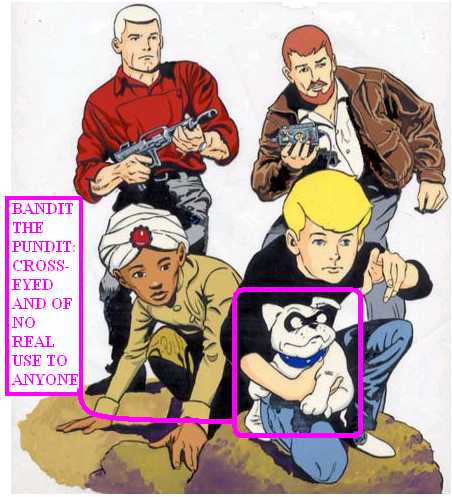 You also get the "fool" designation, thrown in free.
Where the hell are we?
Yes, dear reader, recession is now official, but:
The commodities crash has put cash in consumers' pockets, and
Another fiscal stimulus package is on the way via Pelosi and Obama, and
Direct aid to the mortgage markets is around the corner, and
The biggest infrastructure project since FDR is coming right at ya, and
That's eventually going to bring inflation, but
In the meantime the stock market's on the move.
Covered Calls All the Way Up
There's plenty of premium in the S&P 500 calls (SPY). Buy SPY and sell calls against them. The market may dance you up and out of them. But you'll be pocketing plenty on your zigzag to the moon.