Wednesday on CNBC's Fast Money, Toni Sacconaghi, Senior Analyst at Bernstein Research, gave his reasons for his buy rating on Hewlett-Packard (NYSE:HPQ) with a $29 price target. (CNBC video) Sacconaghi believes the sum of the parts for HPQ in a break-up is worth $30.
$29 would be more than a double from last year's closing price. Hewlett-Packard finished 2012 at $14.25 where I ranked it as number seven on my list of "Dow Stocks Ranked by Yield" for the 2013 Dogs of the Dow with a dividend yield of 3.72%.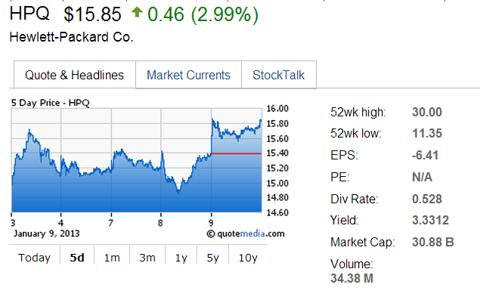 Why Toni Sacconaghi Expects HPQ to Nearly Double
Sacconaghi pointed out that HP's guidance for this year is $3.50. Thus, if they can show "any kind of growth" for 2014, then an 8 or 9 multiple gets you to the target without a break-up.
8 x $3.50 = $28.00
9 x $3.50 = $31.50
Sacconaghi says his "plan B" is HP's revenue continues to slide with no earnings growth which brings activist investors in who would break it up. He says they could sell the PC and printer business where the revenues and profits are currently falling, and be left with a very profitable business with $50B a year in revenue. His "sum of the parts" for the business based on these assumptions is $29.
Not everyone believes that breaking up HP is a good idea, especially the people running HP today. The argument used to merge so many different companies into the Goliath of HPQ today is there is synergy between the different pieces. This synergy was quite valuable not too long ago when the company was under Mark Hurd (between 2005-2010) and it reached the $50s.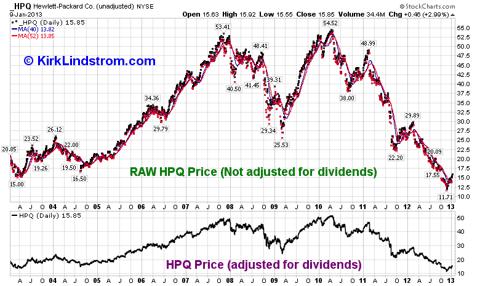 A Bargain Shopper's Dream
I agree with Toni Sacconaghi and added my first and only shares of HPQ to my newsletter explore portfolio last year at $14.50. I also bought some for my personal account which was the first time I bought HPQ since the 1990s. I wrote in other articles I sold about 95% of my personal shares long ago at much higher levels. This is what I sent to my subscribers last year via email with my HPQ Buy Alert:
"This is a NEW position for the explore portfolio. I may be too close to HP so I have not had it in my newsletter explore portfolio. I left 14 years ago so maybe enough time has passed. I haven't bought any shares of HPQ with my personal account since selling most of my shares at much, much higher levels.... until yesterday when I bought some in after hours at $14.91 then bought some more this morning at $14.40. This might be a rare opportunity to get shares under $15. If it keeps falling, then I will put an auto buy in the next newsletter for my next target."
And
"Too many people are negative on HP and it seems like that could be the final push to make a bottom. If it goes the way of Kodak, then it is a "value trap" with a PE now of about 5 and a 3.6% dividend yield.... but I feel buying shares now is similar to my taking some profits in HP back in 1993 to buy IBM at about $11 a share."
At Wednesday's close of $15.85, HPQ has a yield of 3.3%, a market cap of $30.9B and a PE of about 5 for this year and the next two years assuming zero growth. If they broke-up HP and gave away the printer and PC business, the profitable services and server business might be worth twice sales. Toni Sacconaghi estimated that business is $50B in sales. Twice that is $100B which is more than a triple.
Oracle (NASDAQ:ORCL) sells at over four times sales so buying the HP servers and service business with shares or cash could make a great deal of sense. If nothing else, it shows the value in the profitable business.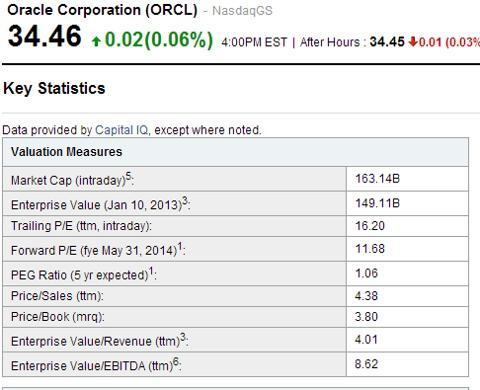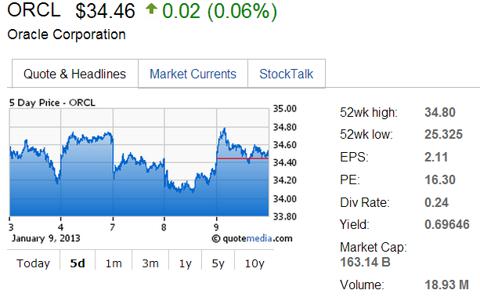 I have not decided if I will hold these new shares as a long-term investment or just a trade. HPQ was so hated last year that I think we should see a major rally just to get it back to reasonable valuation.
20 years ago when I was at HPQ, IBM (NYSE:IBM) fell in a similar fashion where investors thought stodgy old IBM missed the boat with PCs while HPQ was all the rage with PCs and printers. IBM fell to the teens where I bought shares at $11 and change. I sold some to lock in profits on the way up but hold the majority of those IBM shares today at $192. I think the odds are good HPQ will rise again but even a dead cat bounce to $20 should give nice gains.
Summary:
I worked at Hewlett-Packard for twenty years as an engineer/scientist in the R&D department starting as a summer intern in 1978. I have not purchased shares since working there and I sold most of them long ago at much higher prices. Now I think it is time to start buying again as there remains much value in the company, even if the mismanagement continues. In fact, I will probably use periods of weakness to add shares.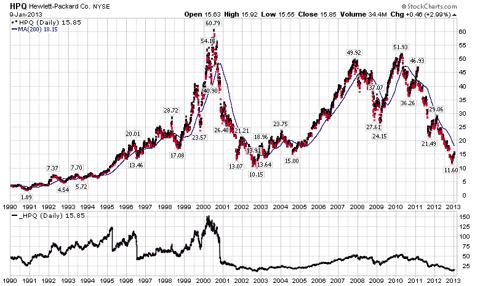 Note: HPQ on the chart is HPQ adjusted for dividends and spin offs (such as Agilent - A) while "_HPQ" is the raw share price.
Disclosure: I am long HPQ, IBM. I wrote this article myself, and it expresses my own opinions. I am not receiving compensation for it (other than from Seeking Alpha). I have no business relationship with any company whose stock is mentioned in this article.