Ford Motor Co. (NYSE:F) debt was upgraded to investment grade in May 2012. Since then Ford has issued several new corporate bonds, including $2B in new 30-year bonds that just hit the market:
| | | | |
| --- | --- | --- | --- |
| | issue date | price | yield |
| Ford Mtr Co Del Nt 4.75% 2043 cusip: 345370CQ1) call protected | 01/03/13 | $97.20 | 4.93% |
| Ford Mtr Co Del Deb 7.125% 2025 cusip: 345370BN9) call protected | 11/09/95 | $119.30 | 5.06% |
| Ford Motor Credit Company Fr 3% 2019, Survivor Option, Call 11/20/13@Par (cusip: 34540TDU3) | 11/26/12 | $100.60 | 2.28% |
| Ford Motor Credit Company Fr 3% 2017, Survivor Option, Call 08/20/13@Par (cusip: 34540TDC3) | 08/13/12 | $100.60 | 1.98% |
The 2043 and 2025 bonds are call protected and both yield around 5%. Ford's debt is around $100B, and the company has about $24B cash on hand. Ford bulls are quick to point out that the company also operates Ford Motor Credit, and part of the $100B debt is attributed to it.
The $2B in new Ford bonds will go towards refinancing and pensions. Last year the company offered to buyout approximately 98,000 former employees' monthly benefits. I spoke to Ford's investor relations, to inquire how much the liability was decreased by, Ford said:
We have not announced publicly the results yet, we will probably announce in the earnings call...
The results of Ford's pension buyout will be something to watch for on January 22nd, when Ford announces earnings. Last year Ford's pension plan was reported to be underfunded by $15.4B. More recently Ford's Q3 report announced:
Ford also made payments of $600 million to its worldwide funded pension plans. This included $500 million in discretionary payments to U.S. funded plans... Dividends paid in the quarter totaled nearly $200 million.
Ford Announces Redemption
On January 3, 2013 Ford announced they would redeem their 7.5% 2043 callable notes (cusip: 345370852).
The Notes were originally issued on June 25, 2003 in the aggregate principal amount of $690,000,000, of which $592,747,350 principal amount remains outstanding.
The new 30-year bond's 4.75% coupon is 36.6% less of a burden, than the 7.5% coupon notes. The new 30-year bond's 8-K summary states:
...we intend to use the net proceeds from the sale of the Notes to redeem higher cost outstanding debt and to accelerate contributions to our pension plans during 2013 to continue de-risking these pension plans.

One of the key priorities of our One Ford plan is to finance the plan and improve the balance sheet. With this offering, we are taking advantage of what we consider to be very favorable market conditions to issue low-cost, long-term debt to improve our balance sheet.

Our news release dated January 3, 2013, concerning redemption of our 7.50% Notes due June 10, 2043 is filed as Exhibit 99.2 to this report...
Ford Sales In Asia Looking Up
On January 7th Ford announced that sales in China were up over 40% in December.
Ford China set an annual sales record in 2012, selling 626,616 wholesale vehicles, up 21 percent from 519,390 wholesales in 2011
On January 8th the company announced that Ford Thailand's 2012 sales grew over 85%:
...full-year retail sales in 2012 up an extraordinary 88 percent from a year ago to 54,865 units
Ford faces competition from Toyota (NYSE:TM) and General Motors (NYSE:GM):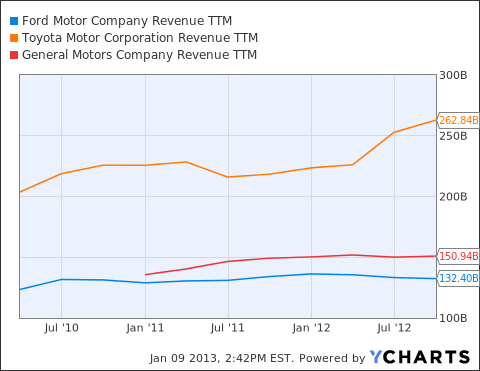 F Revenue TTM data by YCharts
Ford's revenue [ttm] is disappointing compared to General Motors and Toyota. To further put these companies into perspective compare their total employees and market cap:
| | | |
| --- | --- | --- |
| | employees | market cap |
| Ford Motor Co. | 164,000 | $51.3B |
| General Motors Co. | 213,000 | $46.9B |
| Toyota Motor Co. | 325,905 | $151.4B |
*Source: Yahoo! Finance
Ford's Valuation Allowance & Net Income Comparison
In 2011 Ford took a valuation allowance that made its net income appear to be very high. For investors unfamiliar with the term, a valuation allowance is explained as follows:
If a savings association believes a loan is uncollectible, it sets aside in the reserve account a portion of earnings equal to the difference between unpaid principal and the market value of the loan. If the loan is charged off as worthless, the institution writes down the loan portfolio and the reserve account by equal amounts.
Now take a look at the difference between Ford's net income [ttm] and net income quarterly: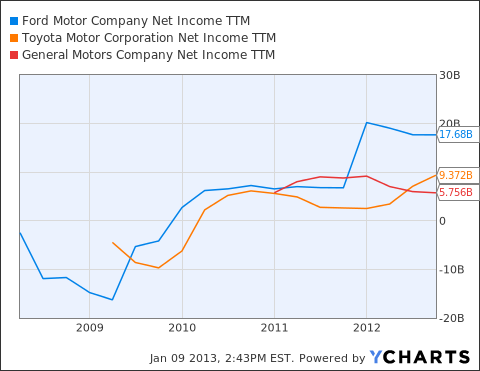 F Net Income TTM data by YCharts
At first glance it appears Ford is outperforming, except the quarterly graph shows a much different story: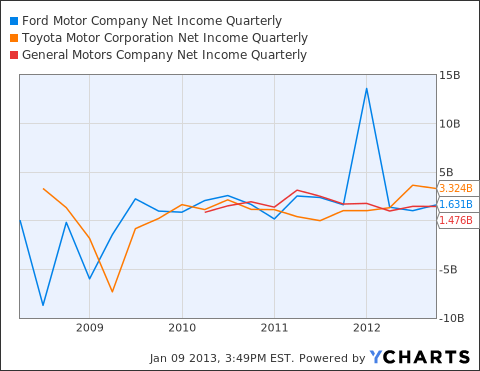 F Net Income Quarterly data by YCharts
The spike in net income is due to the valuation allowance; some accountants called foul:
Over half of Ford's net income is coming from the reversal of its deferred tax asset valuation allowances... Ford simply increased deferred tax assets by $11,541 and reduced income tax expense! Without this adjustment, net income would have been a more humble but realistic $8,672, more in line with 2010's

- Grumpy Old Accountants Blog
I asked Ford's investor relations about this and they stated:
There was an impact in 2011, but not in 2012... There was a sizable valuation adjustment in 2011… In 2011 we released almost all the valuation allowance against tax assets... it was a one time impact.
Both the critical accountants, and Ford's investor relations point out the valuation allowances were fully disclosed in the company's financial statements. In order to view the effect of the adjustment let's compare the quarterly net income to Ford's share price: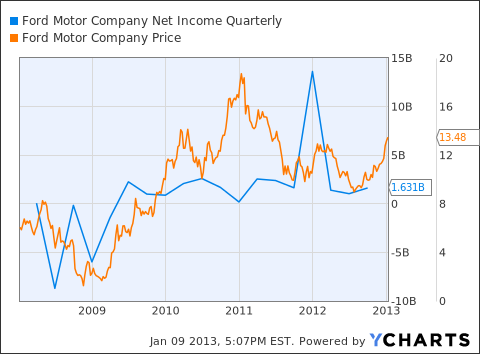 F Net Income Quarterly data by YCharts
The valuation allowance does appear to coincide with an uptick in the stock, followed by a downtick in the subsequent quarters. However, the recent trend upwards speaks to investor sentiment, independent of the valuation allowance. Notice the timing of the valuation allowance coincided with the bottom of a significant downtrend, post Ford's economic recovery.
Altman Z-Score & Beneish M-Score
Let's also look at these companies Altman Z-Scores. The Altman Z-Score uses the companies' working capital, retained earnings, EBITDA, market value of equity (relative to liabilities) and sales; to determine risk of bankruptcy. A score between 1.81 and 2.99 is considered to be in the grey zone, while scores under 1.81 are considered to be in the distress zone: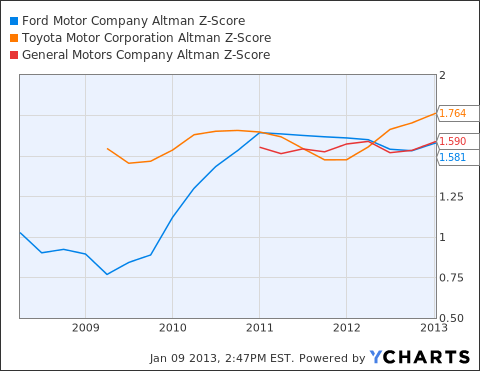 F Altman Z-Score data by YCharts
It is worth noting that currently Ford's Beneish M-Score is around -1.43. The Beneish M-Score is based on a formula created to try to, "uncover companies who are likely to be manipulating their reported earnings." Though, "Beneish excluded financial institutions from his sample when calculating the M-Score, so extreme care should be taken when looking at M-Scores of financial firms."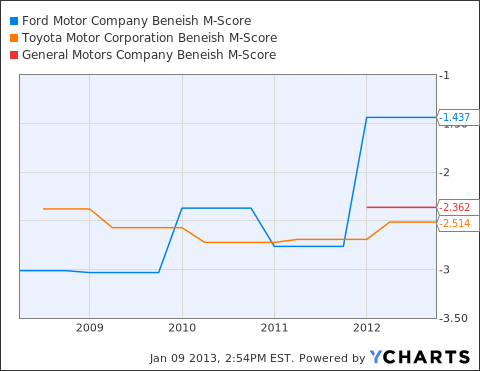 F Beneish M-Score data by YCharts
For instance, Berkshire Hathaway (NYSE:BRK.A) has a Beneish M-Score of -2.661. It appears the higher Beneish M-Score is related to the valuation allowance taken by Ford. Bloomberg reported on the valuation allowance:
Ford, the only major U.S. automaker to avoid bankruptcy in 2009, revealed in its Feb. 28 10-K filing that its valuation allowance at the end of 2010 was $15.7 billion... Once a company believes it has entered a sustained period of profitability, it must remove the item from its books - Robert Willens (corporate tax specialist)
For those still wondering exactly what the Beneish M-Score is, here it is in a nutshell:
Beneish found that firms that scored greater than -2.22 were more likely to be earnings manipulators. - Frank Voisin (Financial Blogger)

"This model consists of eight ratios that capture either financial statement distortions that can result from earnings manipulation... or indicate a predisposition to engage in earnings manipulation " - Messod D. Beneish 1999
Two ratios put the previous year over the prior year; here are the eight ratios:
Receivables / Total Sales [2013/2012]
Gross Profit / Total Sales [2012/2013]
(Non-Current Assets - PP&E) / Total Assets [2013/2012]
Total Sales [2013/2012]
Depreciation / (Depreciation + Net PP&E) [2012/2013]
SG&A (Selling, Gen. & Admin. Expenses) / Revenues [2013/2012]
(Working Capital - Cash) - Depreciation [2013/2012]
Total Debt / Total Assets [2013/2012]
Ford's distress zone Z-Score and high M-Score are certainly worrisome. Therefore it is important to allocate accordingly.
"Quality Means Doing it Right When No One is Looking"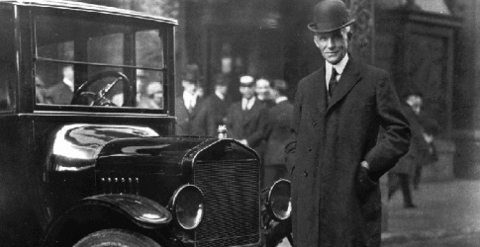 Henry T. Ford beside a Model T
Ford is an impressive brand, however, the industry is tough. While other auto companies cried for mercy, Ford maintained its ground; long-term shareholders, at least, held onto something.
There is certainly risk associated with Ford Corp. bonds. Investors might consider the more expensive Ford 2025 bonds, for their 5% yield and nearer maturity. Though investors with a longer term outlook, might enjoy the discount offered by the new 2043 bonds. Especially if they have profit or funds in an IRA with a 30-year target date.
Here is an example to consider, that also adds a small stock position, and an income fund. The mutual fund could be along the lines of Fidelity Strategic Income (FSICX), USAA Income (USAIX) [3,000 minimum,] or a retirement income like Vanguard Target Retirement Income (VTINX) [3,000 minimum.]
| | | | | |
| --- | --- | --- | --- | --- |
| portfolio size | 2043 Ford 4.75% / 2025 Ford 7.125% | Ford Stock price: $13.47 | Fixed Income Mutual Fund | total / % |
| $10,000 | $990 / $1,220 | $150 | $2,000 | $4,360 / 43% |
| $150,000 | $1,980 / $2,440 | $250 | $3,000 | $7,670 / 5.11% |
| $500,000 | $2,970 / $3,660 | $350 | $3,750 | $10,730 / 2.14% |
| $1M | $4,950 / $6,100 | $500 | $4,750 | $16,300 / 1.63% |
The smaller portfolio would lose more, if Ford's credit rating goes down, or the company experiences significant financial problems. Keep in mind the fact that Ford's pension program is underfunded, however, the company has made an effort to avert a failure.
When rates go up, bonds with lower coupons will go down. Currently the 30-year treasury rate is 3.06%, up 11% from 2.75% in mid-November 2012: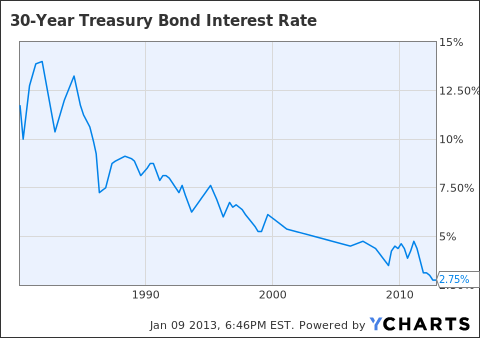 30-Year Treasury Bond Interest Rate data by YCharts
Ford Motor Co. jumped on the opportunity to lower its long-term interest payment obligation with these new bonds. The new 2043 Ford bonds offer a 61% greater yield than 30-year U.S. treasuries. However, rates are volatile; so consider phasing into (and diversifying) fixed income investment each year.
If you have any thoughts on Ford Motor Company's corporate bonds, please leave a comment below.
Disclosure: I am long F. I wrote this article myself, and it expresses my own opinions. I am not receiving compensation for it (other than from Seeking Alpha). I have no business relationship with any company whose stock is mentioned in this article.
Additional disclosure: I am long Ford corporate bonds. This article is not a recommendation to buy or sell, please consult a financial adviser to determine a proper allocation (if any) for your objectives.