The market is getting more and more confirmation that growth and demand from China is on the mend. News that Chinese exports surged in December just hit the wire. Exports were up in the mid double digits in the recently completed month. Imports were also up 6% for the month. Second, Morgan Stanley joined Goldman Sachs yesterday in recommending buying the Chinese market on their improved growth outlook. Finally, Alcoa (NYSE:AA) reported better expected revenues to kick off earnings season and had positive comments on Chinese demand as well. Obviously this is good news for cyclical sectors like mining and materials. It also should improve sentiment on many commodity based economies. Right now I am positive on two of these economies in South America. They are Colombia and Chile, both of which should grow faster than the United States this year and easily better than moribund Europe. Here are two ETFs to play this thesis. Global X FTSE Colombia 20 ETF (NYSEARCA:GXG) is an EFT that seeks to provide investment results that correspond generally to the price and yield performance, before fees and expenses, of the FTSE Colombia 20 Index.
Positives about Colombia:
The latest round of peace talks with the FARC indicates the security situation is further stabilizing within the country.
This improving security situation should be a positive for

oil and ga

s production which is already up 70% since the mid-20

00s.

The future of Hugo Chavez could turn out to be a major positive for trade between the two countries as well as declining financial support for the FARC.
The country should grow its GDP around 4.5% in 2013.
GXG Specifics:
Although the ETF is small (

just

less than $200mm in assets), its expense ratio is reasonable (.78%).
The ETF provides a current yield of just over 2%.
The companies within this Index ETF sell at less than 5x operating cash flow.
iShares MSCI Chile Investable Mkt Idx (NYSEARCA:ECH) - The investment seeks investment results that correspond generally to the price and yield performance, before fees and expenses, of the MSCI Chile Investable Market Index.
Positives about Chile:
The recent rise in copper prices is obviously good for one of the largest copper exporters in the world.
Its trade surplus is widening and GDP growth should clock in at between 4.25% and 5.25% in 2013.
Chile is stable, has solid regulations and low levels of corruption coupled with a particularly strong banking and finance sector. It is one of the most advance economies in Latin America.
After staying in a narrow range since late spring, this ETF has broken out recently and just crossed its 200 moving average (

see

chart).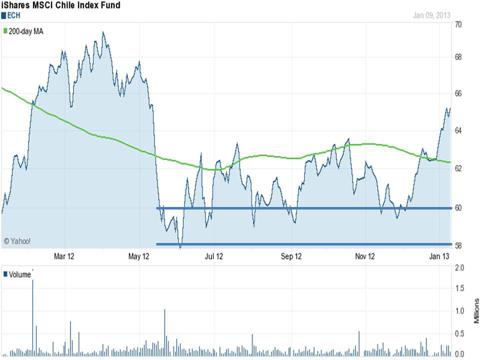 Click to enlarge
ECH Specifics:
This ETF yields a bit over 1.5% and has a three year Beta of under 1 (.84).
Its expense ratio is 61 basis points, slightly lower than the category average.
There are over $500mm in assets within the ETF and average daily volume is around 150,000 shares.
The companies within the index trade at an average of only 21% above book value.
Disclosure: I am long ECH. I wrote this article myself, and it expresses my own opinions. I am not receiving compensation for it (other than from Seeking Alpha). I have no business relationship with any company whose stock is mentioned in this article.