MusclePharm (MSLPD.OB) has had a rocky past. This is a young company, and management has made its share of mistakes. Yet, despite these financial missteps, MusclePharm is a company building brand awareness, developing sales channels, and growing revenue thanks to a product consumers appear to embrace. Now, with a new CFO and COO -- both of whom have substantial financial experience -- we expect continued revenue growth, but with greater fiscal discipline. In turn, we believe this could help the company deliver strong operating results that could be a catalyst for the shares.
Dramatic Revenue Growth: Founded in 2008 by former NFL star Brad Pyatt and headquartered in Denver, Colorado, MusclePharm develops and manufactures nutritional supplements that it sells through specialty resellers such as Dick's Sporting Goods (NYSE:DKS), GNC (NYSE:GNC), Vitamin Shoppe (NYSE:VSI) and Vitamin World among others, as well as through online retailers. MusclePharm has a market cap of only $11 million against $50.6 million of revenue generated in the first nine months of 2012. Impressively, that $50.6 million was up 365% year-over-year from only $10.9 million registered in the first nine months of 2011. If that run rate held in 4Q12, which we believe it did, the full year 2012 revenues should eclipse $67 million. That's a 319% CAGR in revenue from 2009 to 2012. Despite this impressive growth, MusclePharm shares trade at only 0.2x sales.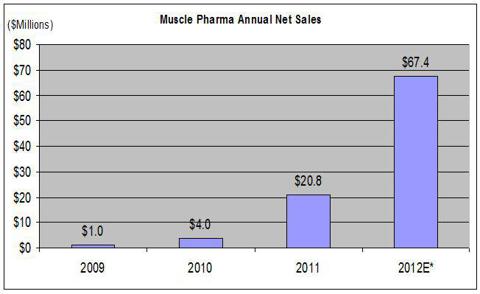 Source: Company reports except 2012E, which is Jan-Sept 2012 annualized.
Peers Trade Higher: While we do not know of any publicly traded companies that directly compete with MusclePharm, there are several that sell nutritional supplements, vitamins or energy drinks. As illustrated in the table below, shares of these firms trade at a significantly higher average price-to-sales multiple based on trialing twelve month (TTM) numbers. Excluding outliers such as Monster Beverage (NASDAQ:MNST), which trades at the group high of 4.3x, and Mannatech (NASDAQ:MTEX), which trades at the group low of 0.1x, their average multiple is 1.1x on this metric.
No Earnings or Cash Flow: In part, we believe MusclePharm shares have been constrained because the company has never generated a profit. MusclePharm has done a great job of growing revenue, and has been able to expand gross margins somewhat as well. Its gross margin widened to 13.8% in 2011, up from 12.4% in 2009. During the first nine months of 2012, gross margin stood at 20.2%, up from 18.7% in the same period of 2011. Margin expansion has been driven by growing scale and a change in manufacturing partner. In our view, MusclePharm could achieve even greater gross margin expansion by taking manufacturing in-house and limiting promotional pricing -- two initiatives we believe the company currently contemplates.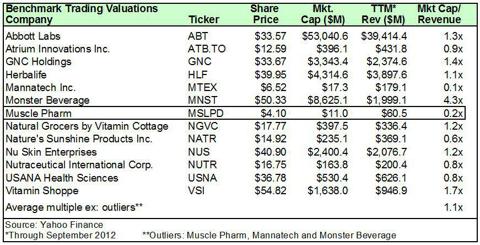 Heightened Focus on Efficiencies: Brad Pyatt founded the company in 2008, and has been its Chief Executive Officer since February 18, 2010. He was a professional athlete who played for the Indianapolis Colts from 2003 to 2005 and for the Miami Dolphins in 2006. Mr. Pyatt was able to successfully translate a good idea into an extremely popular brand. However, like many other entrepreneurial start-ups, the company could not manage the cost side of its business.
Recent initiatives would suggest that MusclePharm recognizes this and has taken steps to address the problem. In July 2012, MusclePharm hired L. Gary Davis as CFO. Mr. Davis is a CPA who has extensive financial and accounting experience, as well as specific industry experience, as from November 2004 to January 2010, he was EVP and CFO of Bodybuilding.com.
The company also hired a new COO, John Bluher, in September 2011. Mr. Bluher also has substantial financial experience, having been Chief Legal Officer of Neuberger Berman from December 2007 to May 2009. The press release announcing his hire notes that his "long-range goals are to help with budgeting, managing MSLPs capital structure, structure departments as the company grows, develop control processes, and assist in developing supply chain management and inventory controls."
In the past, G&A (general and administrative) expense has been disproportionately high for a company this size. In 2011, for instance, G&A expenses of $18.6 million exceeded revenue of $17.2 million. Through September 2012, G&A expense had more than doubled to $16.4 million from $7.4 million.
G&A costs have been driven, in part, by promotional efforts, including endorsement deals. The company signed a two-year partnership agreement with the UFC (Ultimate Fighting Championship) in September 2011. The MusclePharm logo is prominently featured on the UFC website. The company also announced endorsement deals with Philadelphia Eagles quarterback Michael Vick in July 2011, San Francisco 49er linebacker Patrick Willis in January 2012, and Washington Nationals outfielder Bryce Harper in May 2012. These deals have helped drive the strong growth noted above, but also drove expenses. For example, the deal with Michael Vick was for three years for $1.55 million.
Going forward, the company plans to hold promotional costs at roughly 6% of total revenue. If MusclePharm sticks to this strategy, we believe it can make a big difference in operating results as revenue continues to grow. Plus, with strong brand awareness comes pricing flexibility. Our limited store checks show prominent product placement at many retail outlets. Three MusclePharm products -- Combat Powder, Assault and AMINO1 -- are among the top six bestsellers on bodybuilding.com.
MusclePharm has also had some one-time charges that have constrained margins. We believe that in the first nine months of 2012, there was approximately $6.0 million of one-time charges, with some related to professional fees for financing, legal fees, and accounting restatements. We believe operating results will also benefit, as one-time expenses related to right-sizing and restructuring the company are non-recurring.
With greater attention on cost containment and a reinforced executive team focused on improving operating results, we are optimistic that if the company stays the course, it can achieve strong operating results over time. We are already seeing signs of this now. During the first nine months of 2012, salaries and benefits were 6% of net sales versus 12% in the same period of 2011. The company intends to maintain that metric at 6% going forward, which we believe will help improve profitability as revenue continues to ramp. In a conversation we had last month, management indicated that top executives across the board -- including the CEO -- had all agreed to salary reductions.
Stronger Balance Sheet: MusclePharm has also begun to strengthen its balance sheet. The company converted almost all outstanding warrants into common shares during the third quarter of 2012. As a result, management does not expect to record high derivative related charges going forward. On December 4, 2012, MusclePharm entered into a $1.0 million bridge loan and concurrent subscription agreement with six subscribers to issue $1.0 million of promissory notes due January 18, 2013 and 50,000 common shares. If the company cannot repay the promissory note at maturity later this month, the default interest rate would be 12% annually. However, the company filed a registration statement on December 31, 2012 to sell 1.5 million shares of convertible preferred stock. MusclePharm hopes to raise an aggregate $13.65 million through this offering, which would strengthen its balance sheet greatly.
As a result of the initiatives outlined above, MusclePharm reduced its stockholders' deficit from $11.0 million at the end of second quarter 2012 to $7.3 million at the end of third quarter 2012, and its derivative liabilities decreased from $7.9 million to a measly $24,889 over the same period. Importantly, following the convertible preferred stock issuance, pro forma stockholders' equity would go to $4.2 million from the above noted $7.3 million deficit (see figure below). This is an important change, as we believe MusclePharm aspires to an exchange listing. Following a November 26, 2012 1-for-850 reverse stock split, the shares have traded above the $4.00 level, which will help with the exchange listing.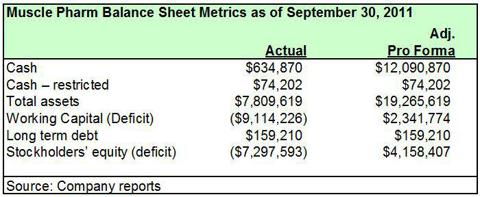 Industry Expansion Supports Continued Growth: Heading into 2013 with a strong product portfolio, cost containment focus and clean balance sheet, we believe this could be a turnaround year for the company. Moreover, the company has solid industry dynamics to support continued growth. According to Nutrition Business Journal, the nutritional supplements industry generated over $30 billion in sales in 2011, up from $28.1 billion in 2010 and $25.0 billion in 2009. The industry is anticipated to grow at an average annual rate of about 6.0% through 2020. Nutrition Business Journal places sports nutrition products at approximately 12% of total domestic sales, and the category is expected to grow at a 9.1% CAGR in 2012-20. MusclePharm is well positioned within the sector, in our view. The company notes that its products are the only body building enhancement products that are both NSF and Informed Choice certified (http://www.musclepharm.com/about-us).
Online and international sales are growing, and we believe both channels offer continued expansion opportunities. International sales increased more than 5-fold to $17.4 million during the first nine months of 2012, up from only $2.8 million in the same period of 2011. Nevertheless, at only 34.4% of total sales, we believe there is still considerable upside from international markets, particularly as such nutritional supplements are gaining popularity worldwide. Management has indicated that it believes international could grow by 50% in the near-term and online by 10-20%. We believe there are still strong growth prospects for MusclePharm within the bricks-and-mortar specialty retail channel, as well. The company recently hired new sales representatives to focus on specialty retailers where it believes it could have greater market penetration.
Conclusion - Cost Containment Key: We believe if the company executes on its strategy of continued growth with strict cost controls and maintains a strong balance sheet, there is significant upside value in the shares simply based on the ridiculously low valuation. Although unforeseen cost bumps, particularly with respect to raw material costs, pose a risk, we are pleased to see management taking the right step to reduce costs and maintain revenue growth. This is clearly a company with a checkered past, and an investment in MusclePharm now takes a leap of faith. But upside could be significant, and we will be watching closely for a breakout in 2013.
Disclosure: I have no positions in any stocks mentioned, and no plans to initiate any positions within the next 72 hours. I wrote this article myself, and it expresses my own opinions. I am not receiving compensation for it (other than from Seeking Alpha). I have no business relationship with any company whose stock is mentioned in this article.