By comparing the performance of the SPDR S&P 500 Index Trust ETF (NYSEARCA:SPY) to its 9 component sector Spyders, investors can sometimes obtain clues to how the economy will perform in the near future. In this article I want to highlight how two of the sector ETFs, both underperformers, are sending a consistent, in fact an optimistic, message about the economy for 2013.
The two lagging sectors are consumer staples, and utilities, represented by the SPDR Staples (NYSEARCA:XLP) and Utilities (NYSEARCA:XLU) ETFs, respectively.
After a post election sharp selloff, stock prices reached a bottom on November 16th and have rallied ever since. But notice how these two sectors have fallen behind steadily over the last 7 weeks.
source: www.bigcharts.com
Both of these sectors, with their slow growth, high dividend yields (4.54% for utilities, 4.46% for staples, both well above the 2.79% for the broad market) and recession resistant businesses, offer investors "shelter from the storm:" protection against recession induced market selloffs.
That these two sectors are underperforming, therefore, hints at the opposite: No storm is coming. The economy is doing well and will continue to do well in the future.
But couldn't consumer staples just be a victim of higher payroll taxation in the "fiscal cliff" compromise? Well, if that is the case, medical care and medical devices, which are also specific targets of higher taxes in 2013, should also be laggards. But they are not. If you look at the SPDR Health Care Sector (NYSEARCA:XLV) and iShares Dow Jones Medical Devices ETF (NYSEARCA:IHI), you see not a hint of underperformance: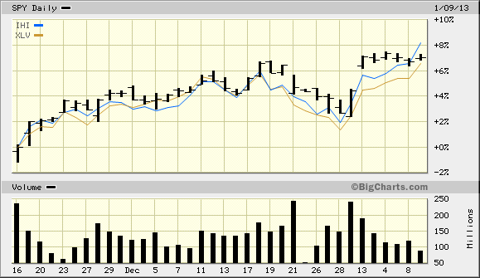 In fact, given that both of these sector ETFs have betas that are below the 1.00 for the market as a whole (.82 for IHI, .60 for XLV), that they have kept pace with the SPY makes an even STRONGER case for their performance. So the issue is not taxes: the aforementioned XLP is underperforming because investors are seeking a higher growth sector.
Much the same can be said for the utilities, XLU. If economic growth is bright for 2013, we would expect interest rates to rise, making the XLU, which trades on its yield as a proxy for bonds, sell off. In fact this is confirmed by a selloff in government bonds over this same time period. Compare SPY to the iShares Trust 20+ Year Treasury Bond ETF (NYSEARCA:TLT).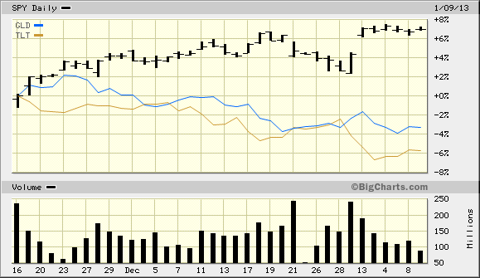 Why did I include the SPDR Gold Trust ETF (NYSEARCA:GLD) on the chart? To drive the last nail in the coffin. Utilities and bonds are not selling off because of inflation fears: if they were, gold prices would not be laggards, either. But they are. In fact they are actually falling!
The conclusion is clear: 2013 will bring higher growth at stable prices, an ideal environment for long-term investors. Continue to monitor this constellation of ETF behaviors to see if the story changes as the year progresses.
Disclosure: I am long SPY, IHI, XLV. I wrote this article myself, and it expresses my own opinions. I am not receiving compensation for it (other than from Seeking Alpha). I have no business relationship with any company whose stock is mentioned in this article.