Halcón Resources' (NYSE:HK) Chairman and CEO Floyd Wilson participated on a panel during the Goldman Sachs 2013 Global Energy Conference held on Tuesday. You can view the slide presentation here.
Also making news this week was Halcon's announcement of an additional $600 million private offering of senior unsecured notes:
HOUSTON, TEXAS, Jan. 9, 2013 (GLOBE NEWSWIRE) -- Halcón Resources Corporation ("Halcón" or the "Company") today announced that it has priced an additional $600 million in aggregate principal amount of its 8.875% senior unsecured notes due 2021 in a private offering at an issue price of 105.000% of par. The add-on offering of senior notes was upsized from the previously announced $400 million aggregate principal amount. The senior notes are being offered as additional notes to the $750 million aggregate principal amount of 8.875% senior notes due 2021 that the Company sold in a private offering on November 6, 2012. The additional senior notes and the notes issued on November 6, 2012 will be treated as a single class of debt securities and will have identical terms, other than the issue date.

Halcón intends to use the net proceeds from the offering to repay outstanding indebtedness under its senior secured revolving credit facility and for general corporate purposes, including to fund a portion of the Company's 2013 capital expenditure program.
The market has responded positively to both events, with HK up close to 7% so far this week.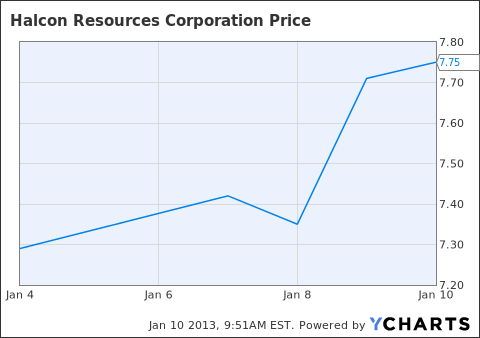 This brings the stock's total gain to over 20% since my article Halcón Resources Could Hit $12/Share in 2013; Much More On A Buyout was published back on Dec. 5, 2012. That's a big move in just over one month, and it begs the question: is it time to take some profits?
As tempting as it may be to book some gains, there are several technical reasons why it might be prudent to hang on to the stock. First, the run-up this week has come on increasing volume. The stock had been trading around 3 million shares/day. The last two days have seen volume spike up to over 5 million shares/day.
Secondly, as we take a look at the 1-year chart below, it is clear HK has bounced strongly off its recent low of $5.26 back in Nov. 2012.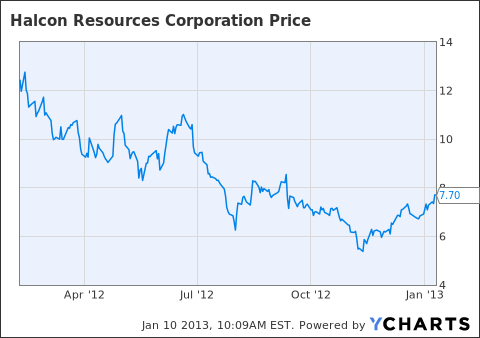 That low was hit after a steep decline from $12/share as the company went on an acquisition spree. In one year, the company took over GeoResources Inc. and made large purchases of Williston Basin and East Texas assets. The stock drop in 2012 obviously reflected investor concern over the additional debt taken on as a result of these purchases.
However, late in 2012 sentiment began to change. Halcón CEO Floyd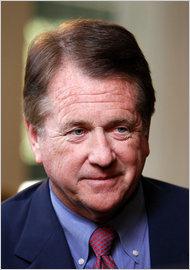 Wilson is an experienced and well regarded oil-man who has had several well documented success stories - most recently the $12.1 billion sale of PetroHawk to BHP Billiton (NYSE:BHP). Wilson started PetroHawk with $60 million and, similar to Halcón Resources, was very creative in terms of tapping capital to fund exploitation of acquired assets. So a bet on Halcón is partly a bet on Wilson and his management team's ability to repeat that performance. So far, HK has assembled an impressive portfolio of oil and gas properties (predominately oil). It will be very interesting to watch HK's progress exploiting these assets in 2013.
The company has a core set of high quality properties which are described in this slide from the Goldman Sachs conference:
Click to enlarge
The Bakken/Three Forks, Woodbine/Eagle Ford, and Utica/Point Pleasant plays are fairly well-known quantities with the latter being the least understood. But Halcon's portfolio also includes several positions in what I would call wildcat plays:
Mississippi Lime
Tuscaloosa Marine Shale (TMS)
Midway/Navarro
Wilcox
Investors should keep an eye on drill-bit results from these plays throughout 2013.
On the operations side, the company has several positives going for it:
Significant hedges in place for 2013 at an average floor price of $90.68/barrel and $3.84/Mcf. Target is to hedge up to 80% of expected production over next 18-24 months. These provide significant cash flow protection. (see the GS slides for more info)
The pending sale of its 24,000 high-quality acres in the Eagle Ford (as required by a non-compete agreement) will provide a significant cash infusion. This divestment should happen soon.
Production guidance for 2013 is 40-45,000 Boe/day compared to a Q4 2012 estimate of 17-20,000 Boe/day.
2013 lease operating expenses, on a per barrel basis, are expected to be about half of 2012 expenses.
The expected growth in production can be summarized by this slide from the Goldman conference: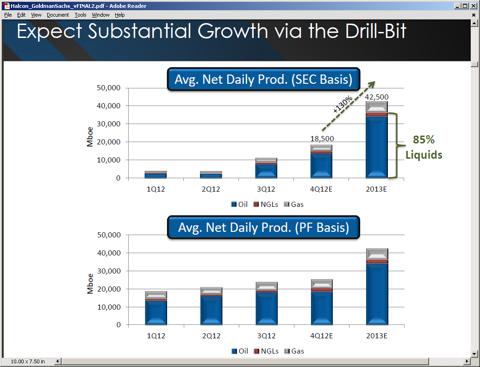 Click to enlarge
In summary, HK has had a nice run from its low in 2012. Although the company has taken on significant debt to fund exploitation of its properties, the management team has done this before and has assembled an excellent portfolio of properties to work with. I am holding on for further gains, and look forward to the company's Q4 2012 earnings report due on or around February 28.
Disclosure: I am long HK. I wrote this article myself, and it expresses my own opinions. I am not receiving compensation for it (other than from Seeking Alpha). I have no business relationship with any company whose stock is mentioned in this article.
Additional disclosure: I am an engineer, not a CFA. Please do your own research and contact your investment adviser. I am not responsible for investment decisions you make. Thanks for reading and good luck!