"Human beings are going to be relying on natural resources for a long time." - Gale Norton
So far so good on the global risk-on front, as fears over the end of the Euro (NYSEARCA:FXE), Fiscal Cliff and Mayan apocalypse have receded and hope builds for a better global economic environment in 2013. Our ATAC models used for managing our mutual fund and separate accounts continue to suggest a favorable period in the near-term for risk assets. Equities have thus far continued to act in a resilient way, and compared to bonds (NYSEARCA:TLT) remain a more attractive asset class until enough appreciation has taken place to reverse relative valuations. If indeed this will be the year of capital appreciation, then the risk-on/risk-off paradigm changes to one more focused on risk-rotation, with various countries and sectors outperforming at different times throughout the year.
The two major areas which have been a major disappointment in terms of keeping up with the advance in most broad market averages are Energy (NYSEARCA:XLE) and Materials (NYSEARCA:XLB). Underperformance in these sectors may have been due to downward pressure on global demand last year, combined with increased supply on the Oil (NYSEARCA:USO) and Natural Gas (NYSEARCA:UNG) front. However, everything goes through cycles. With China appearing to roar back in terms of exports and interest in Chinese equities (NYSEARCA:FXI) increasing, natural resource stocks could begin to react in a lagged fashion.
Take a look below at the price ratio of the iShares Natural Resources ETF (NYSEARCA:IGE) relative to the S&P 500 (NYSEARCA:SPY). As a reminder, a rising price ratio means the numerator/IGE is outperforming (up more/down less) the denominator/SPY.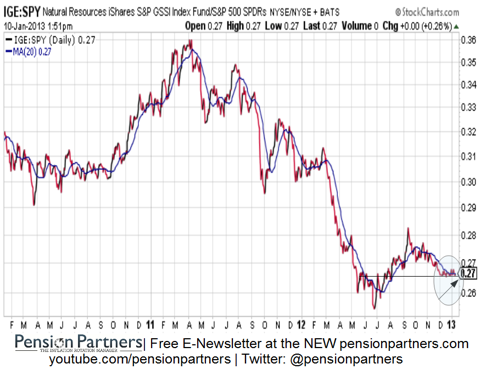 I've chosen this ETF as a proxy because it consists of commodity sensitive stocks, with a large overweight to energy. Clearly the area has massively underperformed since the deflation pulse of 2011 began to beat, severely underperforming in 2012. It appears that recent price action is signaling stabilization is at hand given that the ratio is sitting right around support of 0.27. I suspect outperformance will soon come as money continue to get excited about a China industrial comeback in 2013, which should at the margin increase investor demand for commodity stocks. After all, that which lags for an extended period of time is more likely to lead with every day that passes, especially when the world's second largest economy is re-accelerating.
Disclosure: I have no positions in any stocks mentioned, and no plans to initiate any positions within the next 72 hours. I wrote this article myself, and it expresses my own opinions. I am not receiving compensation for it (other than from Seeking Alpha). I have no business relationship with any company whose stock is mentioned in this article.
Additional disclosure: This writing is for informational purposes only and does not constitute an offer to sell, a solicitation to buy, or a recommendation regarding any securities transaction, or as an offer to provide advisory or other services by Pension Partners, LLC in any jurisdiction in which such offer, solicitation, purchase or sale would be unlawful under the securities laws of such jurisdiction. The information contained in this writing should not be construed as financial or investment advice on any subject matter. Pension Partners, LLC expressly disclaims all liability in respect to actions taken based on any or all of the information on this writing.