Dominion Resources (NYSE:D) is one of the nation's largest producers and transporters of energy, with a portfolio of approximately 27,400 megawatts of generation, 11,000 miles of natural gas transmission, gathering and storage pipeline and 6,300 miles of electric transmission lines. Dominion operates one of the nation's largest natural gas storage systems with 947 billion cubic feet of storage capacity. Dominion offers a $0.5275 quarterly dividend per share. At the current price of $52.09, the stock has a dividend yield of 4.0%.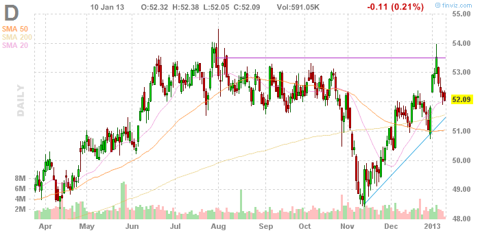 Dominion has slowly been reducing its exposure to commodities and shifting its operating earnings mix toward regulated enterprises. During 2007, Dominion sold the majority of its natural gas and oil exploration and production properties as part of the company's strategic refocusing on its power generation and energy distribution, transmission, storage and retail businesses. The company sold about 5.5 Tcfe for approximately $13.9 billion. Dominion retained its Appalachian E&P operations, which include approximately 1 Tcfe of proved reserves as of 31, 2006.
Reported earnings for Dominion has declined in Q3 2012 related to a $297 million loss related to the planned shutdown of the Kewaunee nuclear merchant power station. Reported earnings for the nine months ended September 30 came in at $961 million, or $1.68 per share. Operating earnings, which exclude some of these charges, came in at $1.35 billion, or $2.36 per share. Q4 2012 EPS is expected to be $0.70. FY 2013 EPS is expected grow 10.5%,to $3.38.
Dominion announced on Dec. 18, 2012, that the expected 2013 dividend rate would increase 6.6% to $0.5625 per share for Q1 2013. This would mark the 10th consecutive year in which the annual dividend rate rose from the prior year. The annual dividend rate has increased 63% since 2006. At current prices, this dividend would represent a yield of $4.3%. However, the stock price may have gotten a tad ahead of the dividend, with the current yield of 4% at the low end of where it has been over the last 5 years. The dividend increase should make the yield more in line with its historical norm.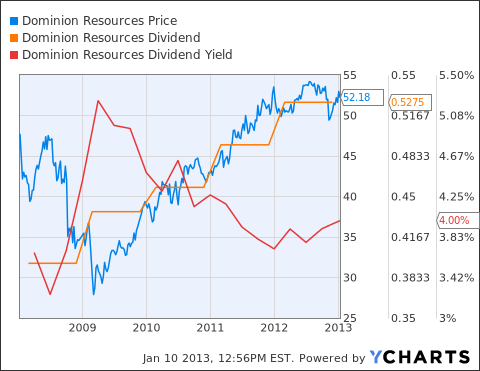 Dominion's TTM payout ratio has recently gone above 100%. However, this can be attributed to the charges related to the Kewaunee nuclear station closing. Management has indicated the future dividend payout ratio will be between 65 to 70%.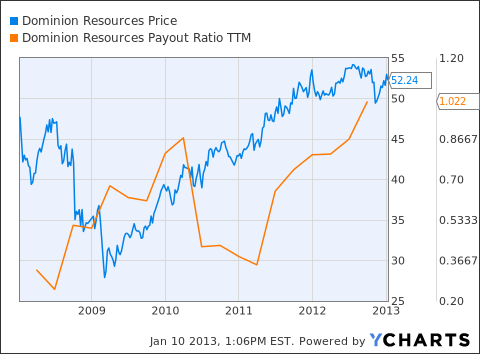 One worrying trend for Dominion is its increasing debt. Net financial debt has increased 27% in 5 years, to $20.9 billion as of Q3 2012. Dominion's debt to equity ratio is also fairly high, at 1.7X.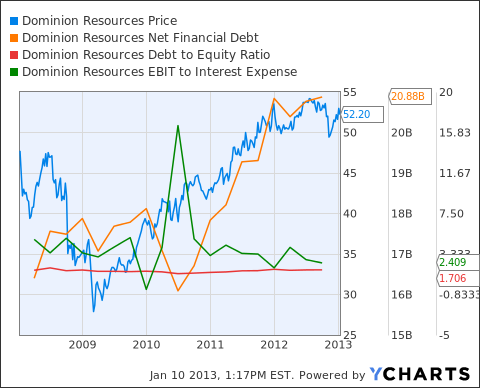 Dominion has offered one of the fastest dividend growth rates among utilities. Dominion should soon announce its new dividend sometime this month. However, the high debt load is a risk for this stock. In my opinion, Dominion is one of the safer utilities to own, with nearly 70% of its operating EBITDA coming from regulated businesses. Its stock price is also very stable, only twice dropping below $50 in 2012 and then quickly recovering. The 52-week range for the stock price is from $46.94 to $54.50, or only about 15%. Few stocks can offer than kind of stability. For income investors, Dominion is a buy at or below $50.
Disclosure: I have no positions in any stocks mentioned, and no plans to initiate any positions within the next 72 hours. I wrote this article myself, and it expresses my own opinions. I am not receiving compensation for it (other than from Seeking Alpha). I have no business relationship with any company whose stock is mentioned in this article.