Despite sickness in the economy and in individual companies in the sector like EA (ERTS) and Midway (MWY) (more here), the broader video game industry's retail heartbeat is pulsing strong and steady. For the second month in a row, NPD Group's retail survey shows above average health.
Year over year, total sales for November were up 10% to $2.91b. Hardware and software categories saw near equal growth with software up 11% and hardware up 10%.
The sales results were easily good enough to best analyst projections of sales gains in the range of 5% to 7%. Impressively, if adjusted to normalize for the different number of post-Thanksgiving sales days between the two years (Thanksgiving was Nov. 22, in 2007, and Nov. 27 this year), they'd have been even better.
In the hardware category, the leading story for the month was Nintendo (OTCPK:NTDOY). The company's products represented 66% of all hardware sales. Thanks to inventory adjustments and expanded supply, a record 2.04million Wiis were sold. For the console, it was Nintendo's best non-December month of all time.
Nintendo-of-America president Reggie Fils-Aime characterized the performance as "phenomenal." The total Wii sell-through was good enough beat the combined sales of both the Xbox 360 and PS3 by a factor of nearly two to one. Life to date, 15.4 million Wiis have been sold in the U.S.
In the portables group, the November tally was similarly impressive for Nintendo's DS. Rebounding from weaker sales last month (portable category sales were off 14% in October), Nintendo sold 1.57million DS units in November, equal to 79% of total monthly portable sales. Sony's (NYSE:SNE) rival PSP sold 421k units.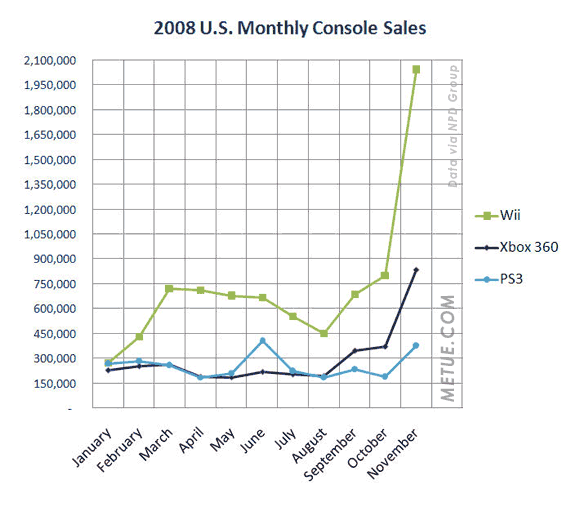 Nintendo's particular success notwithstanding, November sales were good for all manufacturers. Microsoft (NASDAQ:MSFT) set its own record with 836k Xbox 360 units sold and Sony saw an almost 100% gain over October with 378k units, enough for year to date hardware sales growth of better than 60%. (See the above chart for more detail on year to date sales across console platforms.)
In the software category, sales for the month were reasonably well distributed among platforms, but Xbox titles took the top slots by a solid margin. Microsoft's Gears of War 2 finished first with 1.56m units and Activision Blizzard's (NASDAQ:ATVI) Xbox 360 version of Call of Duty: World at War finished second with 1.41m units. (Xbox 360 titles also performed well in October finishing first and third).
Across platforms, the Call of Duty sequel was the month's bestseller, with just over 2 million combined units (Xbox 360 and PS3). The title, mixed with Guitar Hero: World Tour for the Wii, gave Activision the month's side trophy for top third-party game publisher. EA, which had warned of weaker than expected holiday sales, only broke into the top ten with Left 4 Dead which finished eighth.
The middle of the month's software top ten list belonged to Nintendo with Wii Fit, Wii Play and Mario Kart sliding in third to fifth. Wii Music also broke into the top ten - putting two Wii rhythm/music titles into the top ten. (Showing possible saturation of the market, no music games finished in October's top results).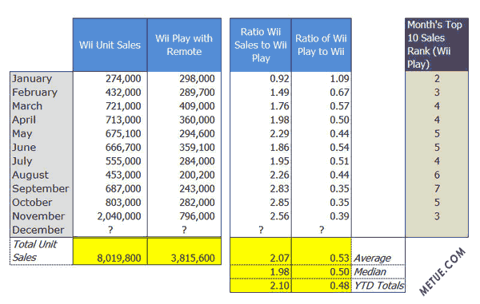 Among Nintendo's successes, Wii Play, the game bundle Nintendo sells with a second controller for the Wii, may deserve particular mention. The product has broken the top ten software list every month of the year. Based on Metue analysis of NPD data, as shown in the above table, nearly one of every two Wii buyers seems to also pick up the Wii Play. This consistent sales rate suggests, beyond hardware and game design, that Nintendo's doing a particularly good job in product marketing (both pricing strategy and consumer reach).
Looking to close out the year, based on November, the remainder of the holiday sales season seems likely to be positive for the game industry though individual companies may suffer depending on their individual offerings.
Nintendo's Reggie Fil-Aime has noted that "titles that have neither strong marketing, strong positioning or strong value proposition are struggling", whereas hits are continuing to draw buyers. That dynamic will likely continue.
Here are the rest of the November results, by the numbers:
THE NOVEMBER NUMBERS
November Hardware Sales (in units sold) (October Result)
• Wii: 2.04 million (803,000)
• Nintendo DS: 1.57 million (491,000)
• Xbox 360: 836,000 (371,000)
• PlayStation Portable: 421,000 (193,000)
• PlayStation 3: 378,000 (190,000)
October Software (Title (Platform) –Publisher -Units
1. Gears of War 2 (Xbox 360) - Microsoft - 1,560,000
2. Call of Duty: World at War (Xbox 360) - Activision Blizzard - 1,410,000
3. Wii Play w- Remote (Wii) - Nintendo - 796,000
4. Wii Fit w- Balance Board (Wii) - Nintendo - 697,000
5. Mario Kart Wii w- Wheel (Wii) - Nintendo - 637,000
6. Call of Duty: World at War (PS3) - Activision Blizzard - 597,000
7. Guitar Hero World Tour (Wii) - Activision Blizzard - 475,000
8. Left 4 Dead (Xbox 360) - Electronic Arts - 410,000
9. Resistance 2 (PS3) - Sony - 385,000
10. Wii Music (Wii) - Nintendo - 297,000
Overall Industry Totals (Total ( % Change Y/Y)(Last month's total))
Video Games: $2.91B (10%)(1.31B)
Video Games Hardware: $1.21B (+10%) ($495M )
Video Games Software: $1.45B (+11%) ($697M )
Video Game Accessories: $255M (+7%) ($120M)
For comparative data, NPD's data from each month for the past year can be found by clicking the names of the month as follows:
2008: •January •February •March •April •May •June•July•August•September•October
2007: •February•March•April•May•June•July•August •September•October •November •December