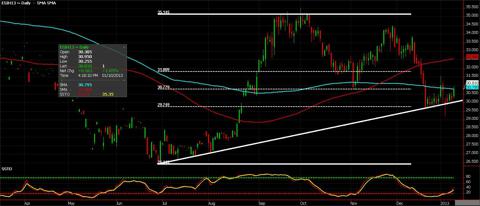 Click to enlarge
As of this post, silver is trading higher by 1.87%, trading at its 200 day MA -- identified by the light blue line. What has impressed me the most is that the up sloping trend line has been able to hold for the last few weeks. I remain friendly to silver, as long as prices remain above the recent lows. Last week, prices provided a head fake, trading above its 200 day MA before reversing the next day. That is why the next few days' action will be critical. It is no mystery that equities trading up to fresh highs and the dollar crashing 1% contributed to the strength in the metals complex today. If outside market influence continues to support, expect March futures to trade near their 100 day MA -- identified by the red line -- just above $32.50/ounce.
I like buying dips in futures, and have also priced out bullish option spreads in May for some clients. At this juncture, I cannot rule out a sub $30 trade so do not go all in, but some bullish exposure does make sense to me, all things considered. With both the PPI and CPI out next week, that should show some degree of inflation, I think, even a back and fill trade under $30 should not discourage but could be bought for longer term swing traders. I will say, though, that trading gold and silver appears to be the same trade, so there is no reason to have outsized positions in each, at least from my standpoint. They both should take you to the same destination -- in my estimation, silver will likely just be a bumpier ride.
Risk Disclaimer: The opinions contained herein are for general information only and not tailored to any specific investor's needs or investment goals. Any opinions expressed in this article are as of the date indicated. Trading futures, options, and Forex involves substantial risk of loss and is not suitable for all investors. Past performance is not necessarily indicative of future results.
Disclosure: I have no positions in any stocks mentioned, and no plans to initiate any positions within the next 72 hours. I wrote this article myself, and it expresses my own opinions. I am not receiving compensation for it. I have no business relationship with any company whose stock is mentioned in this article.