China stocks remain in a groove as they face their next test. While the U.S. stock market as measured by the S&P 500 Index (NYSEARCA:SPY) is still effectively flat in the month since the launch of QE3 back in mid-September, China stocks as measured by the iShares FTSE China 25 Index (NYSEARCA:FXI) are in bull market territory with a +20% advance.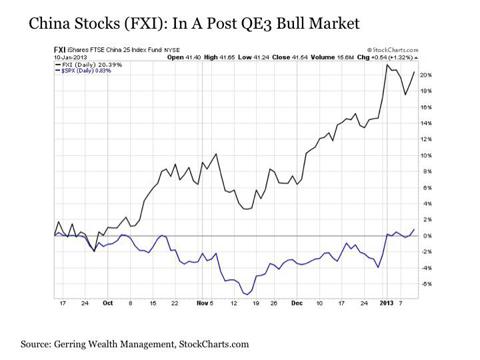 Click to enlarge
China stocks have also managed to successfully break out above tough resistance in the first few days of the New Year. The $40 level on the FXI (the green horizontal line on the chart above) has demonstrated itself to be a particularly critical support and resistance level for the FXI over the last six years. And this same level has served as heavy resistance over the last 18 months. That is, of course, until the start of 2013 when the FXI exploded toward $42 and has held solidly above the $40 level ever since.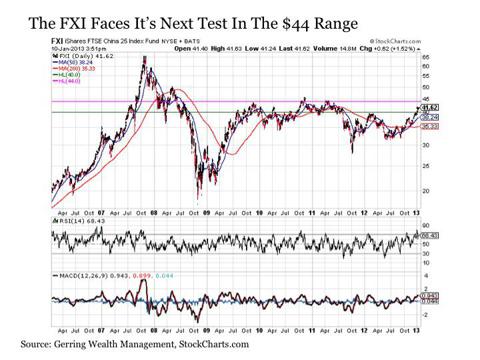 Click to enlarge
This latest move raises an important point. What's next for China stocks?
On the positive side, several factors support a continued move higher in China stocks in the coming months. First, recent economic data has been increasingly solid. This includes Thursday's better than expected export and credit data. Whether this proves sustainable or not certainly remains to be seen. But perhaps more importantly for China's stock market, it is widely anticipated that China will look to another major monetary stimulus program to boost growth as the government continues to transition to new leadership under Xi Jinping in March. Thus, even if economic data out of China starts to cool, such a flow of monetary liquidity is more than likely to overcome this downside pressure and help lift stock prices higher. Lastly, while China stocks have certainly made up ground relative to U.S. stocks following their recent rally, they are still trailing by nearly double-digit returns since the summer of 2011 and have further room to catch up on a relative basis.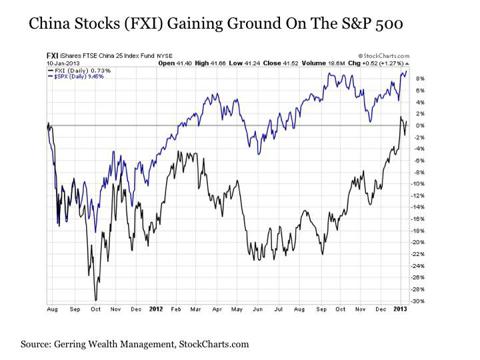 Click to enlarge
From a technical standpoint, the next challenge for China stocks resides in the $44 range on the FXI (the purple horizontal line on the second chart above). With the exception of the short lived burst in late 2007 and early 2008 prior to the outbreak of the financial crisis, this range has represented a sturdy ceiling for China stocks over the last several years. Therefore, a decisive break out above this $44 range would be particularly bullish.
It is likely, however, that China stocks may need to take a break and consolidate gains before making this next move higher. For in each of the many occasions over the past decade when the FXI has reached these Relative Strength Index and momentum readings, it has at a minimum traded sideways or briefly pulled back before making the next advance. But the longer the FXI can sustain itself above the $40 range, the more it can rely on this level for support as a firm launching pad for making a run at new highs. All the more reason to be positive on the outlook for China stocks in the coming months.
This post is for information purposes only. There are risks involved with investing including loss of principal. Gerring Wealth Management (GWM) makes no explicit or implicit guarantee with respect to performance or the outcome of any investment or projections made by GWM. There is no guarantee that the goals of the strategies discussed by GWM will be met.
Disclosure: I am long FXI. I wrote this article myself, and it expresses my own opinions. I am not receiving compensation for it (other than from Seeking Alpha). I have no business relationship with any company whose stock is mentioned in this article.