One of the most cotton-reliant stocks investors can trade is Hanesbrands (NYSE:HBI), the well known maker of t-shirts and underwear.
The company endured an incredible spike in cotton prices in 2010 and 2011, which weighed on profits and margins but may offer a silver lining for investors willing to consider the stock today.
From 1990 through 2009, the "A" index cotton price -- a proxy made up of the cheapest five quotes across 19 upland cottons -- averaged 66.14 cents per pound. During the period, the highest calendar year average was 98 cents per pound in 1995. But, in 2010 prices moved dramatically higher, averaging 105 cents per pound. And, in 2011 prices averaged 155 cents per pound, peaking at 229 cents in March of that year.
In their presentation at the JP Morgan (NYSE:JPM) small and mid cap conference, Hanes described the cotton price spike of 2010 and 2011 as a 100-year event.
If it is right the current drop in cotton prices may provide significant margin tailwinds. In 2012, "A" index cotton prices averaged a comparatively light 89 cents per pound, finishing December at 83 cents per pound, which is down from 101 cents in January. This is great news Hanes investors, given costs typically show up in earnings nine months later.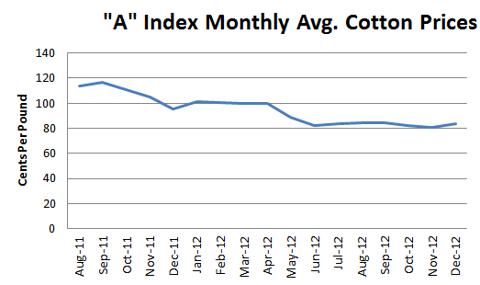 One of investor's biggest concerns with Hanes has been its debt load.
But, the company is working hard to use higher free cash flow to reduce its leverage.
In November, Hanes upped guidance, citing early prepayment of $250 million in 8% senior notes due 2016. The company paid down $300 million in floating rate debt in the first three quarters of 2012 and plans to retire another $250 million in 2013. In total, the company's net debt to EBITDA has fallen from 4.7x in 2010 to 3x exiting the third quarter and the company expects long-term debt to end 2013 at $1 billion, down from $2 billion in 2010.
The debt reduction has come courtesy of rising free cash flow, which is forecast to hit $500 million in FY12. In Q3, operating margins rose 60 basis points to 12.8% and the company guided for 13% operating margins in Q4. In addition to cotton and lower interest payments helping profits, SG&A dropped to 21.8% from 23.8% in the first nine months of the year.
Sales also moved higher in Q3, increasing 3%. Outerwear sales, which increased 5.2% in the quarter, were especially hard hit by cotton inflation. As a result, segment operating profit fell 4% in Q3. However, the company believes the worst is behind it for outerwear margins, which should improve into 2013. Hanes direct-to-consumer sales increased 2% during the quarter, with segment operating profit climbing 18%.
Hanes has beaten Street estimates in each of the past three quarters as analysts have failed to adequately model the margin support from lower cotton prices. As a result, analysts have boosted FY2013 earnings estimates to $3.33 from $3.19 per share over the past 60 days. That's a 31% jump from FY2012 and gives Hanes a forward price-to-earnings multiple of 11.
Despite positive earnings revisions and beats, sellers continue to worry cotton prices may re-exert and take their toll on profits. As of mid December, it would take 10 days of average daily volume to cover short positions, suggesting good news could spark a rally.
Finally, according to the Seasonal Investor database, Hanes has a strong record of posting gains in the first quarter. Since going public, the company has posted gains in five of six Q1s, increasing a median 11.43% in the quarter. This suggests the time may be right for investors to consider cotton-sensitive textile plays like Hanes, Polo Ralph Lauren (NYSE:RL) and V F Corporation (NYSE:VFC).
Source: Seasonal Investor
Q1 Returns vs. SPY Past 10 Years: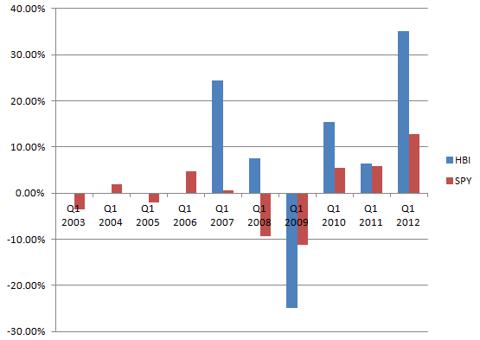 | Symbol | | HBI |
| --- | --- | --- |
| SECTOR | | CONSUMER GOODS |
| INDUSTRY | | TEXTILES |
| Profit- | (of 6) | 5 |
| Q1 | 2007 | 24.43% |
| Q1 | 2008 | 7.47% |
| Q1 | 2009 | -24.94% |
| Q1 | 2010 | 15.39% |
| Q1 | 2011 | 6.46% |
| Q1 | 2012 | 35.13% |
| Q1 | Average | 10.66% |
| Q1 | Median | 11.43% |
| Q1 | Std Deviation | 20.52% |
Disclosure: I have no positions in any stocks mentioned, but may initiate a long position in VFC over the next 72 hours. I wrote this article myself, and it expresses my own opinions. I am not receiving compensation for it (other than from Seeking Alpha). I have no business relationship with any company whose stock is mentioned in this article.