The Gist
Bank of America (NYSE:BAC) pulled back off its high of $12.20 recently.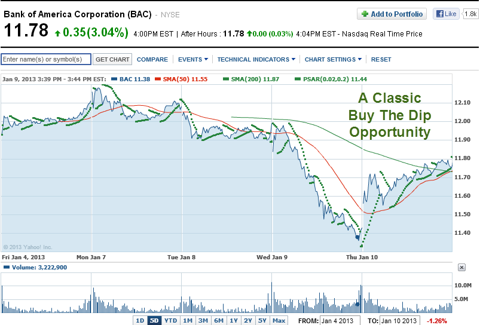 The most obvious reason for the pullback was a downgrade from Buy to Hold at Credit Suisse. Credit Suisse states,
"The share valuation has gotten ahead of itself. Better values in the big bank sector are JPMorgan Chase & Co. (NYSE:C), JPMorgan Chase & Co. (NYSE:JPM), and U.S. Bancorp (NYSE:USB)."
Furthermore, some pointed to the headlines stating lawsuits against Bank of America are never going to stop as the culprit. According to the Charlotte Business journal,
"Despite the over $10 billion settlement with Fannie Mae, U.S. Attorney Preet Bharara makes clear he will continue to aggressively go after BofA for selling fraudulent loans to the GSEs."
I don't see either of these recent developments impeding Bank of America's momentum. This is a classic buy the dip opportunity. In the following sections I will explain the whys and wherefores of why I feel this is a buy the dip opportunity in Bank of America.
Specious Reasons For Pullback
I posit the primary reason for the pullback was the downgrade from Credit Suisse based on valuation. These types of valuation downgrades are often viewed as somewhat hollow. The fact the downgrade is based on a judgment call regarding valuation rather than a fundamental change in the underlying stock or story.
The second issue regarding the continued legal issues for BAC, I feel is well known accounted for in the stock price already.
Fundamentals Appear Solid
BAC is still a solid buy right now. Although the bank has doubled over the past year, BAC is still trading three times below its historical average price to book ratio. Moreover, earnings continue to increase. EPS is up over 100% this year and expected to grow by 128.5% next year.
Currently BAC trades for half its book value while the historical average is closer to two. At the same time, EPS is up over 100% and expected to rise by 123% in 2013. At that rate, BAC could easily move much higher if U.S. job growth and housing market picture continue to improve.
The Big Picture Is Bright
Currently, several indicators are flashing that global growth is for real and 2013 could be another great year for banking stocks. For instance, Alcoa (NYSE:AA) stated on its recent earnings conference call that the outlook for Chinese growth is much improved. Furthermore, global growth bellwether Danaher Corp. (NYSE:DHR) predicts higher than expected core revenue growth.
This is good news for BAC and other global money center banks as they are the source of funding for the growth. This is why you always hear you can't have a real bull market rally without the financials starting off the party. The uptick in the housing market and the steepening of the yield curve due to demand for long-term capital are strong buy indicators for BAC as well.
Major Players Are Bullish
Well-known analyst Dick Bove told CNBC's "Closing Bell" recently,
"Bank earnings could hit a record $38 billion in the fourth quarter, while the industry is poised to have a solid 2013."
Major bank investor Warren Buffett stated,
"The banks will not get this country in trouble, I guarantee it. The capital ratios are huge; the excesses on the asset side have been largely cleared out."
There are certain experts in the investing field that I listen to when it comes to the banks. Bove and Buffett. These experts have been in the business for much longer than I and I respect their commentary. These are fairly strong statements from them. I feel this is a definite positive.
BAC Provides the Most Bang For Your Buck
BAC offers the biggest discount to book value, trades for one of the lowest price to free cash flow ratios and has the highest 2013 EPS growth estimate as compared to its primary competitors.

BAC trades for 53% of book value while Citigroup trades for 67%, JPMorgan for 88%, Wells Fargo & Company (NYSE:WFC) for 1.2 times book and US Bank for nearly two times book.
Furthermore, BAC trades for just 3.65 times free cash flow. Only JPM trades for less at 3.25. Finally, the kicker is the projected EPS growth rate. BAC is projected to grow EPS by 123% in 2013 while the next best projection is 19% by Citigroup.
Upcoming Fed Stress Test A Positive Catalyst
BAC has a fortress balance sheet with $600 billion in cash and close to a trillion in current assets alone. I posit this year's stress test will be a buying opportunity just like in 2012. News of the banks passing coupled with announcements of new dividend increases and stock buyback programs being approved should propel the bank stocks higher yet again.
The Bottom Line
I posit this is the calm before the storm. The pullback was healthy for the stock. I actually took profits and am looking to jump back in.
BAC is still has considerable upside potential, strong fundamentals and catalysts for growth. Bank of America has a fortress balance sheet and strong cash flow providing the opportunity for a share buyback program and/or a dividend increase to be implemented when they pass the stress tests.
The stock is a solid buy at this level if the U.S. housing market continues to improve. BAC seems poised for solid growth. My target price is $15 within the next twelve months. If you choose to start a position in any stock, I suggest layering in a quarter at a time at a minimum to reduce risk.
Disclosure: I have no positions in any stocks mentioned, but may initiate a long position in BAC over the next 72 hours. I wrote this article myself, and it expresses my own opinions. I am not receiving compensation for it (other than from Seeking Alpha). I have no business relationship with any company whose stock is mentioned in this article.
Additional disclosure: This is not an endorsement to buy or sell securities. Investing in securities carries with it very high risks. The information contained within this article for informational purposes only and is subject to change at any time. Do your own due diligence and consult with a licensed professional before making any investment.