All three major indices extended the gain on Thursday, where the S&P 500 index advanced to the highest level in five years amid better-than-estimated data on Chinese exports. Tiffany & Co (NYSE:TIF) dropped 4.52% on disappointing sales. The company also expects FY 2012 EPS at the low end of prior guidance, $3.20-$3.40 per diluted share. S&P led the gain with a 0.76% increase. Dow Jones followed with a 0.60% jump, and Nasdaq closed 0.51% higher. SPY, DIA and QQQ all continued to close well above their 50-day and 200-day MAs. All sectors closed in the green again, and the financial sector gained the most, with a 1.20% increase.
The market sentiment is driven by extreme greed now, with the Fear & Greed Index at 85, decreased from the previous close of 81. As reported by CBOE, the total put/call ratio for today was 0.78, and the index put/call ratio was 0.70. The equity put/call ratio was 0.66, and the CBOE volatility index (VIX) put/call ratio was 0.31. In the following, top stocks had been identified through our daily options scanning process, with the scanning criteria where the daily call volume ratio was above 3.00 (3x of the average call volume) with a call volume above 10,000.
| | | | |
| --- | --- | --- | --- |
| Name (Ticker) | Call Volume | Average Call Volume | Daily Volume Ratio |
| Potash Corp. of Saskatchewan, Inc. (NYSE:POT) | 27,880 | 6,769 | 4.12 |
| LinkedIn Corporation (NYSE:LNKD) | 14,375 | 3,816 | 3.77 |
| Nokia Corporation (NYSE:NOK) | 110,129 | 29,719 | 3.71 |
Source: Schaeffer's Research
Nokia surged 18.67% and closed at $4.45 on Thursday on volume of 292.33M, which was 4.89x of 30 day average volume of 59.74M. Investors are cheered by Lumia's sales, as the company said its mobile-phone business exceeded expectations and "achieved underlying profitability" in the fourth quarter. Nokia said it sold 4.4 million units of the Lumia -- up sharply from 2.9 million in the third quarter.
LinkedIn closed at $118.04 with a 3.85% gain on volume of 3.05M, which was 2.13x of 30 day average volume of 1.43M. LinkedIn declared on January 9 that it passed the milestone of having 200 million members who use its professional network. The share price jumped as CLSA Asia-Pacific Markets analyst James Lee initiated coverage of LinkedIn with an Outperform rating and a $133 price target. Lee stated:
"LinkedIn embodies the characteristics of a long-term winning business model: strong network effects, significant market potential, multiple revenue levers and long-term operating leverage. The company's scale and innovative products are disruptive to the existing war-for-talent game. At the same time, most of LinkedIn's revenue is from recurring subscriptions, which is differentiated from advertising-only Internet models."
Freeport-McMoRan Copper & Gold Inc. (NYSE:FCX) and PNC Financial Services (NYSE:PNC) also reported unusual call activities with 8.92 and 9.31 daily volume ratio, respectively, as both companies have ex-dividend date on Friday, January 11, 2013.
The top bullish pick for the day is Potash Corp. of Saskatchewan, Inc.
Potash Corp. of Saskatchewan, Inc.
Potash is an integrated fertilizer and related industrial and feed products company producing potash, phosphate, nitrogen fertilizers, and animal feed. Potash is the world's largest independent potash producer, and a leading phosphate and nitrogen producer with a wide economic moat. The company operates six potash mines in Canada, two phosphate mines in the United States, and nine upgrading facilities in the U.S. and Trinidad, where the reserve of these mines extends a few decades.
Analysts' Calls and Earnings Estimates
On December 12, 2012, Goldman Sachs initiated coverage on POT with a buy rating and a $46 price target. The firm commented:
"Following the recent announcement of production curtailments amounting to about 15% of annual capacity and broad-based inventory destocking, we believe potash fundamentals are approaching trough. Coupled with significant 2012 underperformance (POT -3% YTD vs. the S&P +13% and corn +14%), we believe risk/reward is increasingly attractive on a multi-year basis, with valuation now at 8.4x 2013 EV/EBITDA, a nearly 18% discount to the five-year average. Further, we believe the market is no longer giving POT credit for significant brownfield capacity expansions set to come online beginning in 2H2013 that should drive 20-25% K volume growth in 2014-15."
On December 3, 2012, GC Partners also initiated coverage on POT with a buy rating and a $45.00 price target.
Analysts, on average, are expecting an EPS of $0.58 with revenue of $1.77B for the current quarter ending in December 2012. Analysts are also estimating an EPS of $2.88 with revenue of $7.73 billion for fiscal 2012. For 2013, analysts are projecting an EPS of $3.25 with $8.50B revenue, which is 10% higher than 2012, as seen from the table below.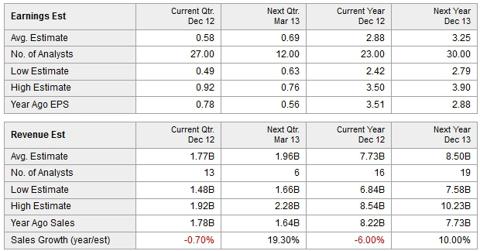 Source: Yahoo Finance
Potash is expected to report Q4 2012 earnings on January 31, 2013. Potash currently has a dividend yield of 1.96%, and the ex-dividend date is January 15, 2013.
Key Stats and Valuation
POT has an enterprise value of $40.14B with a market cap of $36.86B. POT has a total cash of $461.00M and a total debt of $4.04B. POT generates an operating cash flow of $3.22B with a levered free cash flow of $138.62M. By using Morningstar's data, POT's key stats will be compared to its competitors in the industry of agricultural inputs, including Agrium Inc. (NYSE:AGU). POT has a lower revenue growth (3 year average) of -2.6 compared to the industry average of 4.9. POT has a negative EPS growth (3 year average) of -1.5. POT has higher operating margin of 41.0%, ttm, and net margin of 28.7%, ttm, comparing to the industry averages of 27.1% and 18.3%, ttm, respectively. POT generates ROE of 27.5, which is slightly lower than the industry average of 27.6. POT has a debt-to-equity of 0.4.
POT has P/E of 15.9, P/B of 3.8 and P/S of 4.6, which are all higher than the industry averages of 15.3, 3.1 and 2.6, respectively, but lower than POT's 5 year averages of 18.6, 4.9 and 5.3. POT has a forward P/E of 12.5, which is lower than the S&P 500's average of 14.2. The PEG ratio is 1.0.
Technical Analysis
POT closed at $42.78 with a 0.80% gain Thursday. The volume of 5.14M was 1.50x of 30 day average volume of 3.43M. POT had been trading in the range of $36.73-$48.00 in the past 52 weeks. POT has a beta of 1.04. The MACD (12, 26, 9) indicator had been showing a bullish trend since January 2, 2013, and the MACD difference continued to diverge. The momentum indicator, RSI (14), is showing a strong bullish momentum, and is in the over-bought territory at 72.35. POT is currently trading above its 200-day MA of $41.54 and 50-day MA of $39.83. The next resistance is $43.06, the R2 pivot point, as seen from the chart below.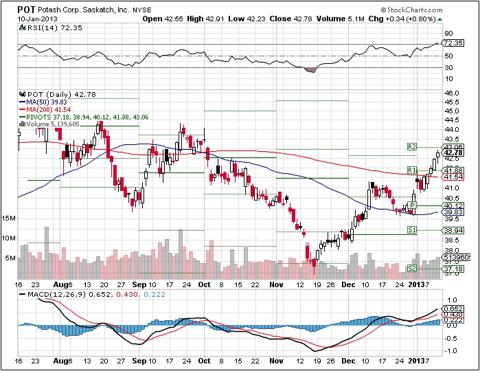 Source: StockCharts.com
Unusual Call Activities
Unusual option activities can be an indicator or precursor of a major movement for the underlying stock. The most active in-the-money call on Thursday was the Jan. 18, 2013 call at the strike price of $25.00 with a volume of 17,300 and an open interest of 28,769. The implied volatility is 143.1, and the chance of breakeven is 45.45. The most active out-of-money call was the Feb. 15, 2013 call at the strike price of $43.00 with a volume of 2,284 and an open interest of 2,858. The implied volatility is 20.9, and the chance of breakeven is 32.05. The historical volatility for POT is 16.12 for 1 month, 16.09 for 3 months, and 24.40 for 1 year.
For bullish investors, a credit put spread of Mar. 16, 2013 $38/$40 put can allow investors to acquire POT's stock at a price below $40.00 while gaining some upside potential.
Note: All numbers/prices are quoted from the closing of January 10, 2013 with the data provided from Barron's, Morningstar, Schaeffer's Investment Research, Inc., Google Finance, and Yahoo Finance. Investors and traders are recommended to do their own due diligence and research before making any trading/investing decisions.
Disclosure: I have no positions in any stocks mentioned, and no plans to initiate any positions within the next 72 hours. I wrote this article myself, and it expresses my own opinions. I am not receiving compensation for it (other than from Seeking Alpha). I have no business relationship with any company whose stock is mentioned in this article.