Ford's (NYSE:F) stock was moving on a higher gear on Thursday, following the news that it will double its quarterly dividend, from 5 to 10 cents per share. That's certainly good news for investors who have been long on the stock, and an entry opportunity for investors who want to ride the company's turnaround, considering several favorable factors:
First, a bullish chart. Ford's stock trades well above its 100 and 200-day moving averages, with the 100-day moving average crossing the 200-day moving average from below with rising volume.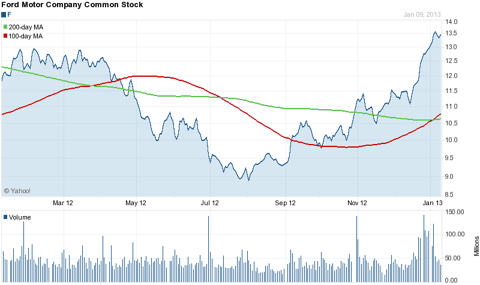 Second, Ford is seeing an improvement in company economic fundamentals. With improving quality and the introduction of new models, Ford has been benefiting from the flip-flops of Toyota Motor Corporation (NYSE:TM) and a broader recognition of its brand-Ford's 2013 Fusion was named Car of the Year by AOL Autos. The company has further expanded its overseas presence, especially in China, where it is the largest foreign company; it is also expected to benefit from the backlash of the territorial disputes between Japan and China.
Third, the company is seeing improving financial fundamentals. Ford was the only American automobile company that didn't receive government money during the 2008 crisis. And with $23.79 billion cash ($6.29 per share) and $11.25 billion in operating cash flow, the company is in good position to survive even in a recession - far better than General Motors Company (NYSE:GM), which is still in business with government support. Last year, both S&P and Fitch raised Ford's credit rating.
Ford Motor Company
| | |
| --- | --- |
| Operating Margin | 4.99% |
| Quarterly Revenue Growth | -6.5% |
| Quarterly earnings growth | -56.6% |
| Forward P/E* | 7.04 |
| Total Cash | $23.79B |
| Operating cash flow | $9.54B |
*Fye Dec 30, 2013; Source: Yahoo.Finance.com
Forth, Ford Motor Company has been very aggressive in addressing its European market woes by idling factories, cutting thousands of jobs, and taking a $3 billion charge over the next two years.
Fifth, Ford, together with the auto industry as a whole, could benefit from a correction in the prices of raw material, such as copper and steel.
Sixth, the introduction of new more-fuel efficient products that cater to different segments of the global economy, including the all-mew Ford Fusion and Mondeo, Escape and Kuga, EcoSport in South Africa, and B-Max in Europe.
Bottom line: By doubling its quarterly dividend, Ford confirms that it is shifting to higher gear, a good time for investors to get aboard for the ride. They should be reminded, however, that hype shouldn't be a substitute for due diligence. Ford is a cyclical stock. This means that its performance depends on the state of the domestic and the world economy, which are still on a frangible recovery.
Disclosure: I am long F. I wrote this article myself, and it expresses my own opinions. I am not receiving compensation for it (other than from Seeking Alpha). I have no business relationship with any company whose stock is mentioned in this article.