I am no stranger to being wrong, but I, like many other Nokia (NYSE:NOK) investors was surprised in a Q4 update yesterday nearly 2 weeks ahead of schedule. It is not everyday that companies react to strong (up to 10%) declines in their share price by pre-releasing results; this made Nokia gain almost 20% yesterday. The news was both good and bad as it proves we were right in best guesstimating Lumia 920 sales at 2.5m units or less. The question is why Nokia cared so much about its short term share price momentum? Here we will not consider illegal motives like insider trading. Our analysis will be based on 'clean' motives.
In other words, we argue that Nokia might have other motives to care about its short term share price, probably because it either needs to borrow money and the terms of the lending usually is highly impacted by perceived stock market (and CDS) performance or it is related to internal politics. This could explain why Elop intervened so quickly to stop the 10% daily decline that was triggered on the 9th of January based on the India tax raid, and the arguments from many, including us, that they would still be in the red. Fortunately we retook a long position on the 9th simply because we felt at below 3.75 Nokia was oversold based on the available data, while at $4.30 is was overpriced. Everything changed with the preview of the results, so we are again long and have yet to make a decision on our new price target.
Technical Factors
Imagine if Elop had not decided to release the sales figures ahead of schedule. Nokia shares may have fallen through support at $3.75 and gone back to the $3.30-3.44 level (See technical breakout pattern below)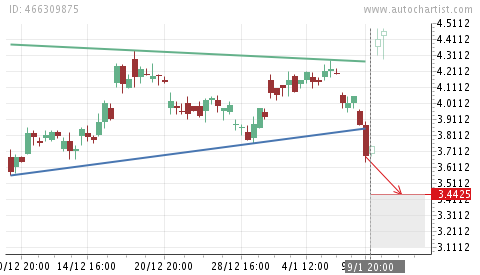 The potential breakout to the bottom, reversed due to Nokia's earnings preview: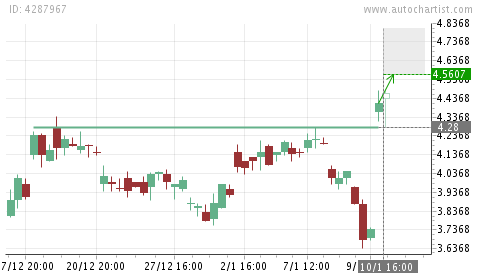 This technical chart is showing there is strong resistance at around the $4.50 level. If it stays above that, $5 may come sooner than later. But let us get back to Elop, Nokia's CEO.
Why was it important for Nokia to give a results preview? The real news would have caused a rebound in two weeks time anyways, so what was the hurry?
Loans Negotiations As A Motive
The answer lies in two facts: Nokia has loans up for renegotiation this year, and it is possible, given the leasing of the corporate head quarters, Nokia intends on getting a better loan deal. With a junk bond status, it is unlikely Nokia could lower interest on its loans or bonds. However, if the market is perceived to view Nokia as recovering, the CDS insurance contracts on Nokia bonds would fall in price and as a result Nokia could renegotiate at more favorable rates. This fact alone could explain why a timely and quick intervention was made to stem the slide. After all, interest payments amount to overhead in costs, and a better deal results in less payments and thus higher profitability. One of the loans up for renegotiation is the Nokia Siemens division loans that expire this summer. If this is a motive then all kudos goes to Elop for being creative and resulting in a rare 20% daily jump in the share price.
Internal Politics and Pressure For Android
The second explanation of the intervention could worry investors; Elop might be under internal pressure over his strategy. It is by considering internal Nokia politics that investors should look at his recent statement regarding potentially expanding into the Android market. Many consultants were advising Nokia to do this in 2011, which Elop decided against for now. To be honest if you read our advantages and disadvantages of the Nokia Lumia 920, most of the advantages are hardware related. In fact, if the Lumia 920 had an Android version, lets call it Dumia, it would be just as popular or even more so. The hardware features would remain as the differentiating factor. The optical image stabilization, wireless charging, the touch screen and IPS TFT display all are unrelated to the Windows Phone 8 eco-system. Therefore, you can see Elop's timely defence of Nokia share price as essentially defending his own position. A drop in share price over the next few months, will make replacing him more likely or at the very least it might have forced him to change strategy.
Our View
Nokia, if it is forced to branch out to Android, we think, would be good for investors if managed correctly. This is simply due to the fact that there are people happy with the Android OS, and it does not loose Nokia any money to have phones in both markets much like Samsung but in reverse. Samsung, concentrates its best development for the Android universe but is present in Windows Phone 8 to put margin pressure on other competitors; Nokia could do the same, have a slightly toned down Android version. The only drawback for Nokia is that it might not get the otherwise pretty substantial 250m quarterly subsidy from Microsoft (NASDAQ:MSFT) if it hedges its bets. In any case, this factor is not something to fear but to encourage. The costs of adding an additional OS support are minimal compared to the potential gain as long as the Android version differentiates itself from the Windows Phone version to reduce the potential of cannibalizing WP8 Lumias.
The only drawback from this internal pressure to produce an Android version would be if Elop is forced to resign. As investors, the worst thing that can happen to a company under a strategic change is to have a CEO replaced in the middle with all the resulting confusion. This scenario is far fetched and unlikely, but moving into Android is not as unlikely.
Conclusions
Investors should take heart from the fact that Nokia is out to defend their share price from bearish speculators and is concentrating on margins, even more so than on gaining volume. We had become rather pessimistic after our internal simulations showed Nokia could not have sold that many high end WP8 Lumias. We were right, but we were also wrong about Nokia's ability to quickly reduce its costs thus making itself marginally profitable. It is heartening to see that Elop understands the Apple model, margins first, volume second. In this respect we also applaud the decision to make a lighter model of the 920 for release sometime this year. Nevertheless, investors should be cautious because the numbers do not foretell a forgone conclusion of recovery. They hint at possibilities, as currently the volume of smartphones sold is still insufficient. We will probably be keeping our small long position from the 9th of January until the full results are made public. At that point we will reevaluate the investment case.
Disclaimer: Unless stated otherwise these views are not the opinion of any of my present or past employers. In addition we take no responsibility for your gains or losses if you follow our advice. Please speak to a financial advisor if you are unaware of the risks inherent in algorithmically traded markets.
Our company as a separate business is now providing quantitative modeling reports. Please contact reports@technoorconsulting.co.uk for details and pricing if you are so inclined.
Disclosure: I am long NOK, MSFT. I wrote this article myself, and it expresses my own opinions. I am not receiving compensation for it (other than from Seeking Alpha). I have no business relationship with any company whose stock is mentioned in this article.