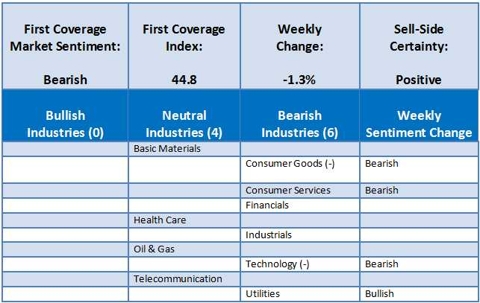 Click to enlarge
This is an abbreviated commentary as we head into the much-deserved and anticipated holiday season of 2008.
Last week, we asked, "Is there nothing that will shock market participants?" With all the trials and tribulations that we've been through this year, is there any surprise in store for us – big or small – that may result in a meaningful shift in sentiment before the end of the year? Right now, the only answer we have is, 'Nothing that happened last week, that's for sure.'
To recap last week, the world's seemingly biggest swindler turned himself in after $7 billion in redemptions caused him to admit that his $50 billion fund was just one big Ponzi Scheme. It appeared that the automakers were going to be bailed out; then they weren't; and then they were but probably not enough to actually make a difference. Like the Energizer Bunny, the layoffs kept going and going and going. Interest rates on the Treasuries turned negative; although, some still believe that they're the best deal in town!
Despite all this, the sell-side yawned and only grew slightly more bearish. Only a few more weeks left to look for that surprise.
The streak of no bullish industries continued. And, we almost saw a first this week - the combination of no bullish industries and no bullish short-term sentiment shifts. Except for Utilities, the market would have moved anywhere from neutral to massively bearish on all industries. So, give credit to the sell-side that, although they refuse to move en masse swiftly, they continue to get more bearish on this market in the same way that water slowly erodes rock…drip by drip.
Last week, both Technology and Consumer Goods fell from neutral to bearish overall sentiment levels and remained bearish heading into this week. Under Armour (NYSE:UA) resides as the stock with the most bearish sentiment amongst the sell-side. (When you're running at lightning speed from reality, no one can see what you're wearing. So, why bother?) As for bullish sentiment, GE, the T-bill of equities, has now moved into the top spot amongst the sell-side.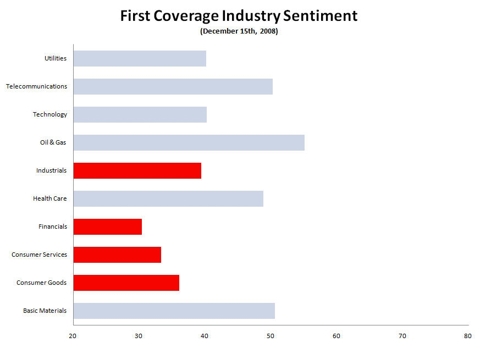 Click to enlarge