Wal-Mart (NYSE:WMT) has declined nearly 10% from its October highs of $77 and is currently trading at $68.36. Wal-Mart has a current low P/E of 14.1 and is expected to post EPS growth of 9.6% this year. I disagree with some who think that Wal-Mart will be dead money in 2013 and believe that at current prices, Wal-Mart is a buy.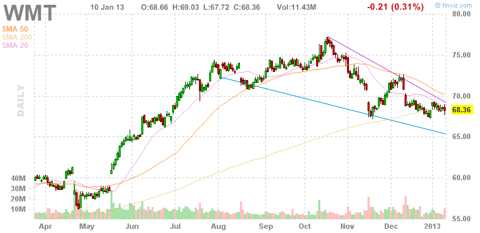 The recent weakness in shares of Wal-Mart may be attributed to many things. Wal-Mart has had its fair share of negative news stories this quarter. These range from: Black-Friday union protests, to concerns of consumers suffering pay-stub "sticker shock," and most significantly, continued troubles from the Mexican bribery scandal. These issues should not concern long-term owners of Wal-Mart stock, as the company has proved itself to be very resilient.
Wal-Mart has had excellent TTM EPS growth over the past five years, increasing TTM EPS 55%, to $4.85 per share. FY 2013 EPS is expected to increase by 9.6% to $5.31. With the decline in the share price, the TTM P/E ratio for Wal-Mart has also come down to 14.09. The forward 2013 P/E for Wal-Mart is 12.71. Wal-Mart is hardly overvalued at the moment and is actually rather inexpensive.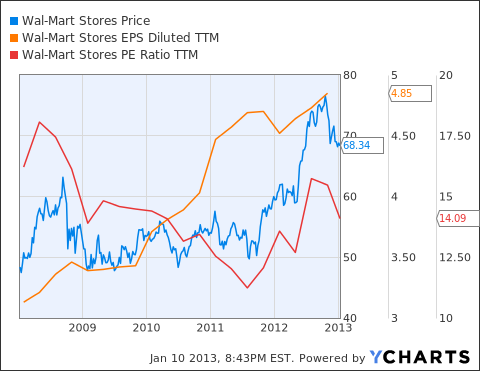 TTM revenues for Wal-Mart have also been on the rise since 2008, increasing by 23%, to $464 billion. On a per share basis, TTM revenues have shown a more impressive increase of 47%, to $136 per share.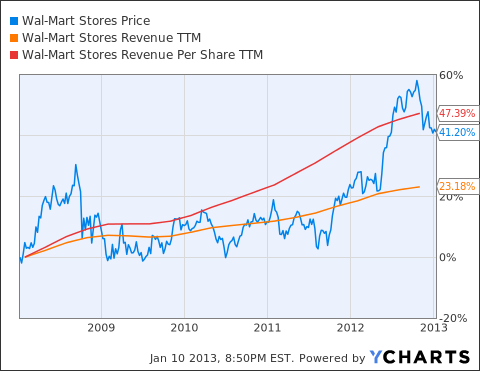 Wal-Mart has also provided its shareholders with ever increasing dividends and share buybacks. Wal-Mart currently offers a $0.3975 quarterly dividend. At the current price of $68.36, the stock yields 2.33%. In the past five years, Wal-Mart has increased its dividend by 68%. Wal-Mart has also been an aggressive buyer of its stock, repurchasing 16% of its shares outstanding, or over 640 million shares.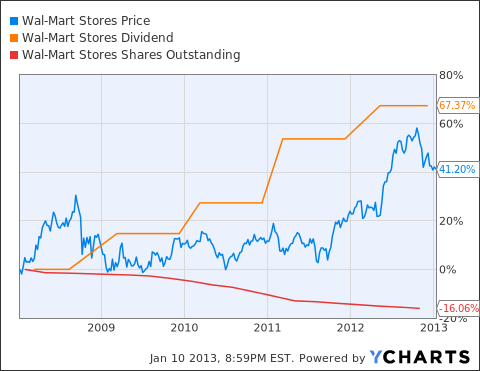 I believe the downside risks for Q4 earnings for Wal-Mart to be limited as Wal-Mart has already announced weaker guidance for Q4 EPS. Wal-Mart has traditionally raised its dividend during the first quarter of the year. A 7 to 12% increase in the dividend is likely in this quarter for Wal-Mart, as the previous five increases have typically been in this range. Short-term, I would wait until the stock puts in a clear floor of support and rebounds. While Wal-Mart may not be the most "exciting" of stocks, it is a solid choice for long-term investors.
Disclosure: I have no positions in any stocks mentioned, and no plans to initiate any positions within the next 72 hours. I wrote this article myself, and it expresses my own opinions. I am not receiving compensation for it (other than from Seeking Alpha). I have no business relationship with any company whose stock is mentioned in this article.