We are pleased to announce that after more than four months of merger rumors and speculation, SUPERVALU (NYSE:SVU) has announced a strategic deal involving an investment consortium led by private equity firm Cerberus Capital Management. On January 10th, Cerberus and its investment partners announced that it would pay $100M in cash and assume $3.2B in SVU debt in order to acquire SVU's Albertsons, Acme, Jewel-Osco, Shaw's and Star Market stores, as well as the related in-store pharmacies supporting these stores. Cerberus had previously acquired 655 Albertsons stores in the 2006 acquisition of Albertsons Inc by SUPERVALU, Cerberus and CVS Caremark (NYSE:CVS) and it has disposed of all but 192 of those stores. Because Cerberus Capital Management's investment partners include Kimco Realty (NYSE:KIM), Klaff Realty, and Schottenstein Real Estate Group, we are expecting these investors to harvest value from the real estate of these stores.
In addition to the sale, the Cerberus consortium has created a subsidiary (Symphony Investors) to acquire up to 30% of SVU's outstanding shares at $4/share in a tender offer. If Symphony Investors fails to acquire 19.9% of SVU's shares during the tender offer, SVU is obligation to issue new SVU common shares to Symphony at $4/share to enable it to acquire 19.9% of SVU's shares. Following the close of the transaction, SUPERVALU will have a new CEO (Sam Duncan) and a new Non-Executive Chairman (Robert Miller). We were wondering why Cerberus wanted to replace SVU's CEO Wayne Sales with Sam Duncan considering OfficeMax's mediocre performance under Duncan's leadership. We are aware he had 38 years of grocery industry experience while Wayne Sales' retail experience was in general department store merchandisers like Kmart and Canadian Tire but Wayne Sales had a much better record as CEO of Canadian Tire in comparison to Duncan's record with OfficeMax. Maybe Sales is seen as someone that is too connected with SUPERVALU's Ancien Régime that was responsible for the debt funded acquisition of Albertsons.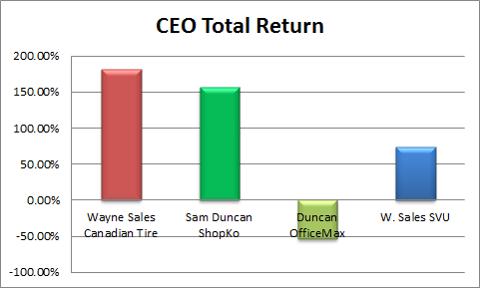 Source: Morningstar Direct
SVU will see a shakeup in its Board of Directors. Five of SUPERVALU's current board members including Chairman and CEO Wayne Sales will resign from the SVU board. immediately following the closing of the transactions, the size of the Board will be reduced to seven members from the current ten members. This seven member Board will consist of five current SUPERVALU directors and two Board members designated by Symphony Investors, one of whom is Robert Miller, current President and CEO of Albertson's LLC, who will serve as non-executive Chairman of the Board. Following the completion of a search process, the Board will be increased to a size of eleven directors, with the four new directors to consist of Sam Duncan, an additional director appointed by Symphony Investors, and two additional independent Board members to be selected by the initial seven directors.
While we are not going to guarantee which specific directors will resign, we believe that the most likely directors that will be resigning from SVU's board include Steven Rogers, Susan Engel, Irwin Cohen and Edwin Gage. The reason why we believe that Messrs. Rogers, Cohen and Gage and Ms. Engel are likely to step due from SVU's board is because of SVU's Mandatory Director Retirement Policy in which non-employee directors retire at the company's annual meeting following the date they reach the age of 74 years old and that non-employee directors elected after February 27, 1994 may serve a maximum term of 15 years. Even if no director was resigning as a condition of the Cerberus transactions, this policy would result in Mr. Rogers stepping down from the board at the 2013 annual meeting, Ms. Engel stepping down after the 2014 annual meeting and Messrs. Cohen and Gage stepping down at or before the 2015 annual meeting.
SUPERVALU announced that in connection with these transactions, it negotiated a new and fully underwritten $900 million asset based revolving credit facility led by Wells Fargo and a $1.5 billion term loan secured by a portion of the Company's real estate and an equity pledge of Moran Foods, LLC (the parent entity of the Save-A-Lot business) led by Goldman Sachs Bank USA, Credit Suisse, Morgan Stanley, Bank of America Merrill Lynch and Barclays. The proceeds of these financings will be used to replace the existing $1.65 billion asset-based revolving credit facility, the existing $846 million term loan, and to call and refinance $490 million of 7.5 percent bonds scheduled to mature in November 2014. While we believed that the company would be able to generate enough cash to pay down this liability, we are pleased that SVU's lenders will give the company the flexibility to refinance it rather than try to pay it down. SVU has $6.4B in debt as of Q3 2013 primarily due to the lingering effects of the Albertsons Inc acquisition and will be transferring $3.2B in New Albertsons Inc debt to the Cerberus group. SVU had $173M in New Albertsons debt coming due in February ($33M) and May ($140M) and we expect SVU to be responsible for paying it.

Source: Bloomberg LP
We were glad to see that although the company used $57M in operating cash flows during the Q3 2013 period, it was in line with the $61M used in Q3 2012. SVU has generated $77M in free cash flows during the first 40 weeks of FY 2013 and we are expecting it to generate at least $400M in free cash flows during Q4 2013 which includes the benefit of the Chanukah, Christmas, New Year's Day, Super Bowl Sunday and Valentine's Day holidays. SVU generated $339M in free cash flows during the Q4 2012 period and we are expecting SVU's Q4 2013 free cash flows to be higher due to lower CapEx, stabilizing operating cash flows and potential disposal of superannuated assets.
Save-A-Lot's revenue declined by 1.6% as gains from 20 net new stores (on a year-over-year basis) were more than offset by a -4.1% Identical Store Sales decline. Adjusted segment operating income declined by 35.5% due to the negative ID sales performance; increased advertising spending to drive traffic and increase customer awareness and price-reduction investments to maintain its competitive position. We think Save-A-Lot's President and CEO Santiago Roces has some explaining to do with regards to the poor performance at Save-A-Lot. We concede that Save-A-Lot's results were acceptable last year, but if the division can't turn itself around, he may need to join his fellow Wal-Mart alum Craig Herkert in the gone and forgotten column. Save-A-Lot continues to execute its business optimization plan including introducing more relevant items in to the assortment with 200 by the end of this fiscal year. In addition, Save-A-Lot has a test market where it's implemented a new price program and has seen results in the double digit IDs consistently over the last few months.
SVU's Traditional Retail Food business continues to face the most challenges amongst SVU's business units as it saw its adjusted operating income decline by 29% on a year-over-year basis. This was due to an Identical Store Sales decline of -4.5% and was a regression from the -4.3% achieved in Q2 2013, -3.7% achieved in Q1 2013 and -2.8% in FY 2012. While Kroger (NYSE:KR) has seen its ID sales slip from 5% in Q3 2012 to 3.2% in Q3 2013, Kroger can afford to sacrifice more margin than SVU if it wants to wage a price war. We can't imagine that Kroger enjoys a price war any more than SVU, unless it enjoys the fact that the only way it can grow its EPS is through share repurchases. Maybe Kroger's management enjoys flat operating income growth and using its free cash flows to repurchase shares for solid EPS growth. It sounds like the operating and administrative strategy of Connie Mack, the former Owner and Field Manager of the Philadelphia Athletics baseball team. We expect such a strategy to yield solid rewards for executives (Kroger's Four Highest Paid Executives saw compensation increases of 60%-90% in the 2011 calendar year) while forcing Kroger's store level operations employees to make due with scant wage increases.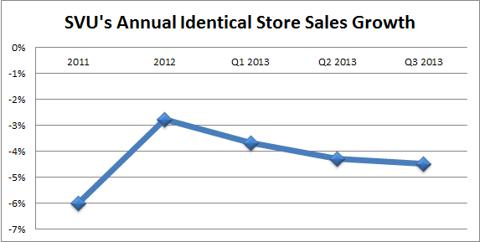 Source: SVU's 2012 Annual Report and Q1-Q3 2013 Quarterly Presentations
SVU's Independent Wholesale Grocery Distribution Business's revenue of $1.99B in the quarter was stable with last year's levels. The division saw its quarterly operating income decline by 25% year-over-year due to increased investments in price competitiveness. SVU's Independent Business announced that it settled a number of outstanding legal issues with its former President Leon Bergmann who resigned from the company after it released its Q2 2013 results. Bergmann's replacement as President of the Independent Business Janel Haugarth was noted in SVU's Q3 2013 conference call for her business process optimization work which helped reduce costs.
We believe that the company's efforts to improve pricing as well as Cerberus's support will result in market share stabilizing, which means that its competitors can't rely on SVU to cede market share. We can see this as Kroger and Safeway (NYSE:SWY) have each seen its identical stores sales growth narrow as well during the most recent quarter. While Kroger and Safeway have more resources to sustain a price war than SVU, we don't think those companies want to go through a price war especially when each store is devoting every dollar it can to a share repurchase program to boost EPS. We wrote a two part series in which we outlined synergies that would accrue to a grocery store chain if it was to take out SVU in whole or in part.
In conclusion we still believe that SVU's shares are still undervalued. While we were shocked at the results of the company, we believe that the investment community has taken the company's stock down so far that it is trading as if it was a distressed company. We won't go so far as to say it is a distressed company but it is certainly a struggling company facing a challenging environment. We don't think that SVU is anything like Wal-Mart, which was Craig Herkert's previous employer. However, we don't think that SVU is like Winn-Dixie, which went bankrupt in 2005. SVU has been more aggressive in reducing its operating expenses and capital expenses and reinvesting those savings in lower prices for its customers. We are also encouraged by the fact that SVU has announced a deal with the Cerberus consortium and it will be shedding $3.2B in debt and $1.2B in pension liabilities in the sale of the stores it acquired in the Albertsons Inc deal. We also believe that SVU's management should retain Goldman Sachs and Greenhill in order to pursue strategic alternatives with its remaining operations because we believe that SVU's remaining assets are worth more than its $3.47/share price on a sum-of-the-parts enterprise value basis net of its applicable remaining debt and pension liabilities.
Disclosure: I am long SVU. I wrote this article myself, and it expresses my own opinions. I am not receiving compensation for it (other than from Seeking Alpha). I have no business relationship with any company whose stock is mentioned in this article.
Additional disclosure: This article was written by an analyst at Saibus Research. Saibus Research has not received compensation directly or indirectly for expressing the recommendation in this article. We have no business relationship with any company whose stock is mentioned in this article. Under no circumstances must this report be considered an offer to buy, sell, subscribe for or trade securities or other instruments.