Japan is putting it all on the line to reinflate, and we like the conviction. It has been quite some time since they have been aggressive in pursuing growth and at this time the country's leaders have probably realized that they need to crank economic growth up in order to increase the birth rate. It is amazing how those two are intertwined in developed countries and when times are great more families have children as they feel like they can afford it - and in a place such as Japan with extremely high costs of living that would have to hold true.
The country is going to spend north of $200 billion on economic stimulus and one could only hope that this includes new nuclear power plants and the infrastructure necessary for a 21st century economy and not some of the wasteful spending we have seen across the world where leaders simply spent to get money into the economy.
We have economic news due out today, and it is as follows (these are the consensus estimates):
Trade Balance (8:30 AM EST): -$45.0 Billion
Export Prices - ex Ag (8:30 AM EST): N/A
Import Prices - ex Oil (8:30 AM EST): N/A
Treasury Budget (2:00 PM EST): -$1.0 Billion
Asian markets finished mixed today:
All Ordinaries - down 0.24%
Shanghai Composite - down 1.78%
Nikkei 225 - up 1.40%
NZSE 50 - up 0.31%
Seoul Composite - down 0.50%
In Europe markets are mostly higher this morning:
CAC 40 - down 0.45%
DAX - down 0.05%
FTSE 100 - down 0.06%
OSE - down 0.28%
Technology
We have always marveled at the fact that when it comes to the cellular phone market, competitors must stay at the top of their game or quickly become irrelevant and no longer a threat to the new players. Motorola is really the only handset manufacturer we can think of which went from super popular to afterthought to super popular again, although that was in the early years of the industry where there were but a handful of manufacturers. The fact that Nokia (NYSE:NOK) may be turning the ship around has many people impressed and is why the shares performed so well yesterday. The shares rose $0.70 (18.67%) to close at $4.45/share with investors trading 292.4 million shares after the company announced that sales are running ahead of expectations and although the company has been trying to keep operating expenses low that effort has had better results than anticipated. At the end of the day Nokia thinks that positive profit margins could be just around the corner, something investors will always cheer. We were surprised that Nokia had a trailing twelve month dividend yield of 4.40%, which before yesterday's rally would have been a bit higher too.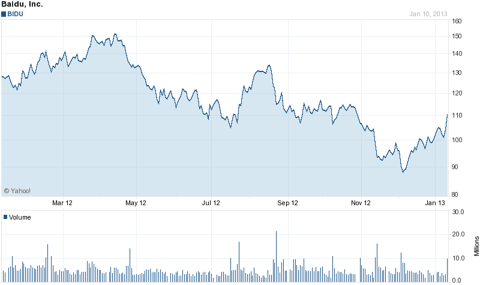 Click to enlarge
Chart courtesy of Yahoo Finance.
With China's economy heating up, so too shall Baidu's stock.
With the newfound optimism on China with the data looking pretty good compared to only a few months ago we wanted to point out Baidu (NASDAQ:BIDU) which is rising off of 52-week lows it set in early December. If China is moving higher, Baidu is moving higher. This trade has worked for quite some time and it is due to many reasons but mainly because the company's financials are reliable and it is one of the few companies which are not state sponsored entities. We have included a chart today so readers can see the movement off of the lows and the opportunity should shares be able to break through this $110-115/share level. We are looking to this as a possible trade for our readers who are traders and not something for our more conservative readers.
ARM Holdings (NASDAQ:ARMH) continues to set 52-week highs and interestingly the stock is now within distance of taking out its all time high which was set at the height of the tech boom. It is interesting that the company has been able to reinflate the share price and multiples afforded it in a manner which few other tech companies have been able to do. Although when it comes to ARM Holdings it is not about who is winning the smartphone battle so much as it is that the smartphone versus 'dumbphone' battle is in fact being won. This is of course due to the company's technology being used in many of the smartphones already out there and the biggest names in tech having already thrown up the white flag and surrendered by licensing the company's technology rather than trying to develop their own. Check out the chart below for a long-term chart on the company.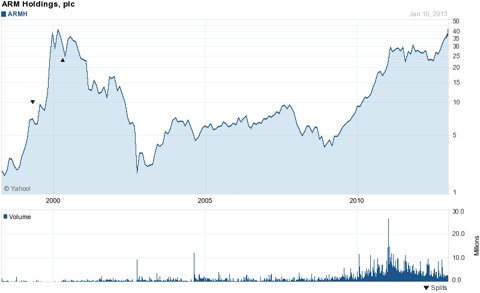 Click to enlarge
Chart courtesy of Yahoo Finance.
We just wanted to provide an update on the Dragonwave (NASDAQ:DRWI) share reaction to the poor earnings. When we wrote yesterday the premarket and after hours traders had not slammed the shares but the shares finished near the lows during yesterday's session after having fallen $0.93 (27.19%) to close at $2.49/share on volume of 2.1 million. The market punished the stock accordingly and one can only hope that management is able to meet their latest lowered guidance or this could, and should, get ugly. For those interested in the transcript to the company's quarter, you can follow this link to read that in its entirety.
Consumer Goods
Yesterday was the day that Herbalife (NYSE:HLF) held their investor presentation day to dispel Bill Ackman's allegations. It now appears that he will provide, in a public forum nevertheless, questions to the company for answers and will update the website his firm set up to provide their research to the public. One would have thought that the company would have had a bunch of fireworks to launch, but the conference was not too eventful from what we followed. Moving forward we think that this will be the market's soap opera, at least for the next few months, as the big whales tussle on opposite sides of the trade and rumors of other whales joining the fun persist (we were unable to confirm it, but a rumor was circulating yesterday that Carl Icahn purchased shares). The shares finished at $39.24/share after falling 1.78% after having an interesting day of trading within a 10% range, although never up or down more than 5%.
Chart of the Day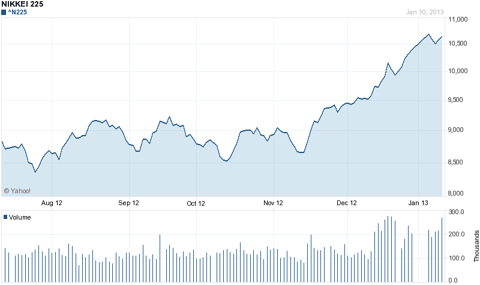 Click to enlarge
Chart courtesy of Yahoo Finance.
Since Prime Minister Abe's election Japan's benchmark Nikkei has been on a tear. Economic reforms are on the horizon and stimulus programs should help fast track their plans to getting back to 2% GDP growth.
Disclosure: I have no positions in any stocks mentioned, and no plans to initiate any positions within the next 72 hours. I wrote this article myself, and it expresses my own opinions. I am not receiving compensation for it (other than from Seeking Alpha). I have no business relationship with any company whose stock is mentioned in this article.