Shares of Nokia (NYSE:NOK) were up as much as 20% yesterday after the company reported preliminary results that were better than what the company expected.
Key Highlights
The mobile phones unit and the Lumia portfolio delivered better-than-expected results.
Operating expenses were lower than expected.
Non-IFRS operating margin for Q4 2012 is now expected to be between breakeven and positive 2%.
Nokia also estimates that Nokia Siemens Networks delivered record underlying profits for Q4 2012, and this was the third consecutive profitable quarter.
Nokia currently estimates that total Device and Services sales for Q4 2012 were 3.9 billion euros ($2.95 billion), with total device volumes of 86.3 million units. Total smartphone volumes were 15.9 million units, composed of 9.3 million Asha full-touch smartphones, 4.4 million Lumia smartphones, and 2.2 million Symbian smartphones.
The big news in the pre-announcement statement was the big change from previous guidance. While the previous outlook called for operating margins of negative 6%, the company said that margins will be between breakeven to positive 2%. That's a total swing of 8%. During Q4, multiple factors positively affected Nokia's Devices and Services businesses to a greater extent than previously expected. According to the company, these factors include:
Within the Devices and Services business, better-than-expected financial performance in the mobile phones business unit and Lumia smartphones.
Lower-than-expected Devices and Services operating expenses, partially due to greater-than-expected cost reductions under the restructuring program.
Better-than-expected improvement under Nokia Siemens Networks' restructuring program to reduce operating expenses and production overheads.
As for the preliminary outlook for Q1 2013, the company expects its non-IFRS Devices and Services operating margin in the first quarter of 2013 to be approximately negative 2%, plus or minus four percentage points. Some of the reasons mentioned: seasonality, additional competition in the smartphone space, continued ramp-up for Lumia smartphones, and the macroeconomic environment.
My Take
As for the relatively low reported number of Lumia phones sold, I think that probably has to do with supply constraints and production issues. For example, while the Lumia 920 is reported to be sold in India, many people from India say they have not seen it anywhere. Here in Greece, the Lumia 920 and 820 are still not on sale and when I asked a local retailer about availability, he said he doesn't know when they will get them. Also, just about every online retailer is either out of stock or you have to back order the Lumia 920.
Of course, that's bad for short-term profitability. But on the other hand there is pent-up demand building, and that should provide for steady Lumia 920 volume sales for many quarters ahead. Also, please remember that the company is in restructuring mode. The company is still working many issues out, and production is probably one of them.
Make no mistake, there's a lot of work to be done in order for this company to be back on its feet again. And it needs to work even harder in order for the market to fully value Nokia once again.
But if it does become fully valued, then shareholders who buy even at today's prices will be richly rewarded. To give you an illustration of what I mean, let's do a comparison with Apple (NASDAQ:AAPL) and several other stocks on a price/sales basis.
When the market feels a company will go out of business (as has been the case with Nokia), then it discounts the stock to such an extent that the price/sales ratio falls really low. As such, with special situation, turnaround story stocks, I look at price/sales because it gives me some idea of where a stock might go, if the company restructured and turned around and was fully valued by the market.
So let's look at selected price/sales ratios below:
| | | | | |
| --- | --- | --- | --- | --- |
| Nokia | Apple | Intel (NASDAQ:INTC) | Microsoft (NASDAQ:MSFT) | Cirrus Logic (NASDAQ:CRUS) |
| 0.33 | 3.1 | 2 | 3.11 | 3.76 |
Please note that Nokia is currently selling at 0.33 price/sales ratio. This means that if the company manages to restructure and return to normal profitability, the stock has the potential to become a 10x bagger (even from today's price levels) - assuming the market will value Nokia 3.1x sales like Apple or Microsoft. But even a price/sales ratio of 2, like Intel has, means a 6x bagger from these levels.
Please also note that we don't know if Nokia's restructuring efforts will succeed. We also don't know if it will become profitable enough for the market to value Nokia at 3.1x sales. But that's why Nokia is a special situation play, and that's why it carries a high risk/reward payout. Seeing how the company is progressing so far, the risk/reward scenario is in our favor. And shareholders will be richly rewarded if the Nokia bet plays out.
Bottom Line
The company is continuing to perform quite well in a very difficult environment and is on track with its restructuring efforts. I reiterate my buy recommendation for the stock, and as I have said from the beginning of my coverage of Nokia (you can read about my Nokia logic here), it is a stock that has the possibility to deliver extraordinary returns. So far the odds for such an outcome are turning out in our favor.
Technically Speaking
Click to enlarge image.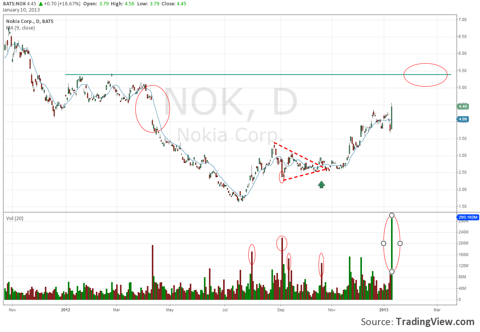 The stock saw record volume yesterday, and the next technical target that I see is around $5.50. Due to extremely strong volume, I assume that there was plenty of short-covering yesterday. As such, I think that the technical target of $5.50 will be relatively easy to achieve. If and when it reaches there, I will re-evaluate the situation.
Even though the stock has almost doubled since I recommended it, it remains on my conviction buy list until such time that circumstances and/or operation results change and I change my mind. Until then, may the Nokia force be with you!
Disclosure: I have no positions in any stocks mentioned, and no plans to initiate any positions within the next 72 hours. I wrote this article myself, and it expresses my own opinions. I am not receiving compensation for it (other than from Seeking Alpha). I have no business relationship with any company whose stock is mentioned in this article.