2012 was a year of poor performance by actively managed mutual funds and hedge funds. Investors have turned their backs on such funds in favor of index funds, however, in so doing they have failed to question the cause of this underperformance and whether it should be expected to continue.
Let us consider the graph below, which is a comparison of the prior year performance of Fidelity's Leveraged Company Stock Fund (MUTF:FLVCX) against the S&P 500 (NYSEARCA:SPY). The fund invests primarily in: "common stocks of leveraged companies or companies that issue lower-quality debt and other companies with leveraged capital structures." In other words, companies with the most debt and the most-risky debt relative to the broad market. The level of outperformance of this fund since the inception of the latest quantitative easing program by the Federal Reserve in late-August has reached a manic phase (Figure 1).
Figure 1: Fidelity's Leveraged Company Stock Fund Versus the S&P 500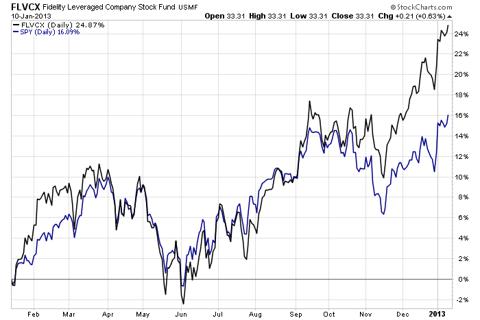 Taking a longer view, the following chart depicts the ratio of FLVCX to SPY. As the former outperforms the ratio of the two moves higher. This ratio is currently extremely overbought at its highest relative strength index observed for the past three years. The market is currently risk-taking in the extreme for stocks of companies with the lowest rated debt.
Figure 2: The Ratio of FLVCX and SPY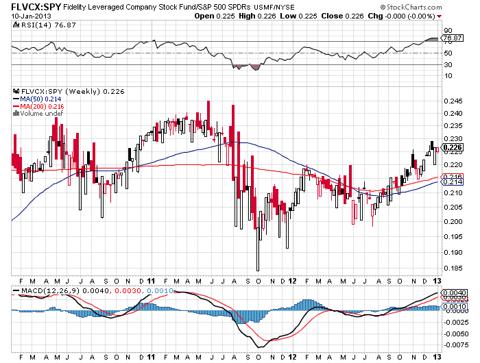 It is worth noting that the same trend was observed following QE2 until May 2011, when the ratio began to fall sharply anticipating a stock market crash by summer 2011. At the current time there is a very good reason that many stock pickers are lagging the market. When deciding on a stock to buy, few investors focus on companies with the lowest-rated debt or the highest debt-to-equity ratio. Analyzing the balance sheets of these companies is generally enough to persuade them not to invest. However, these are exactly the stocks that outperform as the yield on below-investment grade debt has hit all-time lows.
In an unexpected reversal of fortune, the worst have become first due to the Fed's policies. In the short term this likely bodes well for the stocks of such companies, but in the medium term mean reversion is highly likely. If you are unhappy that an actively managed fund you hold has lagged its benchmark you should consider that the manager is probably protecting you from investing in more speculative companies. Furthermore, this development may mean that the market will suffer another bought of mean-reversion in the not too distant future. If you wonder when that will be, keeping your eye on the ratio of FLVCX:SPY may prove to give a signal when the low-credit sugar high we are experiencing is in danger of running out of gas.
As this rally will continue out of momentum alone, some of the highest-beta stocks with the poorest debt-to-equity ratios are poised to outperform. Long-term investors will be better served by staying the course in conservative blue-chips such as: Chevron (NYSE:CVX), International Business Machines (NYSE:IBM), Johnson and Johnson (NYSE:JNJ), and McDonald's (NYSE:MCD). However, as a short-term trader you could "run with the bulls" by buying Libbey (NYSEMKT:LBY), Huntsman (NYSE:HUN), Tenneco (NYSE:TEN), Revlon (NYSE:REV) or Temper-Pedic (NYSE:TPX). In the current market environment nothing says "buy me" like negative or nearly negative shareholder equity.
Disclosure: I am long IBM, MCD. I wrote this article myself, and it expresses my own opinions. I am not receiving compensation for it (other than from Seeking Alpha). I have no business relationship with any company whose stock is mentioned in this article.