Garmin (NASDAQ:GRMN) is the worldwide leader in personal navigation devices, ahead of Dutch provider TomTom (OTCPK:TMOAF), which has a leveraged balance sheet and is struggling. Garmin continues to grow revenue, and while unit growth has slowed, the market for personal navigation devices continues to benefit from consumer adoption. Profits have stagnated due to rapid ASP erosion; however, price declines appear likely to moderate, enabling the company to continue reasonably strong performance even in a weak economic environment.
We believe the stock has been "orphaned" as momentum investors have fled. We value Garmin at $35-65 per share, based on a range of 10x estimated 2009 earnings to 10x estimated normalized earnings.
BUSINESS OVERVIEW
Garmin provides navigation devices and applications enabled by GPS technology. Products serve auto, mobile, wireless, outdoor recreation, marine, aviation, and OEM applications. No customer accounts for 10% or more of revenue.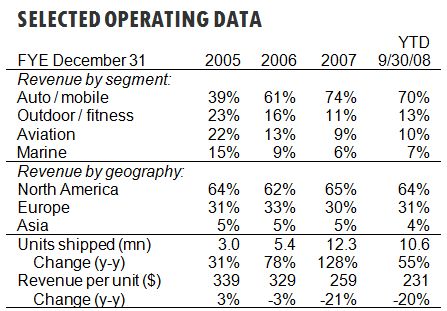 INVESTMENT HIGHLIGHTS
Leader in personal navigation devices (PNDs),

with 55% market share in North America and 20% share in Europe (#2 behind TomTom). Industry shipments have slowed sharply after growing 100% in the U.S. and 40% in Europe earlier this year.

Deals with auto makers and car rental firms have boosted Garmin's market presence.

The company has deals with Ford, Honda, and Volvo, as well as National Car Rental and Alamo Car Rental.

Acquisitions of European distributors

have doubled Garmin's European share since early 2007.

Planned nüvifone launch in 2009.

The nüvifone is a mobile device that seeks to integrate the navigation and communication experience.

Leading-edge proprietary technology,

protected by more than 330 U.S. patents and 190 U.S. patent applications pending; and more than 40 foreign patents and 32 foreign patent applications pending.

Units, revenue, and EBIT up 55%, 25% and 5%, respectively, YTD.

Growth continues to be driven primarily by the auto/mobile and outdoor/fitness segments, while the marine segment has lagged.

Guiding for 2008 revenue of $3.6 billion (+13%),

down from prior guidance of $3.9 billion (+23%), with EPS of $3.78 (excluding forex translation).

Repurchased $625 million of stock YTD.
INVESTMENT RISKS & CONCERNS
ASP declines have approximated 25% recently and are expected to do so through yearend 2008.

Offsetting the declines are unit volume increases, component cost reductions, and greater efficiency. Inflation could make lower costs tough to sustain.

Marine and aviation segments have slowed

due to higher fuel prices and economic weakness.

$8 billion Nokia acquisition of Navteq,

which supplies digital map data for vehicle navigation and location-based services to Garmin under a deal that runs through 2019. Garmin renewed the Navteq deal in late 2007 and abandoned a proposal to buy Navteq competitor Tele Atlas. Nokia competes with Garmin, calling into question the long-term viability of Garmin's Navteq partnership.

€3 billion TomTom acquisition of Tele Atlas.

Top Garmin competitor TomTom took control of Tele Atlas in June 2008. This deal puts both major providers of digital map data—Navteq and Tele Atlas—into the hands of Garmin competitors.

Dependence on Global Positioning System (GPS).

GPS is a satellite-based navigation and positioning system consisting of a constellation of orbiting satellites operated by the U.S. Department of Defense. The DoD does not currently charge for access to the satellite signals, but it is conceivable the government could decide to do so in the future.
WHAT ARE THE SHARES WORTH?
We value Garmin at $35-65 per share,

based on the valuation analysis summarized below. The wide range of fair value reflects (1) the difficulty of balancing the potential earnings impact of the current slowdown and the continued positive long-term growth outlook for personal navigation devices; and (2) the virtually impossible task of predicting the multiple of earnings Garmin will deserve in the future. We reflect this dual challenge in fairly conservative assumptions.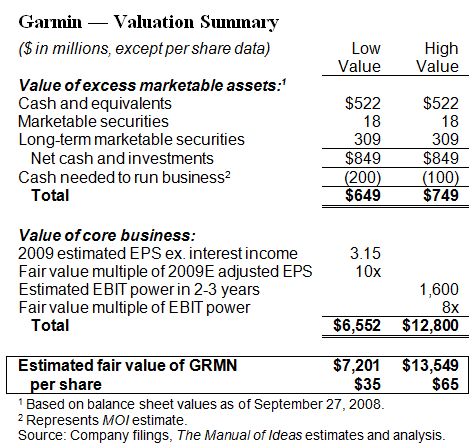 WHY THE SHARES MAY BE MISPRICED
Turnover in "style" of shareholder base.

While only a year ago Garmin was a favorite "momentum stock," it now attracts investors who are both comfortable with a projected earnings decline and willing to own a business experiencing rapid technological change. In other words, the shares may not have found a natural "home" yet, but we believe they are now moving into the sweetspot of "magic formula" and low P/E investors.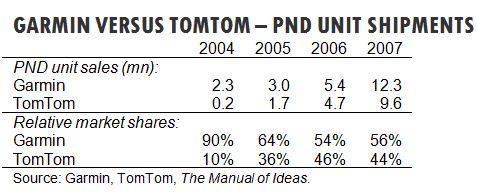 TOP COMPETITOR TOMTOM – SNAPSHOT
TomTom is #1 PND supplier in Europe (45% market share) and #2 globally.

It derives more than three-quarters of revenue from Europe, with the rest primarily from North Amrica. TomTom was founded in 1991, went public in 2005 (Amsterdam: TOM2.AS), and has ~3,500 employees today.

Explosive growth from 2002-07,

with revenue up from €8 million to €1.7 billion and net income up from €1 million to €317 million over the period.

Q3 pro forma revenue down 12% sequentially and down 10% y-y.

Favorable sequential but unfavorable y-y ASP trends are evident from the fact that TomTom shipped 2.5 million PND units in Q3, down 18% sequentially and up 17% y-y.

Guiding for 2008 PND market size of 18 million units in Europe and 18 million units in North America,

down from TomTom previous market guidance for 20 million units in each market. TomTom expects to comprise 12-13 million of the estimated 36 million units sold globally, resuling in estimated revenue of €1.6-1.7 billion to TomTom, with 40% gross and 20% operating margins.

Acquired digital mapping provider Tele Atlas for €3 billion in August,

creating a strategic challenge for Garmin, which relies on mapping data provided by Navteq, which Nokia acquired for $8 billion.

Weak balance sheet,

with negative tangible book, $263 million of cash and $1.6 billion of debt.
Disclaimer: Copyright 2008 by BeyondProxy LLC. BeyondProxy and its affiliates may have positions in and may make purchases or sales of the securities discussed in this report. It is the policy of all Related Persons to allow a full trading day to elapse after the publication of this report before purchases or sales of any securities discussed herein are made. No Related Person held a position in relatd securities as of the date of publication of this report. Use of this report and its content is governed by the Terms of Use described in detail here.