Whether you are new to dividend investing or you are a seasoned pro, it's likely that your main goal is to build a long-term portfolio that generates consistent income over time with as little volatility as possible. That said, over the next few weeks we will continue publishing our 10-part series which should help you build your own 6% DIY Dividend Portfolio for 2013.
In part 1, we highlighted the investment plan and strategy for the portfolio and parts 2-10 will highlight each sector in the S&P 500, including high-rated stocks within each sector that you should consider for your portfolio. Below is a schedule of the entire series. Please make sure to "follow" us so that you will be notified when each new article is published.
Healthcare
The Healthcare sector shares two key attributes with its "defensive" brethren (Consumer Staples and Utilities): low beta and low volatility. Of the nine sectors in the S&P 500, the Healthcare sector has the third lowest average beta (0.66) and the second lowest maximum drawdown over the past 5 years (-39.2%). As a matter of fact, the three "defensive" sectors are the only three sectors with a beta under 1.0.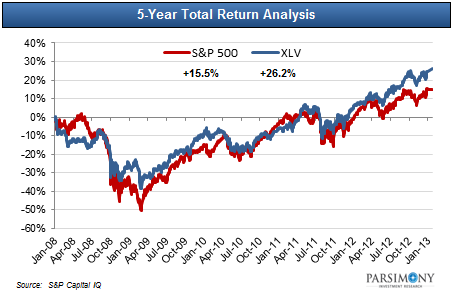 As you can see in the chart above, the Healthcare sector has consistently outperformed the broader market over the past 5 years (albeit by a small margin) and it has done so with lower downside volatility. Higher total return and lower downside volatility is the exact recipe that you should try to cook up in your DIY Dividend Portfolio and adding some high-quality stocks from the Healthcare sector should help you achieve this.
That said, below is a list of our top-rated dividend stocks in the Healthcare sector. Note that our composite rating ranges from 0 (lowest) to 99 (highest).

True to form for the sector, the stocks on the list above have an average dividend yield of 2.7% and an average beta of 0.52. However, it's interesting to note that most of these top-rated stocks significantly outperformed the sector as a whole over the past 5 years, with an average total return of 48.3%. Clearly, picking the right stocks in the sector has made all the difference for investors. We can't stress this point enough.
The tables below highlight some of the key data points that we analyze when ranking our dividend stocks.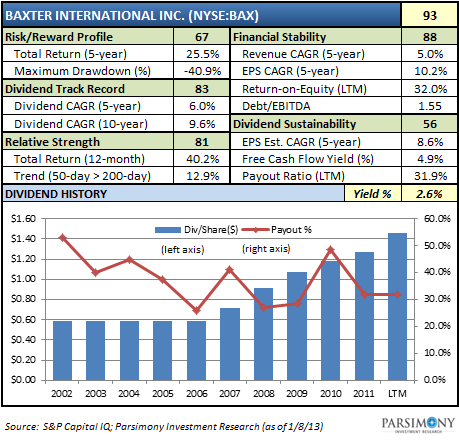 Back in July, Baxter International (NYSE:BAX) increased its quarterly dividend by 34% (from $0.335 to $0.45). The company has a high Financial Stability rating (88) and it has a strong track record of returning significant value to shareholders in the form of dividends and share repurchases. Over the last five years (2007-2011), Baxter has generated an average of $2.7 billion in cash flow annually and has returned more than $11.4 billion cumulatively to shareholders through dividends and share repurchases.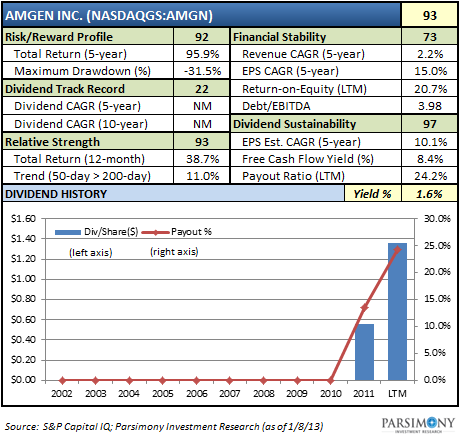 While Amgen Inc. (NASDAQ:AMGN) only recently began paying a dividend in 2011, the company is off to a great start and dividend investors should certainly take notice. The company has a very high rating for Dividend Sustainability (97) with a modest payout ratio (24%). That said, we expect Amgen to continue to increase its dividend at a very aggressive pace for the next few years.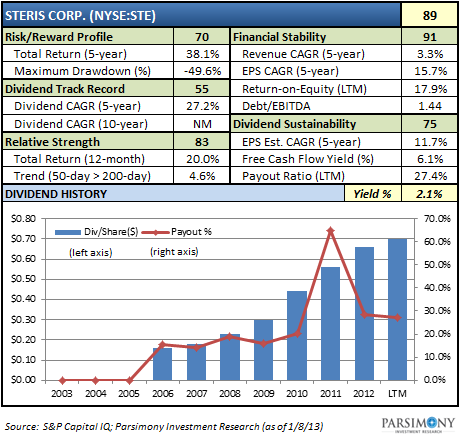 Steris Corp. (NYSE:STE) is also a relatively new dividend payer, but the company has increased its dividend at a compound annual rate of 27% over the past 5 years. The company has very good ratings for Financial Stability (91) and Dividend Sustainability (75) and we expect this strong dividend track record to continue.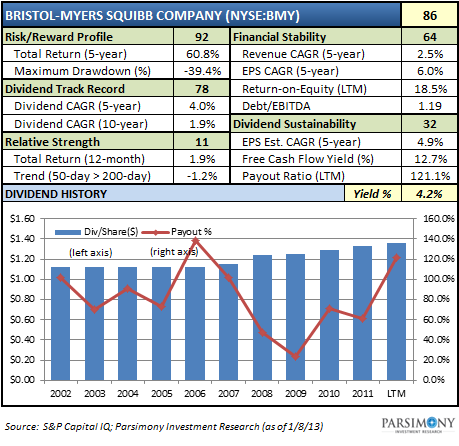 While Bristol-Myers Squibb's (NYSE:BMY) dividend growth rate has been relatively modest over the past 5 years (4.0%), the company has delivered shareholders a total return of 60% over that time period. In addition, the stock has by far the highest dividend yield of this group (4.2%) and we think that it is a great long-term hold for DIY dividend investors.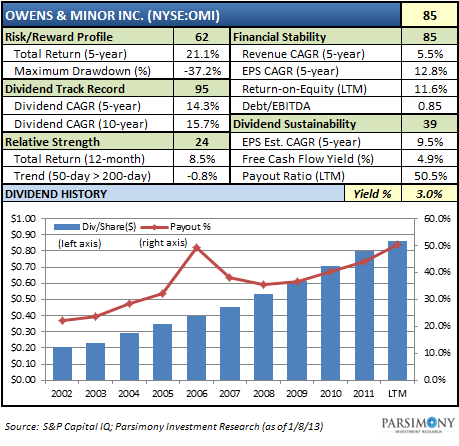 Owens & Minor (NYSE:OMI) may not be on your radar, but it should be. As shown in the graph above, the company has consistently increased its dividend at a compound annual rate of 15.7% over the past 10 years. This kind of chart is exactly what you want to see from your dividend stock. In addition, OMI has a strong rating for Financial Stability (85) and we expect this dividend trend to continue.
Conclusion
Any DIY Dividend Portfolio should include several stocks from the Healthcare sector. Stocks in this sector have low relative betas and will tend to be less volatile than the general market, which will help dampen overall portfolio volatility. In addition, most of these stocks are financially sound and have long and stable dividend histories. Sounds like a good combination for a DIY Dividend Portfolio.
In Part 4b of this series, we will highlight our specific "Buy Zones" for each of these stocks, so please make sure to "follow" us.
Disclosure: I am long OMI, BMY. I wrote this article myself, and it expresses my own opinions. I am not receiving compensation for it (other than from Seeking Alpha). I have no business relationship with any company whose stock is mentioned in this article.