AbbVie is here to improve our lives as its name implies. "The beginning of the name connects the new company to Abbott and its heritage of pioneering science," said Mr. Richard A. Gonzalez, the chairman and CEO of AbbVie. "The 'vie' calls attention to the vital work the company will continue to advance to improve the lives of people around the world."
AbbVie Inc. (NYSE:ABBV) is a research-based pharmaceuticals company with strong exposure to immunology and cardiovascular diseases. AbbVie was spun off from Abbot Laboratories (NYSE:ABT) and was listed on the NYSE on January 2, 2013, with an opening price of $34.92. As stated by the company, "AbbVie has nearly $18 billion in annual revenue today and will have a sustainable portfolio of market-leading brands, including Humira, Lupron, Synagis, Kaletra, Creon and Synthroid. An attractive pipeline of innovative R&D assets - in important specialty therapeutic areas such as Hepatitis C, immunology, chronic kidney disease, women's health, oncology and neuroscience - will help drive future growth." ABBV's top drug, Humira, accounts for more than 50% of the company's sales and 70% of profits. Humira, along with a portfolio of hard-to-make drugs, should drive strong cash flows to support the company's next generation of pipeline drugs, which are unlikely to reach the market until 2015 while several midsized drugs are losing patent protection.
Humira
Humira, also known as Adalimumab, is a fully humanized monoclonal antibody targeting the Tumor Necrosis Factor, TNF, subtype TNFα, implicated in a number pro-inflammatory and autoimmune diseases, including Psoriatic Arthritis, Psoriasis (Severe / Chronic Cases), Rheumatoid Arthritis, Ankylosing Spondylitis and Crohn's Disease.
As reported by Morningstar, Humira is projected to have an 11% five-year compound annual growth rate. However, patent losses on several less prominent drugs reduce the five-year total sales CAGR to 5%. The earnings should outpace total sales growth due to increasing contribution from Humira, which has a higher margin than the company average. However, Humira's sales trajectory following the drug patent losses in 2017-18 represents the biggest unknown facing ABBV. Morningstar has a price target of $38.00 based on the 20% annual Humira declines due to increasing generic competition and new branded competition emerging and gaining traction after 2017.
Analysts' Calls and Earnings Estimates
On Jan. 4, Barclays initiated coverage on ABBV with a rating of "Equal Weight" and a price target of $37.00. On the same day, BofA/Merrill Lynch initiated coverage on ABBV with a buy rating and a price target of $40.00. On Jan. 2, JPMorgan initiated coverage on ABBV with a rating of "Overweight" and a price target of $38.00. Lastly, BMO Capital initiated coverage on ABBV with an Outperform rating and a price target of $39.00.
Analysts, on average, are estimating an EPS of $0.97 with revenue of $4.83B for the current quarter ending in December 2013. Analysts are expecting an EPS of $3.62 with revenue of $18.03B for fiscal 2012. For 2013, analysts are projecting EPS of $3.07 with revenue of $18.19B, which is 0.90% higher than 2012, as seen from the table below.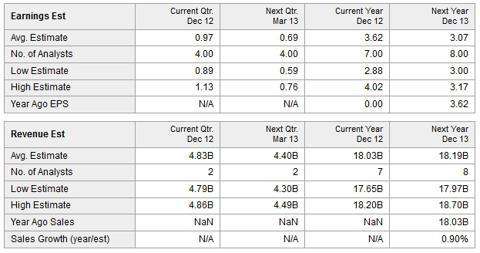 Source: Yahoo! Finance
On January 4, the company announced the first quarterly cash dividend of USD 0.40 per share for Q1, 2013. The cash dividend is payable on February 15, 2013, to stockholders of record at the close of business on January 15, 2013.
Key Stats and Valuation
ABBV currently has a market cap of $53.74B with a total cash of $4.59B. ABBV generates revenue of $18.04B with an operating cash flow of $6.45B. ABBV should not have problems serving its debt, but ABBV will not pay down debt rapidly due to approximately $2.5B annual dividend distribution and continuing acquisitions and partnerships to increase its pipeline.
By using Morningstar's data, ABBV's key stats will be compared to its peers in the industry of major drug manufacturers. ABBV has higher operating margin of 29.8%, ttm, and net margin of 27.1%, ttm, comparing to the industry averages of 22.3% and 16.4%, ttm. ABBV's ROE is 31.2, which is higher than the industry average of 17.2.
ABBV currently has a P/E of 10.98, which is lower than the industry average of 17.1. ABBV has a forward P/E of 10.9, which is lower than S&P 500's average of 13.3.
Options Strategy
Based on analysts' target prices, ABBV's fair price should be in the range of $37.00-$40.00, suggesting upside potential of 8.82%-17.65%.
For bullish, long-term investors, a credit put spread will be reviewed, which will allow investors to acquire the stock at a lower entry price while gaining some upside potential.
Short May 18, 2013 put at the strike price of $35.00 for the credit of $2.50
Buy May 18, 2013 put at the strike price of $30.00 for the cost of $0.55
The maximum profit is $1.95, and the maximum risk/margin requirement is $3.05 ($5 loss - $1.95 credit received). If ABBV closes above $35 on May 18, 2013, 63.93% return on margin will be gained. If ABBV stays below $35.00 upon options expiration, ABBV stock will be acquired at $33.05, which is 2.79% less than the current price of $34.00.
Note: All prices are quoted from the closing of January 10, 2013, and all calculations are before fees and expenses. Investors and traders are recommended to do their own due diligence and research before making any trading/investing decisions.
Disclosure: I have no positions in any stocks mentioned, but may initiate a long position in ABBV over the next 72 hours. I wrote this article myself, and it expresses my own opinions. I am not receiving compensation for it (other than from Seeking Alpha). I have no business relationship with any company whose stock is mentioned in this article.