Very few sectors have behaved worse performance wise than the Gold miners over the last 12 months. Falling prices since gold's peak in 2012, cost inflation at mining operations and strikes at major mines in Africa and South America have made it a miserable year for shareholders in these stocks and they have vastly underperformed the S&P (see chart). However, being a contrarian I think it is time to start to nibble at one of the largest plays in the sector, Barrick Gold (NYSE:ABX). The shares are cheap and the stock has had some recent positives.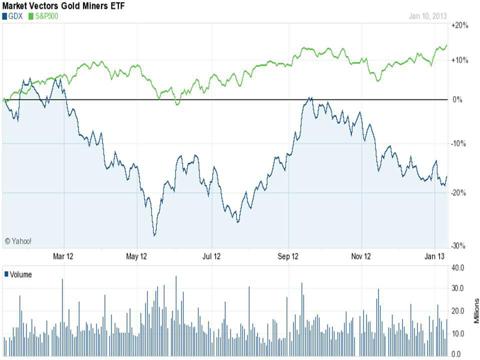 Click to enlarge
Positives for Barrick Gold:
After being flat in FY2012, analysts expect revenue growth to clock in at better than 15% in FY2013.
Consensus earnings estimates have ticked up slightly for FY2013 over the last month.
OptionMonster came out today with a report showing large call option buying in the shares.
The stock looks like it put in technical support h

ere (see chart).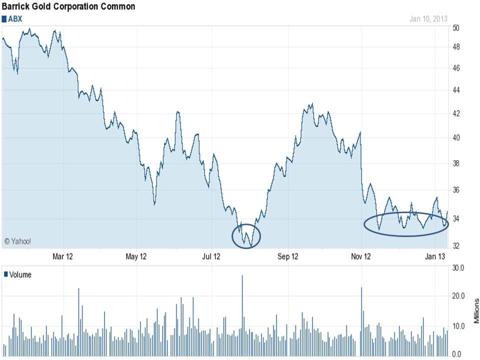 Click to enlarge
4 reasons ABX is undervalued at just over $34 a share:
The stock sells for less than 7x forward earnings, a significant discount to its five year average (12.8).
ABX is selling at the very bottom of its five year valuation range based on P/E, P/S, P/CF and P/B.
The stock provides a 2.4% dividend yield, a solid balance sheet and a low beta (.41).
The median price target of the 22 analysts that cover the stock is $49 a share, more than 40% above the current stock price. Credit Suisse has an "Outperform" rating and a $53 price target on the shares.
Disclosure: I am long ABX. I wrote this article myself, and it expresses my own opinions. I am not receiving compensation for it (other than from Seeking Alpha). I have no business relationship with any company whose stock is mentioned in this article.