A strong dividend investment portfolio seeks to find companies with strong and stable business models that are able to generate consistent revenues and profit to pay out increasing dividends. Aflac (NYSE:AFL) can be part of such a portfolio for you.
Background
Aflac is a provider of voluntary individual health insurance policies in the U.S. and a provider of life insurance policies in Japan. The company has been in operation for 55 years and products cover a total of 50 M people worldwide.
Aflac's revenues come from two major sources, premium income which is paid by members for coverage under their policies, and investment income on their portfolio of investments.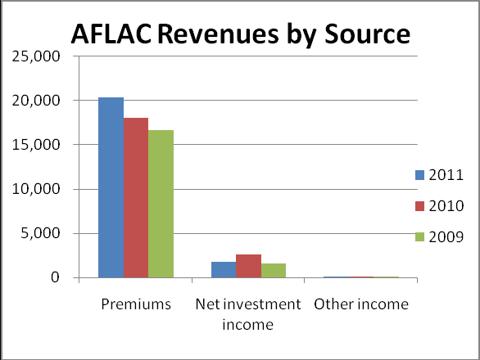 The single largest expense consists of Benefits and Claims, followed by Operating and Administrative expenses and Insurance Commissions. Aflac's Pre-Tax margin hovered between 12 and 17% for an average Net Earnings of 8.9% of sales between the period of 2008-2011. This presents a stable and profitable financial picture.
Aflac Condensed Statement of Earnings

Year ended

2008

2009

2010

2011

Avg %

Total revenues

16,554

18,254

20,732

22,171

100.0%

Benefits and claims

10,499

11,308

12,106

13,749

61.4%

Insurance commissions

1,460

1,568

1,637

1,725

8.3%

Insurance expenses

1,743

1,977

2,159

2,313

10.6%

Other operating expense

938

1,166

1,269

1,434

6.2%

Income Taxes

660

738

1,233

1,013

4.6%

Total Expenses

15,300

16,757

18,404

20,234

91.1%

Net earnings

1,254

1,497

2,328

1,937

8.9%
Current Valuation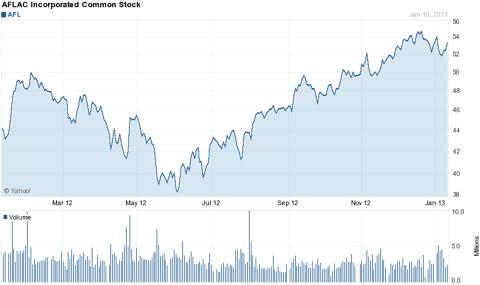 Aflac's shares at the time of writing traded at $53.37, near its 52 year high of 54.93. The shares are trading at a reasonable P/E ratio of 8.8 and yield a dividend of 2.7%. This dividend, coupled with the consistent annual increases for the past 30 years, result in this stock commonly being included in dividend portfolios, particularly with its membership in the S&P's Dividend Aristocrats portfolio. The average analyst opinion is a buy/hold, with EPS projected to increase to only 6.68 from the estimated 6.61 for the full year 2012.
The share price seems to be undervalued in terms of its earnings, which may reflect a discount due to some poor investment choices that led to heavy exposure to the European markets in investments over the past couple of years. The following section will be devoted to determining if this valuation is appropriate, and if the symbolic duck belongs in your dividend income portfolio.
A) Excess Investments
Aflac holds a portfolio of investments to cover the future cost of benefits and claims to be paid to members. This portfolio of investments in the third quarter of 2012 was held at a book value of $ 124,215 M, offset by the projected policy liabilities of $105,328 M.
This results in net excess investments of $18,887 M that should be considered excess value to shareholders. This consideration is not dollar for dollar since the value of the liability against those investments is variable and based on an estimate. In addition, investors must contend with outside management of their funds, which is not the reason most of us choose to pick stocks. As a result, a 20% discount to the value of the investments will be applied to approximate the discount required by investors for increased risk and for outside management of funds.
The net value of the discounted excess investments is $15,110 or $32.22 per share. This results in approximately 60% of the share value being represented by excess investments, therefore creating an important security buffer in the share price.
B) Value of Going Concern
Aflac's core earnings are the excess of the premiums collected over the expenses, and the investment income earned on the portfolio of investments held. In order to project earnings, the earnings from the operations and the income from the investments will be treated separately below:
Operations
Aflac Expenses as a % of Revenues

Year ended

2008

2009

2010

2011

Avg %

Revenue from premiums

100%

100%

100%

100%

Benefits and claims

70%

68%

67%

68%

68%

Insurance commissions

10%

9%

9%

8%

9%

Insurance expenses

12%

12%

12%

11%

12%

Other operating expense

6%

7%

7%

7%

7%

Income Taxes

4%

4%

7%

5%

5%

Total Expenses

102%

101%

102%

99%

101%
Without investment income, operations are near breakeven over the period considered.
Revenue from premiums - The 9 month period to September 30, 2012, incurred a 9.7% increase in the policy premiums. This rate will be extrapolated for the full year 2012 for the sake of the analysis. An increase of 4.47% is projected by analysts to total revenues in 2013. Given its size and its large existing customer base, Aflac will have difficulty growing revenues at a high percentage compared to the current size. Consistent with the analyst projection, a conservative figure of 4% revenue growth for the following years is used.
Aflac Projected Revenues

Year ended

2012

2013

2014

2015

Revenue from premiums

22,357

23,252

24,182

25,149
Expenses - Based on the past 5 years, expenses are relatively consistent in terms of a percentage of premium revenues. As a result, projected revenues and average expenses as a percentage of revenues will be used to project income
Investment Income
Investment income earned is a function of the size of the total investment portfolio and the investment choices made by management.
Aflac Investment Income (Detailed)

2008

2009

2010

2011

Revenues:

Net investment income

2,578

2,765

3,007

3,280

Realized investment gains (losses)

(1,007)

(1,212)

(422)

(1,553)

Other income

36

80

74

82

Total Investment Income

1,607

1,633

2,659

1,809
Net Investment Income is essentially the return on the investment portfolio without considering the impact of sales of investments.
Aflac Interest Income and Return on Investments

Net Investment Income

2008

2009

2010

2011

Net investment income

2,578

2,765

3,007

3,280

Total investments held (year end)

68,550

73,192

88,230

103,462

Return on investments

3.8%

3.8%

3.4%

3.2%
Aflac generated a diminishing return on its investment portfolio over the period considered, however this rate is consistently strong considering the market rates of interest available during this period. As a result, the projected revenues on investments will use a rate of 3%:
Aflac Investment Income Projection

2012

2013

2014

2015

Total investments held

124,215

129,184

134,351

139,725

Return on investments

3%

3%

3%

3%

Projected investment income

3,726

3,876

4,031

4,192
Total Investments held at year end will be projected for 2012 using the figure for the end of Q3 2012, which represents a 20% increase on year end 2011. Future increases will be consistent with the rate of increase of the revenues, 4%.
Realized Investment Gains seem to be causing some difficulty for Aflac in the past four years, resulting in consecutive losses year to year. This amount however will not be considered in the projection for the following two reasons:
The period considered of 2008 - 2011 encompasses the financial crisis. While it's arguable as to whether 2013 and the future will be a full recovery, it is unlikely that we will see a crisis of that magnitude in the future. This is supported by the loss for the 9 month period

of only $

(177) M.
Management does not seem to prioritize recording investment gains on the financial statements. This is demonstrated by the unrealized gains on investment securities of $1,142 at year end 2011 and of $2,260 M at 9 months ended 2012. Management could have chosen to sell all or a portion of securities in a gain position to largely reduce in 2011 and eliminate in 2012 the loss on investment sales reported. The fact that they did not shows a larger commitment to a portfolio of income producing assets than to financial statement polishing. As a result, the loss on investments figure is not as relevant to the operations

analysis.
Projected Income
Using the assumptions outlined above, the following is the projected income for 2012 - 2015:
Aflac Projected Income

Year ended

2012

2013

2014

2015

Revenue from premiums

22,357

23,252

24,182

25,149

Investment Income

3,726

3,876

4,031

4,192

Total Revenues

26,084

27,127

28,212

29,341

Benefits and claims

15,203

15,811

16,444

17,101

Insurance commissions

2,012

2,093

2,176

2,263

Insurance expenses

2,683

2,790

2,902

3,018

Other operating expense

1,565

1,628

1,693

1,760

Income Taxes

1,118

1,163

1,209

1,257

Total Expenses

22,581

23,484

24,424

25,401

Net Income

3,503

3,643

3,789

3,940
This projected income, further extrapolated and discounted for a total of 10 years into the future yields the following Net Present Value, and implied share price:
Aflac Theoretical Share Price Calculation

Discount Rate

6%

8%

12%

Present value of 10 years of future earnings

35,095

32,133

27,337

Shares outstanding

469

469

469

Calculated share price

74.84

68.53

58.30
Using the harshest discount of 12%, Aflac is still undervalued at its current price. This projects a strong potential upside in Aflac. The market will likely see this discount in the near future as losses on sales of investments are taken under control, and the true profitability of the model is revealed. Should interest rates begin to climb in the near future, investors would be well positioned to further make a killing.
Combined Share Price Analysis
Both the models presented above consider individually the value of the excess assets, and the value of the operations. By combining these valuations and eliminating duplicate amounts we can catch an important glimpse of the potential value of Aflac:
Adjusting Investment Income - The following analysis will consider both the earnings from core operations and the value of the excess investment. Currently, both valuations are counting the excess investments, therefore their value will have to be removed from the investment income as follows:
| | | | | | |
| --- | --- | --- | --- | --- | --- |
| | | 2012 | 2013 | 2014 | 2015 |
| | Total investments held | 124,215 | 129,184 | 134,351 | 139,725 |
| | Less: excess investments | (15,110) | (15,563) | (16,030) | (16,511) |
| | Net Investments held | 109,105 | 113,620 | 118,321 | 123,214 |
| | Rate of return | 3% | 3% | 3% | 3% |
| | Projected investment income | 3,273 | 3,409 | 3,550 | 3,696 |
Removing this excess investment income yields the following share price calculation:
Aflac Theoretical Share Price Calculation

Discount Rate

6%

8%

12%

Excess Share value

15,110

15,110

15,110

Present value of future earnings

30,657

28,069

23,876

Total

45,767

43,179

38,986

Shares outstanding

469

469

469

Calculated share price

97.60

92.08

83.14
The combined projected share price analysis demonstrates that Aflac's shares are potentially severely undervalued. This method of analysis is not as reliable as the projected income since Aflac is not in a position to sell the excess investments and distribute the proceeds. However, this reinforces the appeal of the stock at the current price on the basis of the value of its operations and non-operating assets far exceeding the share price.
Recommendation
Aflac offers a strong business model that is capable of generating consistent income from operations. This has resulted in a strong dividend yield and strong history of dividend increases that have resulted in the stock being positioned among S&Ps dividend aristocrats.
The shares hold a significant upside and can provide an investor with a strong potential for growth. This arises from the value of the shares determined by considering the value of the operations and the value of the excess investments.
With the improving economy, Aflac will be at a better position than ever to return a strong profit to investors in the near future. Look to the duck for a stable dividend with a strong potential upside.
Source for financial information: Q3 earnings report. All figures in Million USD unless otherwise stated.
Disclosure: I have no positions in any stocks mentioned, but may initiate a long position in AFL over the next 72 hours. I wrote this article myself, and it expresses my own opinions. I am not receiving compensation for it (other than from Seeking Alpha). I have no business relationship with any company whose stock is mentioned in this article.