Equities recovered late Friday evening with the prospect of the cure all TARP cavalry coming to the rescue of the automakers. But with Bush getting shoes thrown at him in Iraq, the spotlight once again will fall on the troubled banking sector this week, with Goldman Sachs (NYSE:GS) reporting Tuesday and Morgan Stanley (NYSE:MS), Wednesday. For all of the economic and corporate releases this week, check out the Weekly Wrap.
Today's Market Moving Stories
The Obama stimulus package may reach $1 trillion or twice the amount previously touted.
The Fed has closed two more banks and the giant Citadel hedge fund has halted withdrawals from two funds after a 50% fall. Could be worse. They could have had their money with Bernie Madoff. Here's the inside track on the world's latest Ponzi scheme.
The big ease continues with the focal point for the week being tomorrow's FoMC meeting. The market has yet to decide whether it will be cut by 50bp or 75bp, but quite frankly it makes little difference when rates are at an ultra low level. It is the accompanying statement which could make very interesting reading now that conventional monetary policy has nearly run its course to ZIRP. I think it would disappoint the market if the Fed did not enlighten us more on the next stage in monetary policy i.e. quantitative easing including possible monetizing of the debt. That said, any announcement would likely be vague in terms of targeting particular assets and their yield levels ahead of the Xmas break.
The key Japanese Tankan survey of business sentiment weakened sharply for the Q3 read, coming in at –24 (the largest fall in 30 years). Q1 forecast is that it could drop further to –36. But the equity market doesn't seem to care.
Former Vice Minister at the Japanese MoF, Sakakibara, predicted USD/JPY dropping to 80 and EUR/JPY plunging to 100.
The German press over the weekend predicted that Teutonic economic growth may fall by as much as 2% in 2009 with unemployment set to top 4 million.
While not to be out done back in Britain, Barclays (NYSE:BCS) head Varley did a bit of crystal ball gazing and foresaw house prices slumping ANOTHER 15% before bottoming out. Meanwhile the Rightmove house price index evidenced this with a further 2.3% decline in December. Citing a report by the Construction Products Association and Ernst &Young, the Guardian reports that UK housing starts have dropped to their lowest level since 1924.
The ECB is considering setting up a clearing house to guarantee inter bank deposits. It had been muted last week that the Bundesbank was studying doing something similar but solely for German banks.
Electrolux (OTC:ELUXF) is to cut 3,000 jobs as demand collapses.
Oil is on the rise ahead of Wednesday's OPEC meeting in anticipation of a production cut. Iran and Russia (though not a member of the cartel) in particular are desperate for a cut given the dire state of their domestic economies. Russia has very high extraction costs and Iran produces sulfur rich crude which no one really wants. Note Russia has again had to widen the ruble's trading band this morning to stem outflows. Reserves are being eroded at an alarming rate as they try in vain to intervene.
The Greenback Is Losing Its Lustre
The USD has come under broad selling pressure over recent days with the USD index dropping by around 5.5% since its November 21st high. I believe that a lot of this has been related to sovereign buying interest of various currencies against the USD especially the EUR.
Central banks are taking advantage of a relatively calmer currency market to undertake diversification orientated transactions. Other factors pushing the USD lower are a less dovish tone from some ECB council members, the possible bankruptcy of a large US automaker which could hurt US growth and some, albeit limited, improvement in risk appetite.
I think more of the same this week, with the USD set to come under further pressure. The potential for a large 1.5mn barrels per day output cut by OPEC on Wednesday could also play against the USD if it leads to another leg higher in oil prices. The worsening in USD sentiment was apparent in the latest IMM commitment of traders' report which revealed a sharp pullback in net long USD positions (37.6k from 56.2k) to their lowest since the beginning of August. Comments from Japan's finance minister that they are not considering intervention may see USD/JPY attempt another push below 90 whilst EUR/USD will set its sight on a break of 1.35 in the short term.
Against this is the potential that the Madoff losses hit taken by European institutions will have to be covered. The first court case is Dec 19th. Not a great time of the year to be a forced buyer of billions of dollars.
And Finally… Trust Us We're Economists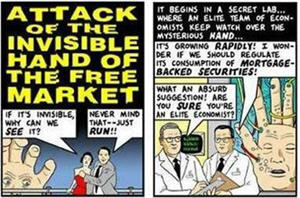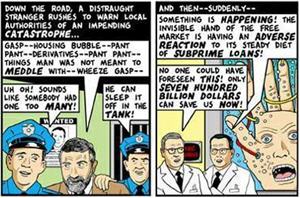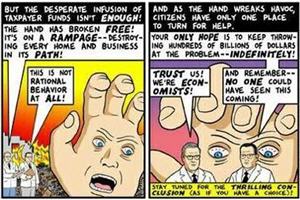 Disclosures: None