Since peaking at $700/share in mid September; Apple (NASDAQ:AAPL) has dropped significantly for the past month and has had trouble breaking out of the $500-550 range since then. The once darling of the NASDAQ now finds itself a victim of its own success. With each earning beat and new product line Apple had steadily grown from a $100 billion company to one of the largest corporations in the world. However, along the way, Apple began being held to a different standard.
The recent dip began after Apple's Q4 earnings call, when guidance for Q1 2013 was significantly lowered with expected revenue dropping from $55 billion to $52 billion, along with diluted earnings per share dropping from $15.49 to $11.75. This dropped Apple's share price to below $600 for the first time in months. The pressure from lowered estimates along with the failure of Apple Maps led many analysts to write off what was once considered the "model" company.
When trying to determine Apple's intrinsic value it is important to keep in mind that Apple is a cash cow company that is just now starting to slowdown from growing double digits each year. It is a quality company that deserves high valuation ratios. The ratio I chose to look at and compare is the P/E ratio.
A company generally trades at a higher P/E ratio for a number of reasons that may include, but are not limited to:faster earnings growth, lower market saturation, higher profit margins, and larger amounts of cash and equivalents.
I chose Wal-Mart (NYSE:WMT) as an example of a company that has less growth opportunities, slower earnings/revenue growth, and less cash and equivalents than Apple; yet trades at a P/E ratio that is significantly higher. In making value investments in the style of Warren Buffett, one looks for companies with strong cash-flow generation and a competitive advantage in their respective industries. Wal-Mart and Apple are prime examples of value investment companies, and yet despite Wal-Mart's more limited upside they currently trade at a higher premium than Apple.
I made this comparison using current analyst estimates and used the closest corresponding quarters for both companies.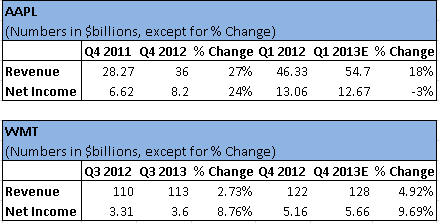 As one can see, Wal-Mart is only experiencing higher earnings growth than Apple for the next quarter. While this could explain the 30% lower forward P/E ratio, it is important to put things into perspective. Apple's Q1 in 2012 was one for the record books. The $13 billion Apple earned that quarter doubled the $6 billion that they had earned in Q1 2011. To beat that quarter would be a Herculean feat for a company of any size. Slowed earnings are a concern for expected growth companies, but Apple is a company that is priced more like a matured company that has already established market dominance.
Beyond the valuation of Apple's earnings this is a company that has $121.3 billion cash as of Q4 2012. This number is projected to hit $200 billion by the end of 2013, and if it even comes close, would make Apple a value play if they never grew again. Apple's expected cash pile would represent 40% of its current market cap.
Moreover, if that cash continues to increase at that rate ($50 billion a year) one can expect Apple to have $500 billion within the next eight years. This is assuming that Apple will stop growing and merely maintain its current pace. Having been in China during the release of the iPhone 4s this past summer; I believe this is a very conservative assumption. The craze over Apple product overseas has to be witnessed firsthand to truly understand how much more room Apple has to grow in China.
Despite the recent events, Apple is a company that is deserving of a significantly higher share price. A P/E ratio of 15, on par with industry peers such as Microsoft (NASDAQ:MSFT) and Google (NASDAQ:GOOG) would make Apple worth nearly $800/share. Issues that have dropped Apple from its peak of $700 don't change the fact that Apple has powerful cash-flow generation, a cult-like following here and abroad, and has been growing double digits every year now for the last decade. The last time I believed a stock was as mispriced was Yahoo and they have since experienced nearly a 70% increase.
Disclosure: I am long AAPL. I wrote this article myself, and it expresses my own opinions. I am not receiving compensation for it (other than from Seeking Alpha). I have no business relationship with any company whose stock is mentioned in this article.
Additional disclosure: Long AAPL via long-dated call options and stock positions.