As the Indonesian middle class and discretionary incomes continue to grow, retailers will benefit as they nibble on pieces of an ever-expanding pie. The premium retailers who occupy a niche market and have developed sustainable competitive advantages will significantly outperform. Ace Hardware Indonesia (OTC:ACEHF) stands to be one of those players with no long-term debt and an expanding store footprint.
Looking at the traditional relative valuation metrics it appears that Ace is overvalued. The level of development and amount of growth ahead of Ace mean that it's worth looking at the total potential market for Ace to determine the intrinsic value. I believe that considering the total market for home improvement in Indonesia, Ace will still be undervalued, albeit expensive on near term metrics.
I believe the fair value is between $0.18 - $0.23 vs the current price of $0.08.
Introduction
The first Ace Hardware store was opened in 1996 in Karawaci, Tangerand, West Java. The company has since developed into a chain of over 50 stores throughout Indonesia. There are two parts to the chain, Ace Hardware, a home improvement chain that supplies hardware, home appliances, cleaning aids, lawn and gardening supplies, lighting, outdoor living furniture, paint, plumbing supplies and fixtures, electrical supplies, tools as well as other home improvement essentials. The second part of Ace relates to Toys Kingdom, which specialises in "creating smiles" through offering a variety of world-class branded toys.
Issues
Ace is currently priced for perfection (at 23.8x EV/TTM EBITDA and 35.5x 2011 P/E) and looks to be expensive on simple relative valuation metrics.
Key Shareholders
PT Kawan Lama Sejahtera, a commercial and industrial supply company that provides tools, industrial equipment, and machinery in Indonesia, currently owns 60.0% of Ace. The remaining shareholder list is composed of a range of other major institutional holders, including Aberdeen and GMO amongst others. There are some pretty savvy shareholders on the register, so it looks like anyone considering investing in Ace Hardware would be in good company.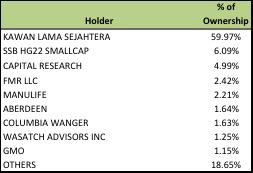 Valuation
Taking a simple relative valuation approach, Ace looks fairly expensive compared to peers. It's trading on 23.8x EV/TTM EBITDA and 35.5x P/E vs peers on 9.6x EV/TTM EBITDA and 20.7x P/E. However, I don't believe this is the best way to look Ace Hardware because it has no long-term debt and a lot of growth opportunities, albeit these should be tempered by the potential for more aggressive competition entering the space. I believe It would be better to use a Back of the Envelope approach to determine the intrinsic value of Ace.

I used two methods to determine the intrinsic value of Ace. Firstly, I attempted to determine the intrinsic value by looking at what the total market in Indonesia could be for Ace by:
Determining the size of a similar market (Thailand) in Sales / Capita;
Multiplying the result by the current Indonesian population, giving the total potential market for home improvement sales in Indonesia;
Adjusting the size of the total market for differences in geography and culture (the population in Indonesia is spread over a greater land mass so it would be difficult to reach all of the customers vs Thailand) and the introduction of competition (HomePro has ~10% market share in Thailand, assuming the Ace's brand is strong and there isn't a lot of competition could allow it to double HomePro's position);
Multiplying by the Sales for Ace by the average EBITDA margin for the industry; and
Multiplying the result by the median EV/EBITDA multiple I've derived for the comps to get the overall EV and subsequently Equity value.
I believe that Ace would be worth >2.5x the current EV using a relatively modest 10% assumption for Ace's market share.

Secondly, I attempted to determine what Ace's slice of the pie would be if it was able to reach a similar size as the listed Thailand comparisons. This is a more conservative approach because it assumes that Ace's Sales / Capita level is the same as the sum of the Thailand comparisons as they sit presently. There are two ways to view this:
Ace could capture a larger market share than both Siam Global and HomePro because it has a dominant market position; or
There isn't presently a lot of competition in Indonesia and as the competition increases Ace will struggle to hold the same Sales / Sqft or EBITDA margins that it currently achieves.
It's also worth noting that as Thailand continues to develop the Sales / Capita will also continue to increase closer to levels of developed countries. Considering the second bullet-point, I've only assumed a 10% EBITDA margin for Ace (from the 15% average EBITDA margin that it's able to generate at present).

The resulting value is adjusted down for geographic differences. Although, there could be currents that cut in the opposite direction. Namely, Indonesians might feel inclined to spend more on their homes than their Thai counterparts i.e. Indonesia home improvement stores receive higher Sales / Capita. This gives a resulting valuation of $0.23 per share, above that of the first calculation.


Conclusion
Ace Hardware has some really good long-term prospects in Indonesia and, failing a turbulent entrance from additional competition Ace should continue to reward shareholders with outperformance. I believe that the intrinsic value of Ace Hardware is between $0.18 - $0.23 vs the current price of $0.08, so there is room for capital appreciation.
While I could see a place for Ace Hardware in my portfolio, there is a market timing element to the portfolio strategy. To be consistent with the strategy I've decided that I'll continue to follow the company and if there's price weakness then I'll reconsider it for my portfolio. However, that's not to say that there isn't potential for this holding to make it into other portfolios that have a different strategy.
If you have any questions, please contact me here.
Disclosure: I have no positions in any stocks mentioned, and no plans to initiate any positions within the next 72 hours. I wrote this article myself, and it expresses my own opinions. I am not receiving compensation for it. I have no business relationship with any company whose stock is mentioned in this article.