There are a lot of ways to play global population growth and emerging markets wealth creation. These secular trends are particularly important to healthcare investors, who are likely to benefit from a larger, wealthier and longer living population.
Investors considering which healthcare companies are likely to enjoy demographic tailwinds should consider Cooper Companies (NYSE:COO), which competes against market leader Johnson & Johnson (NYSE:JNJ) in the contact lens market.
Cooper Companies is enjoying double digit growth as it expands in Asia.
The Asian market is particularly intriguing for Cooper. Myopia, otherwise known as near-sightedness, is on the rise globally. But, particularly important to Cooper is its higher incidence rate within highly populated Asia.
In Singapore, myopia's prevalence approaches 80% - much higher than the 30-40% rate in Western nations. And, while roughly a third of China's population is myopic, the rate increases to as high as 77% across its high school students, suggesting overall prevalence will go much higher as China's population becomes increasingly educated.
This dynamic offers significant upside for lens manufacturers, given corrective lenses remain the most common Myopia treatment. As income in these nations increase, contact lenses are likely to win share from less expensive glasses.
The company is already seeing this play out.
In the most recent quarter, the fastest growing region in the company's CooperVision segment was Asia Pacific, where sales climbed 10% and accounted for roughly a quarter of the unit's $318 million in revenue. In total, the segment's sales increased 5% from the prior year.
A lot of this revenue growth came from higher sales of multi focal contact lenses, which increased 31% to account for 8% of segment sales. Across the contact lens market, multi focal is the fastest growing globally - up 11% in the past year. And, the multifocal lens market is expected to climb to $800 million in 2016 from $327 million today, providing plenty of tailwinds for Cooper's Proclear line.
Since 2009, CooperVision's global market share has grown to 18% from 15.6%. In the U.S., the company's share was 21% in 2011, suggesting plenty of opportunity to win share from competitors including Ciba, which is part of Novartis (NYSE:NVS) and Bausch and Lomb, which was taken private by Warburg Pincus in 2007.
Coupling higher sales in emerging market with market growth in multifocal should provide strong profit tailwinds, given the company's vision segment gross margin increased 3% last year to 64%
Beyond vision, Cooper also has in vitro upside.
Last quarter, the company's CooperSurgical segment saw sales increase 37% to $78 million.
Most of the growth came courtesy of its July 2012 acquisition of Origio - the largest global maker of non-pharmaceutical fertility products with $65 million in 2011 sales. Ex-Origio, CooperSurgical sales still grew a solid 6% in the quarter from the prior year.
The purchase of Origio boosted fertility products to 29% of segment sales, slightly weighing on gross margins which dropped to 64% from 65%.
The acquisition gives Cooper a 39% market share in the growing $223 million fertility market.
In India alone, 30 million suffer from infertility. Here in the United States, roughly 10% of women and 1/3 of women over 35 have difficulty getting or staying pregnant.
The number is getting higher as more women pursue careers after college.
According to a U.K. study, female college graduates are waiting almost a decade longer to start their family compared to women forgoing college. This has brought the average age of a women in the U.K. having a child to over 30.
The trend is also occurring here in the U.S., as shown in the following chart. As the globe continues to embrace education, it's likely the infertility trend will provide additional demand for Cooper's products.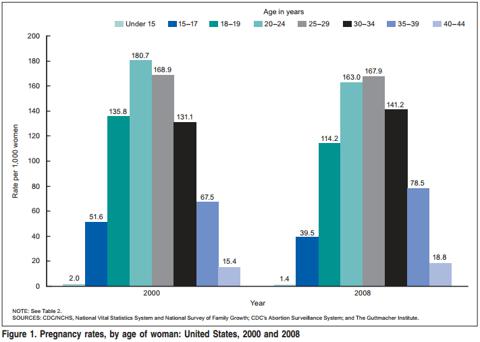 Sales growth is being leveraged for profit upside.
In FYQ4, company wide sales increased 10% while earnings per share rose 27%. Both revenue and earnings were fiscal year records in 2012 as gross margins increased 4% to 64%. Importantly, operating margins climbed 3% to 20% and the company believes it can reach operating margins in the mid twenties by 2017.
As a reflection of the long term revenue and profit opportunity, earnings and sales have grown at a compounded annual rate of 27.3% and 10.3%, respectively since 2009.
In FY2013, analysts estimate earnings per share will increase 16% to $5.96, up from expectations of $5.84 30 days ago. In FY14, earnings are forecast increasing another 12% to $6.68, up from $6.51 estimates a month ago, giving Cooper a forward price to earnings multiple of 15.
The margin improvement and cash flow growth is fueling shareholder friendly buybacks. In December, the company added another $150 million to its existing authorization.
The combination of international growth across vision and surgical suggest a longer term opportunity. But a shorter term opportunity may exist this quarter.
According to the Seasonal Investor database, Cooper shares have gained ground in 9 of the past 10 Q1's, returning a median 11.92%, suggesting now may be a good time to own shares.
Source: Seasonal Investor
Q1 Returns vs. SPY Past 10 Years: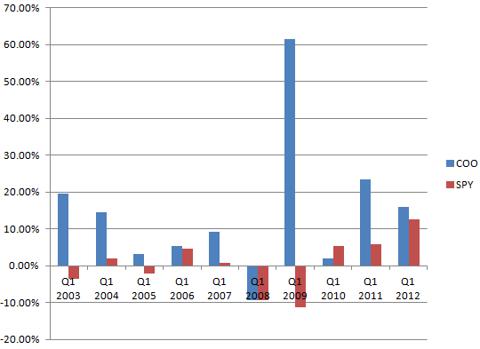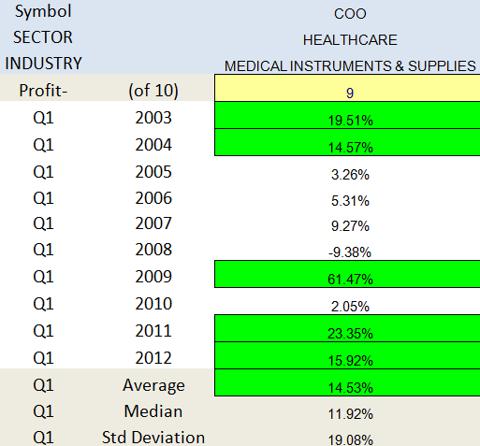 Disclosure: I have no positions in any stocks mentioned, but may initiate a long position in COO over the next 72 hours. I wrote this article myself, and it expresses my own opinions. I am not receiving compensation for it (other than from Seeking Alpha). I have no business relationship with any company whose stock is mentioned in this article.