Newmont Mining Corp. (NYSE:NEM)
Price: $45.95
Recommendation: Sell
Target price: $35.91
Time horizon: Q2 2013
Margin of safety: -24.69%
Valuation: 5-quarter DCF at 7.0% WACC, 7.1x exit multiple
Newmont Mining Corporation, together with its subsidiaries, engages in the acquisition, exploration, and production of gold and copper properties. The company's assets or operations are located in the United States, Australia, Peru, Indonesia, Ghana, New Zealand, and Mexico. As of December 31, 2011, it had proven and probable gold reserves of approximately 98.8 million ounces and an aggregate land position of approximately 31,500 square miles. The company was founded in 1916 and is headquartered in Greenwood Village, Colorado.
Key financial data (all numbers in USD):
Market capitalization (in mm) 23,680
Shares outstanding (in mm) 496
52-week high/low 42.95 - 69.40
P/E (NYSE:TTM) EPS 12.2
EV/EBITDA 1.4x
Q3 2012A Q4 2012E Q1 2013E
Revenue (in mm) $2,480 $2,693 $2,914
EBITDA margin 53.4% 39.8% 22.7%
EPS (f/d) $0.85 $1.21 $1.20
Profitability:
Net income quarterly: 367.00M (yellow)
Revenue quarterly: 2.48B (blue)
Expenses quarterly: 2.11B (red)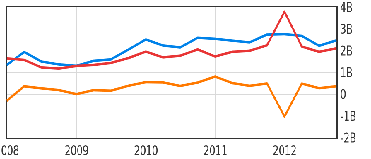 Investment thesis:
Given the continual increase in operating and non-operating costs, coupled with uncertainties surrounding major growth projects, and the negative impact of a timely resolution of the "fiscal cliff" matter, we believe the market is in position to put significant downward pressure on Newmont's share price. In our view, Newmont's un-hedged exposure to gold will hurt its revenues as upward price pressures stemming from recent QE weaken.
Investment drivers:
Resolution of the fiscal cliff
Market sentiment has been held in limbo in anticipation of the resolution of the fiscal cliff. We now expect inflation risks to decrease -- the likelihood of another round of QE would be significantly higher if the fiscal cliff occurred --which we anticipate will negatively impact the price of gold due to its status as a safe-haven asset.
Lower global demand for copper
Concerns that China's economy will face headwinds, along with its recent efforts to stockpile copper, are potentially indicating that the country will likely cut its demand for the red metal. Newmont's revenue stands to be significantly impacted as China accounts for 40% of the world's copper demand. The strong historical correlation between copper and gold prices exposes Newmont to substantial market risk.
Rising costs for both mining and non-mining expenses, extraction oflower grade ore due to maturing operations, and bottlenecks in developing new growth prospects are areas of concern.
Risks:
Given the current macroeconomic uncertainty and sluggish growth prospects there is potential for further QE. Investors will seek refuge from inflation and riskier assets thus putting upward pressures on gold prices.
Newmont's fundamental strength
Newmont has low liabilities in relation to its competitors. In a recent conference call, management expressed confidence that cash flow generations will beat expectations and that it will look to implement cost cutting initiatives. In the unlikely event systematic risk is mitigated, Newmont's share price is liable to increase.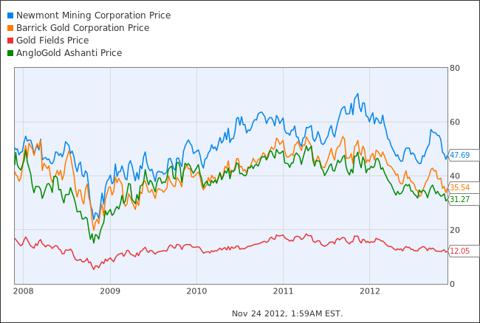 Key indicators (data is from Zacks.com subscription service):
| | | | | | | | |
| --- | --- | --- | --- | --- | --- | --- | --- |
| | | | | | | P/E 5-yr | P/E 5-yr |
| | P/E 2012 | P/E 2013 | Est. 5-Yr EPS Gr% | P/CF | P/E | High | Low |
| NEM | 12.1 | 9.1 | N/A | 6.9 | 12.2 | 37.2 | 10.5 |
| Industry average | 21.9 | 11.7 | 20.0 | 16.4 | 24.7 | 114.9 | 16.9 |
| S&P 500 | 13.3 | 12.4 | 10.7 | 11.6 | 13.8 | 27.7 | 12.0 |
| ABX | 8.5 | 6.6 | 2.2 | 5.4 | 8.6 | 26.6 | 7.4 |
| AU | 9.2 | 6.8 | 8.5 | 7.5 | 10.3 | 20.9 | 8.2 |
| GFI | 8.4 | 5.8 | 9.0 | 4.7 | 7.4 | 60.4 | 7.8 |
P/B Last Qtr.

P/B 5-Yr High

P/B 5-Yr Low

ROE

D/E
Last Qtr.

Div Yield Last Qtr.

EV/
EBITDA

NEM

1.4

3.1

1.4

11.4

0.4

2.6

8.7

Industry average

2.2

2.2

2.2

2.1

0.1

0.5

2.2

S&P 500

3.7

9.8

2.9

24.3

2.2
Newmont's current trailing 12-month earnings multiple is 12.2x, compared with the 24.7x average for the industry and 13.8x for the S&P 500. Over the last five years, the company's shares have traded in the range of 10.5x to 37.2x trailing 12-month earnings. The stock is trading at a discount to both the industry average and the S&P 500, based on forward earnings estimates. The forward and trailing multiples are inline indicating fundamental contiguity, however, next year's P/E estimate is notably lower, underlying the overly-optimistic outlook on the stock.
Outlook:
Newmont is facing significant bottlenecks in developing some of its growth projects. A project in Canada was put on the backburner, while a project in Peru was suspended over concerns that a mine would disrupt the local water supply. These setbacks have caused Newmont to cut its production targets, but pose long-term problems as well, as gold producers rely on new production to offset higher costs associated with extracting lower grade ore from maturing operations.
We expect gold prices to decrease due to the avoidance of the fiscal cliff and lower demand out of China. China is the world's largest consumer of gold, but has seen its demand fall 11% in Q3, citing slower economic growth which is on pace to expand at its lowest rate in 13-years. In our view, despite recent PMI data showing expansion in China's manufacturing sector (Sept. 49.8 - Oct.50.2), the demand for gold will continue to stagnate as the country's exports, which account for 35%-40% of the GDP, continue to contract (sub-index 49.3) further aggravating the slowing economy.
Headwinds out of China will likewise have a negative impact on the price of copper. China is the world's largest consumer of copper and accounts for 40% of the total demand, but forecasts indicate the country's consumption in 2013 will expand at its slowest rate in 15-years. Recent initiatives by the government to stockpile the red metal should lower demand for it in the medium-term as the country contends with a slowing economy.
Valuation:
We estimated the equity value of Newmont using 100% 5-quarter DCF model with a discount rate of 7.0%, found using the WACC method, and exit multiple 7.1x. We arrive at a price target of $35.91, which gives us a margin of safety of -24.69%. Newmont is currently trading at 12.2 P/E to its peer group, demonstrating its relative fundamental strength. However, the company's operational risks, headwinds out of China, and a timely resolution of the fiscal cliff should put significant downward pressure on its share price.
Disclosure: I have no positions in any stocks mentioned, and no plans to initiate any positions within the next 72 hours. I wrote this article myself, and it expresses my own opinions. I am not receiving compensation for it. I have no business relationship with any company whose stock is mentioned in this article.