By David Urani

It's been a good start to the year, and now some data from Lipper seems to put somewhat of an explanation behind it. According to the company, $22.2 billion was invested into equity funds in the week ended Jan. 9, and that was the second-largest inflow of all time. Included in that increase was the single largest flow into emerging market funds ever.
And much of this seems to be driven by the retail investor regaining confidence. Investments into long-only mutual funds were $8.9 billion for the week, the biggest since the tech bubble in 2000 and the fourth-largest of all time.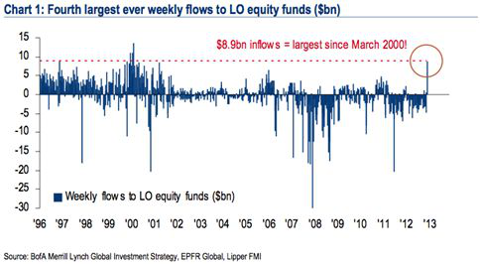 If true, that would be an impressive and encouraging change in sentiment because, over the past several years, investments into equities have been on a steady decline. Perhaps it was a new outlook to begin the new year, although the fiscal cliff resolution certainly had something to do with it.
Lipper isn't the only company to track this data, so we'll be interested to see if the likes of ICI echo this result. For so long, the narrative has been that Wall Street wronged the average investor/homeowner. To some extent it's been with good reason that the retail investor has shied away from the market, given the housing bubble, the flash crash, and other events like the Facebook (NASDAQ:FB) IPO debacle. If this holds up, it could be a great signal that investors are confident enough to put skin back into the game, and that momentum is here to carry stocks to some more healthy gains in 2013.