By Siraj Sarwar
Indianapolis-headquartered Calumet Specialty Products Partners (NASDAQ:CLMT) is one of the most popular publicly traded limited partnerships. Calumet owns five refinery plants in Texas, Louisiana and Pennsylvania that process crude oil into specialty products such as solvents and lubricating oils. In addition, the partnership also offers fuel products like diesel, gasoline and jet fuel. Calumet products are distributed to basic industrial, consumer and automotive goods corporations. As a Master Limited Partnership, the firm has been offering substantial distributions to its unit holders.
Cash Distributions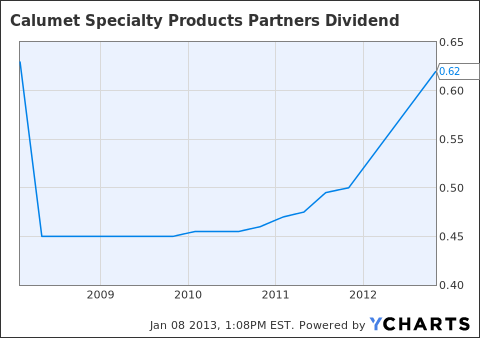 CLMT Dividend data by YCharts
Calumet recently declared a rise in cash distribution for Q3 2012. Cash distribution stands at $0.62 per-unit or $2.48 per-unit on a yearly basis. Currently, the stock offers a trailing dividend yield of 6.9%. However, based on the latest quarterly dividend of 62 cents, the forward yield is projected to be 7.8%. In addition, the partnership has a sustainable payout ratio of 66.2 percent. The partnership has raised distributions by 24% over the last four years. As the above chart demonstrates, the partnership made constant distributions of $0.45 between Q1 of 2008 and Q3 of 2009. Since then, the partnership sharply moved up distributions to $0.62 for Q3 2012. Calumet shares have displayed both attractive valuation and profitability metrics.
Recent Earnings
Calumet reported outstanding net income of $42.4 million for the quarter ended on June 30, 2012. Net income increased by $22.4 million from the same period last year. For the first nine months of 2012, Calumet documented net income of $160.0 million, compared to $16.2 million for the same period last year. This is an enormous increase of $143.8 million. The partnership's EBITDA and adjusted EBITDA stand at $91 million and $121 million, respectively. In the last quarter, Calumet demonstrated amazing improvement in profit margins, compared to the last year.
Fuel products segment and the addition of Royal Purple to the specialty products segment led the company to produce strong results. The acquisition of the Montana refinery further strengthens the company's niche refining portfolio. By and large, the partnership is growing its financial strength. This is a positive sign for unit-holders.
Cash Flows
Figures in million

Nine Months Ended September 30

2012

2011

Net cash provided by operating activities

289,440

(559)

Net cash used in investing activities

(413,823)

(470,132)

Net cash provided by financing activities

314,857

470,720

Net increase in cash and cash equivalents

190,474

29
Source; 10Q form
At the end of Q3, Calumet had enough liquid assets, cash flow from operations and borrowing capability to meet its financial obligations. Moreover, the firm's existing cash flow levels are sufficient to meet debt service commitments and expected capital expenditures. The partnership's cash flow from operating activities stands at $289 million for the nine months of 2012. The boost in cash from operating activities is mainly due to growth in net income. In addition, the partnership decreased cash from financing activities to $413 million during the last nine months. Meanwhile, cash from financing activities stood at $314 million in the nine months of 2012. This can largely be attributed to the decrease in net proceeds received from the public offering of common units. Cash flows look appealing; the partnership has about $190 million in cash at present. Cash flows are enough to cover cash distributions and for debt obligations.
Stock Performance
(click to enlarge)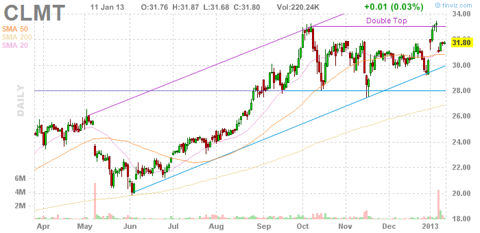 (Chart sourced from finviz.com)
Since June of the previous year, Calumet units are demonstrating an upward channel. Calumet units went up by nearly 60%, and were able to establish a new 52-week high in the process. Still, the partnership has an eye-catching forward P/E of 9. Moreover, Calumet has a market capitalization of $1.8 billion. With high anticipation for earnings and distribution growth in the future, the rise in the share price is well-founded.
Growth Prospects
This MLP has an established history of expansion through acquisitions. The company acquired San Antonio, Texas, Refinery Assets from NuStar Energy, L.P. (NYSE:NS) for around $115 million. The transaction is projected to close in the first quarter of 2012. The acquisition of the San Antonio refinery will provide further geographic reach with a refinery strategically located near the Eagle Ford Shale. In the near term, the partnership expects to add finished gasoline to its product mix. Moreover, in the long run, CLMT plans to evaluate a potential capacity expansion for the refinery along with exploring various crude oil sourcing opportunities. I expect the acquisition to be immediately accretive to distributable cash flow.
Peer Analysis
| | | | |
| --- | --- | --- | --- |
| | CLMT | EPD | WPZ |
| Market Capitalization | 1,914 | 47,457 | 17,787 |
| Gross margin | 15.15% | 7.7 | 25.5% |
| Operating margin | 3.60% | 7.4 | 21.8 |
| D/E | 1.0 | 1.1 | 0.9 |
| Yield | 6.91% | 4.8% | 6.3% |
Source; Morningstar.com
Calumet Specialty Products Partners' main industry peers are William Partners LP (NYSE:WPZ) and Enterprise Products Partners LP (NYSE:EPD). MLP's usually have high COGS. However CLMT has healthier gross and operating margins of 15.15% and 3.60%, respectively, in the past most recent quarter. Its major industry peer Enterprise has small gross margin of 7.7% and high operating margin of 7.4%. Calumet should reduce operating expenses to increase its operating margins and thus, net income. CLMT has a high yield of 6.91%, compared to EPD and WPZ. EPD and WPZ have yields of 4.80% and 5.6%, respectively. Moreover, Calumet has raised its distribution by 24% in the most recent quarter while EPD has raised its distributions by only 5%.
Summary
Investors who hold Calumet shares at lower prices will be glad about the long-run results. Calumet has been on an exceptional growth spurt for the past three years. This MLP's business model will provide attractive profitability levels. CLMT also has eye-catching future projections. It looks to make $3.17 per unit by the end of 2012. Moreover, it is anticipated that the partnership will make $3.58 per unit in 2013. I am expecting an expansion in its operating margins as it integrates its acquisitions. I believe the improvement in operating margins will further elevate cash flows and cash distributions.
Disclosure: I have no positions in any stocks mentioned, and no plans to initiate any positions within the next 72 hours.
Business relationship disclosure: EfsInvestment is a team of analysts. This article was written by Siraj Sarwar, one of our equity researchers. We did not receive compensation for this article (other than from Seeking Alpha), and we have no business relationship with any company whose stock is mentioned in this article.