On the 20th of August 2012, we published an article on Alcatel-Lucent (ALU). In that article, we presented a bullish case for the company and provided suggested entry points for the stock. The stock traded to and below the suggested entry points. The suggested entry points fell in the $1.00-$1.10 ranges. If we assume a midway point of $1.05, then the stock is trading roughly 60% above our suggested entry points. As the stock traded as low as $0.95, individuals could have purchased additional shares at $1.00 or better.
The stock was far from liked at the time the article was published. In fact, many readers felt that the stock would not move and investing in the stock would be a waste of time and money. Thus, it was not easy to paint a bullish picture for this stock. Today we are going to update our views and decide if it still makes sense to hold onto this play. However, we would like to start off by listing the reasons we provided at the time for individuals to consider this stock.
It is well posthe itioned to benefit from the growing optics and IP markets. These two divisions currently represent 25% of the revenues generated from the total Networks segment, and this figure is expected to move towards 30% by end of 2012. The stock is also extremely cheap and trading roughly 60 cents below book.
Additional reasons to be bullish on Alcatel-Lucent:
Swelling growth in mobile broadband data traffic has increased the expenditure in wireless equipment spending in North America. This has pushed carriers to add capacity and upgrade their 3G data networks, which in turn should lead to increased revenues from its wireless division.
Net income increased from $-703 million in 2007 to $1.48 billion in 2011.
A projected 3-5 year EPS growth rate of 10%
A decent current ratio of 1.4
A decent levered free cash flow of $127 million
A high beta of 2.13 makes it a good candidate for covered writes and for selling naked puts.
It's trading $0.60 below book value.
Projected year over year growth rates of 147% for 2013
An adequate interest coverage ratio of 1.72
Cash flow increased from $-0.22 in 2009 to $.050 in 2011
Annual EPS before NRI increased from $-0.27 in 200y to $0.47 in 2011.
Z

acks

has a target price of 2.50.
In the stated article we made the following comments:
It is now at a crucial point, either it breaks out or retests its lows again. Generally speaking, it takes several attempts for a stock to break through resistance and so there is a pretty good chance that it could trade in the 1.00-1.10 ranges again. A weekly close above 1.30 will turn the short-term outlook to bullish and should result in a test of 1.50 plus ranges.

If you are going to take a position, consider dividing your money into two lots and deploy one lot on a test of the 1.00-1.10 ranges and deploy the second lot on a weekly close above 1.30.
The stock traded to the suggested entry ranges. Taking the midway point, we can assume an average entry price of $1.05. The stock closed above $1.30 on a weekly basis and as expected traded to and past $1.50.
Updated Strategy
Two positions were established - one at roughly $1.05 and the second one at $1.30. As we are sitting on gains of approximately 60% from the first entry price ($1.05), we think it would be prudent to bank some of these gains. Consider selling half your position in the $1.65-$1.75 ranges.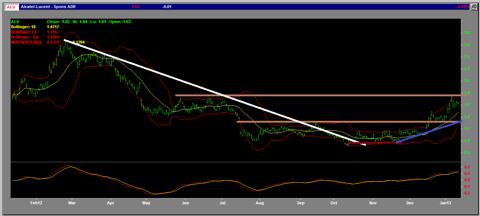 The resistance in the $1.75-$1.80 ranges is quite strong, and it is likely that the first few attempts to break out (1-3) could fail. It has already failed in its first attempt and is regrouping now for another try. There is strong support in the $1.30-$1.35 ranges (former resistance turned into support) and there is a good chance that the stock could test this range before breaking out. It is quite normal for a stock to test former points of resistance before attempting to break out again.
A weekly close above $1.80 would be a bullish development and should lead to a test of the $2.10-$2.20 ranges. If this should come to pass, consider closing the remaining half of your position out. As a safety precaution place a stop at $1.20.
Charts and Tables of Value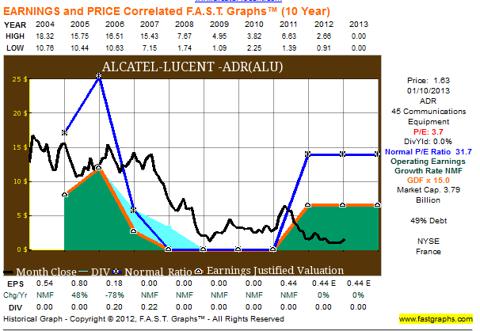 The orange line represents the valuation growth rate line. When a stock is trading below this line and in the shaded green area, it represents a good long-term entry point. Despite surging over 60% from its Oct 2012 lows, the stock is still undervalued. It is also trading roughly $0.30 below book value.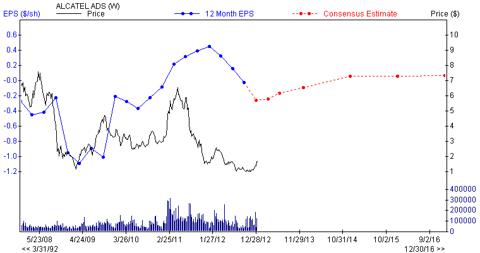 When a stock is trading above the EPS consensus line the outlook is bullish and the stock tends to trend higher over the next 6-12 months. Though it is still trading below this line, the EPS consensus line has started to trend upwards again, and this is a bullish development.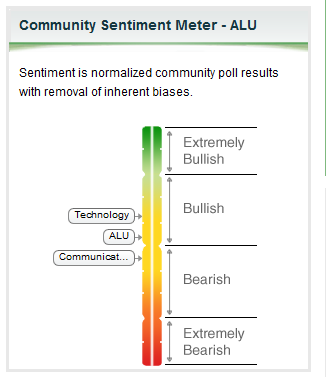 While the outlook is bullish, the masses are not euphoric over this stock and so from a contrarian perspective the stock still has room to trade higher.
Conclusion
The stock has had a nice run up and we think it would be prudent to bank at least half your gains right now. Based on an average entry price of $1.05, if the position was closed out at $1.65, you would walk away with a gain of 58% in roughly 4 months.
As the overall pattern is still bullish investors can hold onto the second half of their positions until the $2.10-$2.20 ranges are tested. At that point, consider closing out the entire position. If the stock should test the $1.30-$1.35 ranges then you can use some of the money you took off the table to add to your current position.
EPS chart obtained from zacks.com. Community sentiment meter sourced from predictwallstreet.com.
Disclaimer
It is imperative that you do your due diligence and then determine if the above play meets with your risk tolerance levels. The Latin maxim caveat emptor applies-let the buyer beware.
Disclosure: I have no positions in any stocks mentioned, and no plans to initiate any positions within the next 72 hours.
Business relationship disclosure: This article was prepared for Tactical Investor by one of our analysts. We have not received any compensation for expressing the recommendations in this article. We have no business relationships with any of the companies mentioned in this article.