I had earlier published my short list of the five best ETFs for 2013, with a focus on housing, finance, and consumer durables. However, one exercise I always do at the beginning of the year is to check where the market is placing its bets and identify any gems that I may have missed. So, I ran a stock screener on Morningstar for ETFs that have doubled the YTD return (~3%) and triple the trailing 12-month return (~13%) of the S&P 500. I ignored volatility-based, ex-U.S., and/or leveraged ETFs. Finally, I put in a tight boundary for beta, between -1 and +1.
This screen will identify ETFs that have significantly exceeded the market return in the past year, as well as YTD. These ETFs didn't use any leverage to generate the excess returns and have lower volatility than the market, indicating significant alpha. The two ETFs that qualify are Market Vectors Biotech ETF (NYSEARCA:BBH) and Guggenheim Airline ETF (NYSEARCA:FAA). As reported by Seeking Alpha:
The Guggenheim/NYSE Arca Airline ETF, the "Fund", seeks investment results that correspond generally to the performance, before the Fund's fees and expenses, of an equity index called the NYSE Arca Global Airline Index (the "Airline Index" or the "Index").

The Market Vectors® Biotech ETF seeks to replicate as closely as possible, before fees and expenses, the price and yield performance of the Market Vectors U.S. Listed Biotech 25 Index (MVBBHTR). The Index is a rules-based index intended to track the overall performance of 25 of the largest U.S.-listed, publicly traded biotech companies.
Here's how these two ETFs have performed:
| | | | | | |
| --- | --- | --- | --- | --- | --- |
| ETF | Symbol | Category | YTD Return | One-Year Return | Beta |
| Market Vectors Biotech | BBH | Health | 6.5% | 47.0% | 0.65 |
| Guggenheim Airline | FAA | Industrials | 7.8% | 41.4% | 0.03 |
So, why have these two ETFs done so well?
The biotech ETF surprised me. I expected it to perform well but with a lot of volatility (i.e., high beta). The U.S. population is aging, hence there is a lot of need for medical care and attention. Biotechs in general come up with revolutionary treatments and truly are pure alpha plays. If the treatments work, then the sky is the limit for the stock price. However, biotechs also have high risk as the success rate for new treatments is low, leading to a lot of volatility in the share prices. It seems as if this particular ETF has chosen a set of biotechs that are not highly correlated with one another and, in the process, cancel out the volatility -- hence the relatively low beta. And that, for alpha-seeking investors, is pure gold.
The airline ETF was not even on my list of sectors to watch, so I had to do a bit of digging. Traditionally, when I think of airlines I think of bankruptcies, cutthroat pricing competitions, and fuel price pressures. By some estimates, the airline sector as a whole has lost money over its entire lifetime. However, after I did a bit of searching, I found a few things that may be positive in the short run. A wave of bankruptcies (e.g., American Airlines) and M&A activity (e.g., Southwest and AirTran) have strengthened the sector. The airlines have gotten smarter about ticket prices and are adding surcharges to recover lost margin from competition. Finally, an abundance of U.S. shale oil has dampened expectations for further oil price hikes.
That said, if I had to pick one of the two ETFs I would choose the biotech one, given the long-term negative history of the airlines. Since the beta of the biotech ETF is quite low, I would suggest using leverage on the core ETF. To that end, I recommend the ProShares Ultra Nasdaq Biotechnology ETF (NASDAQ:BIB), which is up ~12% YTD and ~65% over the past year. The beta is 2.08, so there is moderate volatility risk. The long-term performance of this ETF is nothing but exemplary.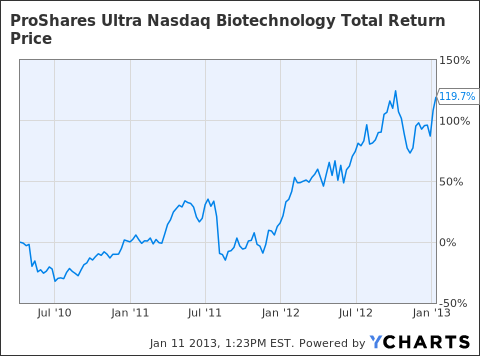 Bottom line, I am going to add BIB to my list of the five best U.S. ETFs to invest in in 2013.
Disclosure: I have no positions in any stocks mentioned, and no plans to initiate any positions within the next 72 hours. I wrote this article myself, and it expresses my own opinions. I am not receiving compensation for it (other than from Seeking Alpha). I have no business relationship with any company whose stock is mentioned in this article.
Disclaimer: This is not meant as investment advice. I do not have a crystal ball. I only have opinions, free at that. Before investing in any of the above-mentioned securities, investors should do their own research, consult their financial advisors, and make their own choices.