Stocks To Trade:
Today, we are looking at an earnings trade in DR Horton (NYSE:DHI), longs in Nike (NYSE:NKE) and Michael Kors (NYSE:KORS).
For an earnings trade, we are looking at DR Horton. The company is one of our top picks for earnings season as residential construction companies continue to look solid in a cyclical growth mode that will not evaporate for some time. We expect solid results for the end of the year and a nice 2013 outlook. We prefer DHI over the competition as it has much better value right now. DHI, however, is different. The company only has a 7+ PE right now, which is quite cheap. The company, additionally, is expected to show 25% growth in revenue along with 55% growth in earnings this quarter. Those numbers alone should pique our interest. The past quarter showed homes closed rose 12% while the backlog grew 49%. That strong backlog means that DHI can see extended upside movement in sales for a while now. One issue to worry about the backlog is that it's not closed. With a fiscal cliff looming during much of the latest quarter, we are a little bit worried about that negative impact, but we are more excited about what's in front than in the rear view. DHI should benefit from a secular housing recovery that will raise all boats. During the housing crisis, housing stocks benefited from a number of developments. For one, they cleaned up balance sheets and streamlined businesses. They are ready to explode on margins and efficiency. Further, competition has disappeared. A lot of smaller companies that used to compete in local markets are gone. All in all, 2013 should continue to be good to certain housing companies that have not overpriced themselves. DHI is one of those. We like going long on the stock into its late January earnings. A break of 21.50 is the level to watch. It's been consistent resistance for the company over the past several sessions.
Trade: DHI, Long
Buy Point: Break of 21.50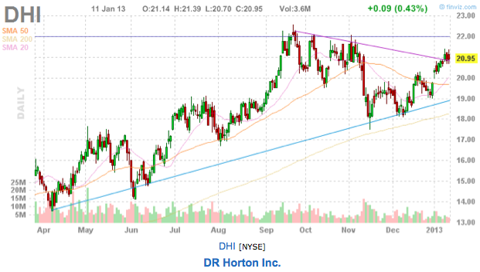 For longs, we like the looks of Nike and Michael Kors. NKE has looked amazing since its last earnings report in December, and it could be a potential breakout stock to watch over the next couple weeks. For one, NKE will not be affected by earnings anytime soon, which is a blessing. The company's latest report showed slowing growth in China and falling demand in Europe, but they beat expectations with a 1.14 EPS vs. 1.00 EPS expectations.
Moving into 2013, the company is a great global bellwether and have been benefiting from what appears to be improving macro conditions in Asia. China has shown several positive economic reports as of late. China's Trade Balance showed growth to $32B in the latest report, beating expectations for $20B. It was a sizable beat and showed some definite strength in the manufacturing economy again. We see NKE's success as severely tied to China and the emerging markets in Asia. Further, we like the company's growth potential for the new year after a weaker 2012. The company is expected to see around 5% growth in revenue along with 12% growth in earnings. The company has shown resistance at $53 since earnings, so a break of that level was a positive to see on Friday as well. We recommend buying on a break of new resistance at $53.50. Remember when KORS went from $40 to nearly $60 in about two months from the beginning of August to September's end. Since then the stock has been in a long-term flat zone, but we believe that more upside is on the way for the stock as well as limited downside.
The company is a great growth stock, so the 25 future PE is not deterring to us because we believe that the story for KORS is that the company can see a lot more growth in 2013 and 2014. Right now, expectations are that the stock will grow about 100% in earnings and more than 50% in revenue in the new year. The company is expanding quickly and successfully. The company has just over 250 retail stores in the US and over 320 globally. The company has tons of location expansion potential alone that provides us with a lot of confidence. They added around 70 new stores last year, and while the exact number for 2013 has not been released, we believe 50-60 new stores should be expected. Comparing store locations to a similar company like Ralph Lauren (NYSE:RL) shows just how small KORS is still right now. RL has 850 stores right now. The key to KORS expansion will be the ability to bring its clothing into other stores like RL has done outside of department stores and flagship stores on a larger scale and have successful international expansion. KORS has not broken $45 since August, and we like that level for a bull put spread to start a position.
Equity Trade: NKE, Long
Breakout Point: $53.50
Options Trade: KORS, Feb16, 45/43 Bull Put Spread
Max Gain: 25%
Tomorrow's Outlook:
Market closed for weekend. Check back for our weekly outlook.
Chart courtesy of finviz.com.
Disclosure: I have no positions in any stocks mentioned, and no plans to initiate any positions within the next 72 hours.
Business relationship disclosure: The Oxen Group is a team of analysts. This article was written by David Ristau, one of our writers. We did not receive compensation for this article (other than from Seeking Alpha), and we have no business relationship with any company whose stock is mentioned in this article.