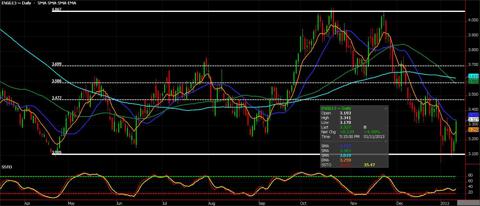 In the last 2 months futures in natural gas are lower by more than 20%, but when is enough enough? A $3.10 trade was rejected 3 times in the last week and buyers appear to be interested around these levels. The volumes have started to pick up in the last few weeks and maybe other traders are starting to see what I think I've found here ... value. Natural gas is not going back to $7/8 any time in the near future but I think a trade back north of $3.60/3.70 could be in the cards.
I like scaling into a bullish trade in futures giving yourself a few months. I also have positioned clients in bullish option trades in April. I am using the Fibonacci levels seen in the chart above as my objectives. As one can see we did close above the 8 day MA today, identified by the orange line. In fact a trade up to the 20 day MA which has served as resistance for the last 5 weeks is encouraging for the bulls. See 2 weeks ago the blue line on the chart halted any further upside. I expect that to change next week and above that hurdle prices should make their way back to the 38.2% Fib level approximately 15 cents above today's settlement.
I looked back at the last 2 years and what natural gas had done in January trying to get some sort of gauge and to set expectations; in 2011 up 80 cents and last year down 80 cents. The only take away is that we may get a big move in 2013 again. While past performance is not indicative of future results an upward appreciation to that degree would put futures near $4 in the coming weeks. A trade below the recent lows my advice is cut losses. I like that risk to reward dynamic.
Risk Disclaimer: The opinions contained herein are for general information only and not tailored to any specific investor's needs or investment goals. Any opinions expressed in this article are as of the date indicated. Trading futures, options, and Forex involves substantial risk of loss and is not suitable for all investors. Past performance is not necessarily indicative of future results.
Disclosure: I have no positions in any stocks mentioned, and no plans to initiate any positions within the next 72 hours. I wrote this article myself, and it expresses my own opinions. I am not receiving compensation for it. I have no business relationship with any company whose stock is mentioned in this article.