Goldcorp (NYSE:GG) has released gold production and cash costs for 2012 and, as always, provided production and cash cost guidance for 2013 and the next four years. Goldcorp ended 2012 on a good note, with gold production totaling 2.39 million ounces, a figure that is within the provided guidance for 2012. For 2013, Goldcorp forecasts gold production to be in the range of 2.55 and 2.80 million ounces. It also expects gold production to increase to 4.0 and 4.2 million ounces by 2017, a 70% increase.
The numbers are somewhat disappointing, because they do not match the initial 3.2 million ounces forecast made one year ago. However, the forecast figures have been dropping from 3.4 million ounces in 2010. Below, I'll explain why Goldcorp is currently a strong buy on the basis of its annual dividend and revenue growth.
Performance on Basis of Annual Dividend
Goldcorp has once again shown its commitment in returning capital to investors by announcing an 11% increase in its annual dividend, which will reflect in its first monthly dividend.
Goldcorp has paid a monthly dividend to its shareholders since 2003. According to the chart below, sales, net profit, and rate of net profitability are all increasing and expected to continue increasing through 2014.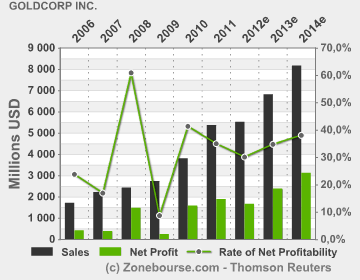 According to Goldcorp, "Shareholders of record at the close of business on Thursday, January 17th, 2013 will be entitled to receive payment of this dividend on Friday, January 25th, 2013." This is lower than the 32% increment of 2011, but when compared with the industry average, Goldcorp is outperforming. Barrick Gold (NYSE:ABX) has increased its dividend by around 260% over the past seven years, an average of 37.14% each year. Comparatively, Goldcorp is on par with a 233% dividend increase since 2009. This yields an average of 46.6% each year.
Revenue Growth
Looking at Goldcorp's third quarter results, revenue has increased by 17.6% year-over-year to $1.54 billion since the same quarter in 2011. Again, comparing this with the industry's average of 20.1% you could see that Goldcorp is doing fine on this ground. In addition, this revenue growth has increased its earnings per share from $0.41 per share in the second quarter to about $0.54 per share. The increased revenue can be partly attributed to the improved operation across Peñasquito and Red Lake mines. Having announced strong fourth quarter expectations in terms of gold production, I expect this to have a positive impact on its revenue in its annual report, which is scheduled for release on February 14th, 2013.
Challenges Going Forward
Despite Goldcorp's revenue growth, solid financial position and reasonable debt levels, weakness can be found in its cash flows and stock performance, which has yielded lackluster returns. Additionally, higher operating expenses could threaten margins. Energy prices will play a large role in mining stocks, including Goldcorp, in 2013. Goldcorp's net income from operations decreased from $268 million in June 2012 to $498 million in September 2012. Goldcorp shares have declined 18% since peaking around $45 on November 1st, 2012. Credit Suisse lowered its estimates and target price to $41, down from $45. The rating agency said "We believe the market is already baking-in results for 2013 at the top end of GG guidance. We do like the underlying company but don't see it as is undervalued relative to its peers." Additionally, TheStreet Ratings rates Goldcorp as a "hold," for similar reasons, including poor stock performance.
Revenue Growth of Goldcorp's Competitors
To gain deeper insight regarding Goldcorp's performance on the basis of revenue growth, I'll compare its numbers to that of three of its close competitors, Newmont Mining (NYSE:NEM), Kinross Gold (NYSE:KGC) and Agnico-Eagle Mines (NYSE:AEM).
If you put the revenue growth of Goldcorp on the same scale with that of Newmont Mining, you'll find the scale tipping in favor of Goldcorp. This reflects in Newmont's 2012 third quarter result, which indicates a 10% decrease in its revenue since the corresponding quarter in 2011.
Kinross Gold's quarterly revenue growth is estimated to be 6.60% year over year. This struggling gold miner released a third quarter report that is better than what the company expected. This, in my opinion, shows how well the gold industry at large is doing. Although the numbers were better than expected, its revenue growth is way below the industry's average of 20.10% and that of Goldcorp at 176%.
Lastly, Agnico-Eagle Mines' quarterly revenue growth is calculated to be 2.9% year over year. This miner has survived a down time as seen in its 2012 third quarter result with net income of $106.3 million or $0.62 per share, a result that shows an improvement from the poor results from the same quarter in 2011. Agnico-Eagle Mines' improvement is not enough to bring its number anywhere near the industry's average and that of Goldcorp.
Conclusion
If Goldcorp is able to achieve gold production that is within its guidance in the year 2013, its revenue will increase, which will increase earnings per share. Goldcorp is in a strong financial position. Its percentage total increase in assets is more than its total percentage increase in liabilities, and sales growth exceeds asset growth, showing that the company is profitable. Now is the best time for investors to buy this fast growing gold miner.
Disclosure: I have no positions in any stocks mentioned, and no plans to initiate any positions within the next 72 hours. I wrote this article myself, and it expresses my own opinions. I am not receiving compensation for it (other than from Seeking Alpha). I have no business relationship with any company whose stock is mentioned in this article.