Boeing (NYSE:BA) is a unique company, in terms of scale of operations and delivery capabilities, with a sustainable competitive moat. The company will continue to win a large share of business in aerospace and defense, so the key question might be how demand in those markets will evolve over time. While Boeing's backlog is at a record high and covers more than five years of trailing revenue, aviation will undoubtedly be affected by weaker consumer spending and high oil prices. Despite these risks, Boeing shares might be too cheap to ignore.
BUSINESS OVERVIEW
Boeing is the leading aerospace company and a manufacturer of commercial jets and military aircraft. Boeing also makes rotorcraft, electronic and defense systems, missiles, satellites, launch vehicles and advanced info and communication systems. Boeing also operates NASA's Space Shuttle and International Space Station. The company is one of the largest U.S. exporters in terms of sales and employs more than 160,000 people. Boeing was founded in 1916.
Boeing has acquired or merged with a number of aerospace pioneers, including McDonnell Douglas, Hughes Space & Communications, and Rockwell's (COL space/defense business.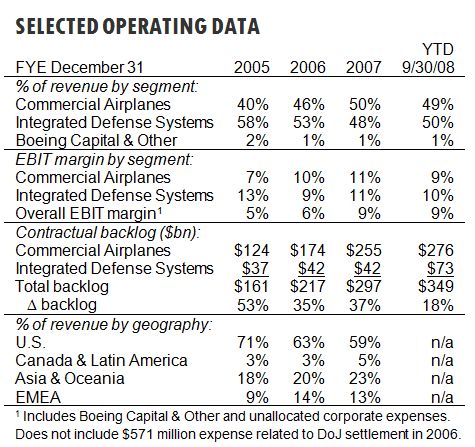 INVESTMENT HIGHLIGHTS
Largest aerospace/defense company,

competing in near-duopolistic commercial aircraft market against Europe's Airbus. Key defense competitors include Lockheed Martin (NYSE:LMT), Northrop (NYSE:NOC) and Raytheon (NYSE:RTN).

Backlog amounts to 5+ years of revenue.

Backlog stood at a record $349 billion on September 30, reflecting strong near-term demand and a strike-related delivery push-out. Commercial deliveries of 325 aircraft decreased 1% YTD versus the same period a year ago due to the machinists' strike.

First flight of 787 in 2009,

with deliveries likely in 2010 (pushed back from 4Q08 and 3Q09), with net orders for 895 airplanes from 58 customers.

Repurchased 35 million shares for $2.6 billion YTD;

pays annual dividends of $1.60 per share.

Stock price implies 5% trailing FCF yield,

8x trailing P/E and 6x forward P/E.
INVESTMENT RISKS & CONCERNS
Machinists' strike and supplier issues

on galleys for wide-body planes reduced commercial airplane deliveries by 35 units and EPS by $0.60 in Q3, causing Q3 EPS to decline to $0.94 from $1.43 y-y.

Suspended guidance due to strike.

Management had previously guided for revenue of $67-68 billion in 2008 and $72-73 billion in 2009; and EPS of $5.70-5.85 in 2008 and $6.80-4.70 in 2009. Cash from operations is expected to be more than $2.5 billion in 2008 and more than $6 billion in 2009.

Engineers and technical workers may strike.

Boeing is engaged in contentious contract negotiations with unions representing both groups.

Expects defense spending growth to moderate,

remains focused on keeping individual programs operationally healthy and relevant.

"May need to finance some deliveries in 2009,"

reversing policy of not providing manufacturer financing from 2006-08. The company has made backstop commitments for 3% of the commercial backlog associated with deliveries through 2019.

High oil prices may reduce demand for commercial airplanes.

A mitigating factor is the fact that 70% of airplane sales (by value) go to customers outside of the U.S., and global demand for commercial aviation remains strong.

May be exposed to deferral or cancellation of scheduled new deliveries.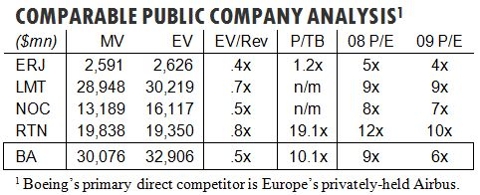 Disclaimer: Copyright 2008 by BeyondProxy LLC. BeyondProxy and its affiliates may have positions in and may make purchases or sales of the securities discussed in this report. It is the policy of all Related Persons to allow a full trading day to elapse after the publication of this report before purchases or sales of any securities discussed herein are made. No Related Person held a position in securities discussed in this report as of the date of publication. Use of this report and its content is governed by the Terms of Use described in detail here.