Not surprisingly, the stock market has recently hit a 5 year high thanks to a seasonal "January Effect" rally and also because Washington avoided (sort of) going off the Fiscal Cliff. This looks like a great time to sell into the rally and raise cash because it might not be long before the euphoria fizzles. The S&P 500 Index (NYSEARCA:SPY) is now trading well above the 50 and 200-day moving average and the relative strength index, or RSI, is at about 65, which is considered to be in overbought territory. But put this aside for now, because there are even more reasons why it makes sense to be selling into strength now.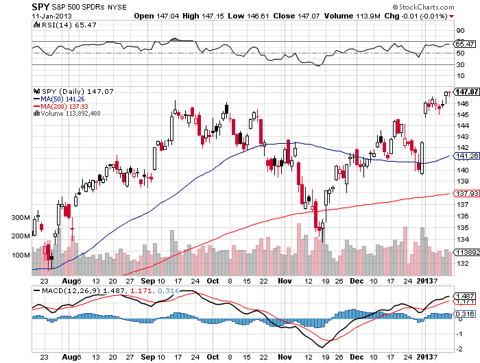 Click to enlarge
We are just getting into earnings season and historically that will bring plenty of disappointments. In the fourth quarter of 2012, there are quite a few reasons or excuses that companies will have for missing on earnings. That could include a consumer and business slowdown due to concerns over the Fiscal Cliff, the impact of Hurricane Sandy, renewed strength in the Euro, just to name a few. Some of these are real issues that might cause some companies to miss earnings and, as most investors know, the market can be unforgiving and take a stock much lower after a miss or when weak forward guidance is given.
Major challenges loom for the U.S. economy and the fears that surfaced from potentially going over the Fiscal Cliff are likely to come back to the market in a matter of weeks. The U.S. Government is going to need to borrow more money as it recently hit the debt limit and that could get ugly as Republicans look to get the spending cuts that were avoided in the recent Fiscal Cliff deal. Some political analysts believe that Republicans will refuse to raise the debt ceiling without major spending cuts to entitlements and since the Democrats seem unwilling to address this issue, an impasse could result in the United States defaulting on debt obligations. It is such a concern that some Democrats are now urging the President to unilaterally act to raise the debt ceiling without Congressional approval in order to avoid a debt default. Even if that does not happen, it seems that a deal would require spending cuts which are likely which could hit the defense stocks and other sectors quite hard.
Another factor that has not yet been truly factored into the economy is a recent increase in payroll taxes. Many employees just received their first pay checks for 2013 and they have noticed a 2% hike in payroll taxes, which is part of what is likely to be a new wave of taxes in the future as America grapples with a massive debt load. As one recent Reuters article points out, this will impact about 160 million employees and cost the average worker about $700 per year. In regards to this increase, it states "The pain will trickle through the economy over the next few weeks." That pain could be felt soon by restaurant chains like McDonald's (NYSE:MCD), which has already posted disappointing earnings results for the past couple of quarters, since eating meals out is often the first area where consumers cut back on spending.
Stocks like McDonald's and Caterpillar (NYSE:CAT) look particularly extended now: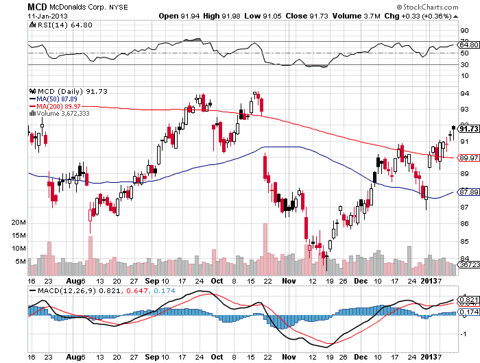 Click to enlarge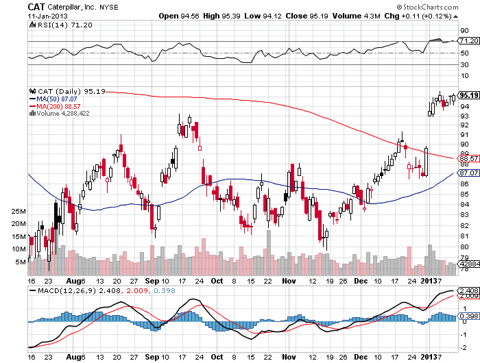 Click to enlarge
The payroll tax increase might lead to reduced consumer spending and lower confidence in the first quarter of 2013. Plus, another highly publicized debate over the debt ceiling and budget cuts is likely to occur in the coming weeks and create another setback for this still anemic economy. That being said, investors who take advantage of the recent rally and sell into it will have the cash on hand for what could be some much better buying opportunities. It makes sense to build a shopping list of stocks now that could either be poised to drop on an earnings miss, weak guidance or suffer a sell-off if the debt ceiling debate becomes a protracted mess, or even results in a debt default. Companies that are economically sensitive like Caterpillar, Boeing (NYSE:BA) or General Electric (NYSE:GE) could head lower in a market downdraft and provide investors with a much better entry point. That's because these stocks could be some of the first ones that investors will want to sell, if things get ugly in Washington. I believe that Q4 earnings, the payroll tax hike and the realization that austerity is coming to America in 2013, will create fresh concerns about the economy in America. It's time to get defensive and prepare our portfolios for better buying opportunities that are likely in the coming weeks.
Data is sourced from Yahoo Finance. No guarantees or representations are made. Please consult a financial advisor before making investments.
Disclosure: I have no positions in any stocks mentioned, and no plans to initiate any positions within the next 72 hours. I wrote this article myself, and it expresses my own opinions. I am not receiving compensation for it (other than from Seeking Alpha). I have no business relationship with any company whose stock is mentioned in this article.