The stock market closed mixed on Friday after Wells Fargo & Company (NYSE:WFC) reported narrowing margins and waning mortgage applications. Dow Jones and Nasdaq managed to close higher with 0.13% and 0.12% gain, respectively. S&P closed flat after reaching its highest level in five years yesterday. DIA, QQQ and SPY all continued to close well above their 50-day and 200-day MAs. The sector of basic materials led the loss with 0.77% decline. Technology sector led the gain with 0.31% increase.
The market sentiment is driven by extreme greed now with Fear & Greed Index at 85, which is the same as previous close. As reported by CBOE, the total put/call ratio for today was 0.72, and the index put/call ratio was 0.55. The equity put/call ratio was 0.63, and the CBOE volatility index (VIX) put/call ratio was 0.17. In the following, top stocks had been identified through our daily options scanning process, with the scanning criteria where the daily call volume ratio was above 2.00 (2x of the average call volume) with a call volume above 50,000.
| | | | |
| --- | --- | --- | --- |
| Name (Ticker) | Call Volume | Average Call Volume | Daily Volume Ratio |
| Research in Motion Limited (RIMM) | 212,659 | 75,910 | 2.80 |
| Baidu, Inc. (NASDAQ:BIDU) | 53,534 | 21,899 | 2.44 |
| Facebook, Inc. (NASDAQ:FB) | 301,019 | 129,822 | 2.32 |
Source: Schaeffer's Research
RIMM surged 13.76% and closed at $13.56 on Friday. The trading volume was 110.98M, which is 2.57x of 30 day average volume of 43.16M. The stock edged higher due to the leaked marketing material from gadget blogs for BlackBerry Z10, which carries a thin, flat design similar to iPhone 5 and runs on the BlackBerry 10 operating system, as reported by MarketWatch. According to the same report, short squeeze could also contribute to the price hike as BMO Capital Market's downgrade failed to push the shares down.
BIDU completed a three day rally and closed with 2.18% gain at $112.97 on Friday. The volume of 8.49M was 1.81x of 30 day average volume of 4.68M. BIDU was up for a few reasons: 1) the improving economy in China, which should lead to more ad spending by companies; 2) China's Internet population is expected to surge to 800 million users by 2015; 3) revenue boost from mobile end, where mobile could contribute 10% of BIDU's sales by the end of 2013; 4) new intelligent recognition program for the Android platform of Google Play, which provides the similar functions as Apple's Siri; 5) Upgrade from J. P. Morgan. As wrote by Dick Wei and Evan Zhou,
"With much negative sentiment already factored in to the share price, we see drivers for Baidu over the next few months to be: (1) good 4Q12 results; (2) improvement in ad spend with more positive macroeconomic outlook; (3) higher mobile monetization in 2013; and (4) stabilizing margins. Baidu remains our top pick in the sector."
The top bullish pick for the day is Facebook, Inc.
Facebook, Inc.
Facebook is the world's largest online social network with over 900 million monthly active users. According to most third-party reports, Facebook has more than 500 million daily users spending more time on facebook.com than any other websites.
The share price rose to 6 month high as investors are expecting more revenue from mobile advertising. According to Doug Anmuth, an analyst at JPMorgan Chase & Co, Facebook is still in the early stages of developing ads for users who access the social network via mobile devices. Anmuth said, "We expect continued ad growth acceleration. We do not believe Facebook shares are well-owned."
Positive Mobile Development
According to Michael Pachter, an analyst at Wedbush Securities, some kind of Facebook-Instagram integration is expected. As reported by Bloomberg, "About 60 percent of the more than 1 billion Facebook members accessed the social network via mobile devices at the end of the third quarter, compared with about 47 percent a year earlier. Investors were reassured in October when Facebook said about 14 percent of advertising sales were already coming from smartphones and tablets." Facebook gets 70 percent more for mobile ads than it does with its counterparts on desktops due to fewer ad spots being available on the smaller mobile devices. Companies are ramping up spending as they see an impact from advertising on Facebook, and big brands are spending more consistently on the service instead of one-time campaigns, said Aaron Goldman, chief marketing officer for Kenshoo.
Analysts' Calls and Earnings Estimates
FB was named "top large-cap pick" among Internet stocks for 2013 by J.P. Morgan with a price target of $35.00 on Friday. Analyst Doug Anmuth said,
"we believe it still very early in Facebook's mobile advertising trajectory, and marketer feedback on mobile and News Feed ads is now more positive."
On Jan 7, 2013, Pivotal Research downgraded FB to "Hold" from "Buy" rating with a target price of $30.00. The firm commented,
"Changes to our recommendation on Facebook primarily reflect the absence of change in our view on the stock given its recent run-up towards the $30 target we set in October. While we derive this target with more conservative long-term assumptions the company's long-term top-line prospects, these are offset by a slightly reduced cost of capital. But regardless of the quasi-academic nature of this approach, $30 feels to us like the right level for the stock to end 2013."
Analysts, on average, are estimating an EPS of $0.15 with revenue of $1.52B for the current quarter ending in December, 2012. Analysts are predicting an EPS of $0.52 with revenue of $5.02B for the fiscal 2012. For 2013, analysts are projecting an EPS of $0.65 with revenue of $6.53B, which is 30.10% higher than 2012, as seen from the table below.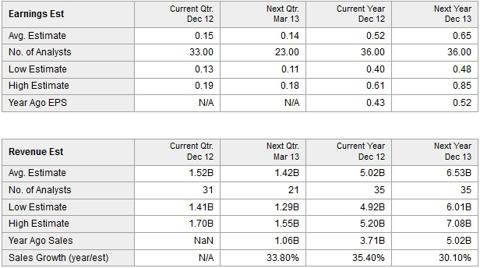 Source: Yahoo! Finance
Facebook is expected to release quarterly earnings on January 30, 2013.
Key Stats and Valuation
FB has an enterprise value of $58.26B with a market cap of $68.72B. FB has a total cash of $10.45B and a total debt of $902.00M. FB generates an operating cash flow of $1.44B. FB has a book value of $6.59 per share. By using Morningstar's data, FB's key stats will be compared to its peers in the industry of Internet content and information. FB has lower operating margin of 12.1%, ttm, and net margin of 4.2%, ttm, as compared to the industry averages of 17.0% and 18.7%, ttm, respectively. FB generates ROE of 1.4, which is lower than the industry average of 13.6.
FB currently has P/E of 416.7, P/B of 4.8 and P/S of 17.7, which are all higher than the industry averages of 25.8, 3.6 and 5.6. FB has a forward P/E of 42.9, which is much higher than S&P 500's average of 13.3. FB has a PEG ratio of 1.4.
Technically Analysis
FB closed at $31.72 with 1.34% gain on Friday. The volume of 89.58M was 34.89% higher than the 30 day average volume of 66.41M. FB had been trading in the range of $17.55-$45.00 since its IPO. The MACD (12, 26, 9) indicator had been showing a bullish trend with diverging MACD difference. The momentum indicator, RSI (14), is showing a strong bullish momentum and is in the over-bought territory at 73.07. FB is currently trading above its 50-day MA of $25.62, as seen from the chart below.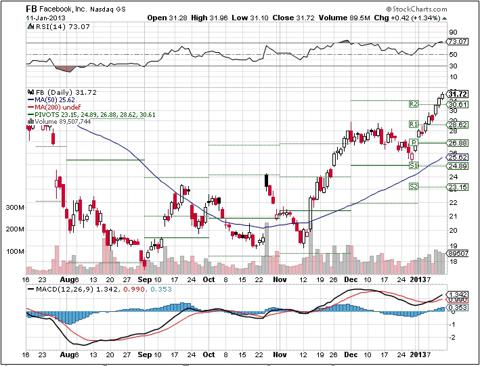 Source: StockCharts.com
Unusual Call Activities
Unusual option activities can be an indicator or precursor of a major movement for the underlying stock. The most active call was Jan. 18, 2013 call at the strike price of $31.00 with a volume of 30,426 and an open interest of 25,546. The implied volatility is 45.4, and the chance of breakeven is 38.98. The historical volatility for FB is 43.21 for 1 month, 58.68 for 3 months, and 61.87 for 6 months.
For long-term investors, the credit put strategy can be reviewed to acquire the stock at a lower price while limiting the downside risk and gaining some upside potential before the earnings release. For bullish traders, near-term, in-the-money calls will provide a better risk and reward ratio than trading stocks alone. However, buying call options will incur additional risks of time decay and potential volatility collapse, when betting on the earnings.
Note: All numbers/prices are quoted from the closing of January 11, 2013 with the data provided from Barron's, Morningstar, Schaeffer's Investment Research, Inc., Google Finance, and Yahoo! Finance. Investors and traders are recommended to do their own due diligence and research before making any trading/investing decisions.
Disclosure: I have no positions in any stocks mentioned, and no plans to initiate any positions within the next 72 hours. I wrote this article myself, and it expresses my own opinions. I am not receiving compensation for it (other than from Seeking Alpha). I have no business relationship with any company whose stock is mentioned in this article.