We have been following J.C. Penney Company Inc. (NYSE:JCP) off and on since 2011 because Bill Ackman had taken a position in JCP and because Ackman was influential in recruiting Ron Johnson away from Apple Retail (NASDAQ:AAPL) in order to become JCP's new CEO to succeed Myron Ullman, who was JCP's CEO from 2004-2011. Although we demurred from taking a stake in JCP, we were intrigued by the idea of JCP's willingness to "shake things up" as its EPS peaked in FY 2008 and declined by 68% during the following three years. One particular piece of financial information that stood out to us was from 2003 to 2008, JCP's revenue only increased by 13% but its net income increased by 206% as its revenues grew at an incremental rate of 2.5% annually during this time period while its expenses were flat during this period. This trend reversed itself from 2009-2011, as expenses steadily increased while its revenues steadily declined.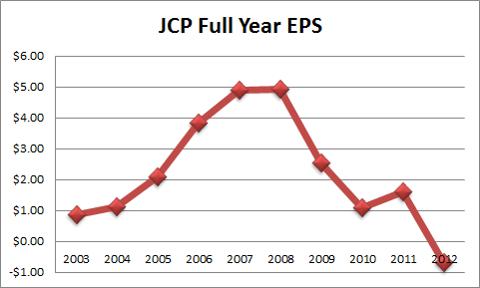 Source: Morningstar Direct
Ron Johnson had a solid record as Target Corporation's (NYSE:TGT) Senior Merchandising Executive, which led to Apple's CEO Steve Jobs tapping him in 2000 to build and oversee Apple's brand new retail division. Apple opened its first retail store location under Johnson's leadership in 2001 and the combination of Apple's cutting edge, wildly popular technology products and Johnson's leadership helped Apple Retail to a worldwide presence of over 300 store locations and $14B in FY 2011. Although Johnson had the benefit of being able to create a store devoted to Apple's hot-selling products, we don't believe that Apple Retail's success was merely serving as a place that sells Apple products. Ron Johnson was instrumental in the development of the Apple Retail concept, especially the Genius Bar tech support station within the stores. We believed that Apple's CEO Tim Cook should have realized that one couldn't merely take a guy from Dixons Retail, install him as Ron Johnson's new successor and hope to replace Ron Johnson's results. Unfortunately, Cook replaced Johnson did just that when he recruited John Browett away from Dixons in 2012, but pulled the plug on the John Browett experiment before Browett turned Apple Retail into Dixons Retail.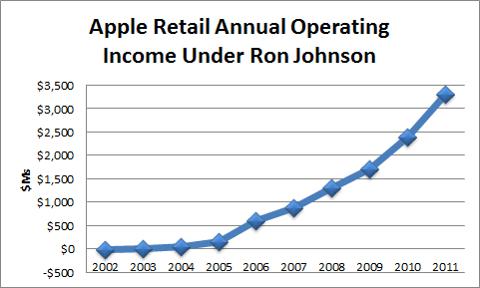 Source: Apple's 2002-2011 10-K Reports
Ron Johnson became J.C. Penney's new CEO in November 2011 and JCP paid a pretty penny for his services. JCP gave Johnson $50M in restricted JCP stock because he forfeited $50M in restricted Apple stock and provided him a $1.5M salary and $1.9M bonus. Johnson also invested $50M in JCP stock warrants that have a 7.5 year term and will enable Johnson to buy 7.26M shares of JCP for $6.89/share. Johnson can't exercise the warrants for at least six years and forfeits his $50M if JCP's share price is below $29.92 (JCP's closing price on June 10th 2011). Johnson recruited a team of high-caliber executives, including Michael Francis (President), Mike Kramer (Chief Operating Officer) and Dan Walker (Chief Talent Officer), who bring with them years of senior executive experience at other public consumer-focused companies. On January 25th, 2012, JCP's management unveiled its new "Fair and Square" pricing strategy which replaced promotions with every day-low pricing. JCP's management also implemented its strategy of turning a J.C. Penney store and transforming it into a mini-mall filled with brands.
Unfortunately for Ron Johnson and his team, J.C. Penney has seen a shockingly deep sales slump in its FY 2013 fiscal year period. JCP has seen its sales drop by over 20% in all three of FY 2013's fiscal quarterly periods and it has racked up $433M in net losses during the YTD 2013 period. JCP burned through $719M in cash during this period even with the aid of $525M in cash harvested from the sale of non-operating real estate assets. JCP's loss would have been greater if it did not enjoy the benefit of $412M in income and gains from the following non-operating real estate assets:
$200M from redemption of Simon Property Group LP (NYSE:SPG) REIT units
$15M from the sale of its CBL & Associates Properties (NYSE:CBL) REIT shares
$28M from the sale of leveraged lease assets
$151M from the sale of joint venture investments
$3M from the sale of a building from its former drugstore operations and
$15M in income from joint ventures and REITs held
Barron's Magazine was skeptical about Johnson's new strategy as far back as January 2012 and J.C. Penney's shareholders have suffered through the indignity of a negative 48% total return and the suspension of its dividend. Macquarie analyst Liz Dunn made an interesting point about how JCP was seeing the slow decline of sagging stagnation relative to its peers and that a new model needed to be tried, however the new system has generated deep losses within its first year. UBS recently decided to add insult to injury by cutting its rating on JCP to sell and slashed its price target from $21/share to $13/share. We can see why UBS is losing confidence in Johnson as he had to reintroduce discounting and his handpicked President Michael Francis left the company.
Notable investors in J.C. Penney's shares and bonds including the following august individuals and institutions:
Bill Ackman's Pershing Square Capital (39M shares representing 17.8% of JCP's stock)
Steven Roth's Vornado Realty Trust (NYSE:VNO) (23.4M shares representing 10.8% of JCP's outstanding shares)
Dodge & Cox (20.3M shares representing 9.3% of JCP's stock)
Evercore (12.2M shares representing 5.6% of JCP's shares)
Fidelity Investments (17.9M shares representing 8.23% of JCP's stock)
Hotchkis & Wiley Capital (9M shares representing 4.1% of JCP's stock
Maverick Capital (9M shares representing 4.1% of JCP's stock)
Daniel Fuss of Loomis Sayles has $134.5M worth of JCP's bonds in three active fixed income funds that he and his team manage and we estimate he had a similar amount in his SMA and institutional account mandates as well.
The J.C. Penney Savings, Profit-Sharing and Employee Stock Ownership Plan also has 13.8M shares representing 6.3% of JCP's outstanding shares
In conclusion we have commenced our formal coverage of J.C. Penney. We are intrigued with the high level of capital conviction as the 17 largest shareholders own nearly 90% of JCP's outstanding shares. JCP is not a company we would not have ordinarily pursued due to its underwhelming brand name, shopping experience and financial performance. We can see that we saw the same mediocre management that Bill Ackman referred to in his presentation at the Ira Sohn conference. We liked that at the very least, it owned 49% of its retail square footage footprint and if JCP fails at its grand new strategy, it can monetize the real estate owned in order to salvage value for shareholders. While we are impressed by Ron Johnson's record of results as a merchandising executive with Target and as the father of Apple Retail, it remains to be seen if he can be as successful with J.C. Penney as he was in his previous roles. It remains to be seen if he will be the next James Cash Penney (founder of J.C. Penney), or the next Sewell Avery (who let Montgomery Ward languish while Sears soared in the 1940s and 1950s). Fortunately, we will follow up this report with about four to seven reports in the next few weeks.
Disclosure: I am long AAPL. I wrote this article myself, and it expresses my own opinions. I am not receiving compensation for it (other than from Seeking Alpha). I have no business relationship with any company whose stock is mentioned in this article.
Additional disclosure: This article was written by an analyst at Saibus Research. Saibus Research has not received compensation directly or indirectly for expressing the recommendation in this article. We have no business relationship with any company whose stock is mentioned in this article. Under no circumstances must this report be considered an offer to buy, sell, subscribe for or trade securities or other instruments.