On November 11, right at the very bottom, I initiated coverage of Groupon (NASDAQ:GRPN) saying it's a good long term investment (please consider:Groupon Finally Lands On Planet Earth). Although I cautioned buying until the dust settled, I also said if you see indication of technical strength on the charts, I would be a buyer.
Since then, and if you considered my recommendation, you are probably about 100% ahead in that relatively short period. So now that some of you are sitting on all those profits, the question is how does one proceed from now on.
The company has been busy the past couple of months. Among other news:
Generally speaking I think the company is going in the right direction, but the question is, is that enough? Well we won't know until we get Q4 results and hear what the company has to say at their conference call on February 27. However, economic forensic evidence gives us some clues that things might not be that good.
Bloomberg reported that CEO Andrew Mason is barely hanging on and that the board recently was thinking of firing him and finding a replacement. I don't think the board would contemplate something like this if things were fine. In fact it probably means that next quarter results will not be what many of us hoped for.
On the positive side of things, firing Andrew Mason would probably be a positive catalyst for the stock, because when someone who has not done a good job gets replaced, it means the board is looking ahead and has learned its lesson.
Another positive catalyst for the stock (at these levels) might be that Google (NASDAQ:GOOG) is still interested in the company. And as I pointed out a while ago, this would be positive for Google in many ways. It would also be positive for Groupon shareholders if the price was right.
So before I give my verdict on what to do with the stock, lets look at the technical picture.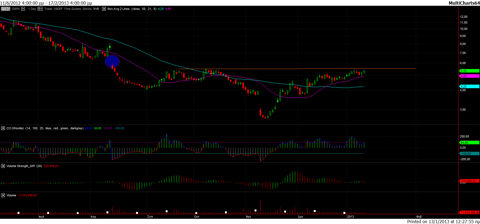 The stock is approaching resistance at $5.35. Also, there is a technical gap back from August with heavy volume. So in order for the stock to break out and trend above these levels, I think we will have to see major buying action. If we don't, the stock will probably correct towards the $4 level.
In order for the stock to see heavy buying action, we have to see substantial evidence (in the form of an official announcement) that growth is resuming and profits are accompanying that growth. But we won't know that until February 27. Also, the Bloomberg report was not exactly encouraging that things are going great.
Also, while I was initially bullish on the stock from a pure valuation prospective, today the stock is not that cheap anymore. It could become a good buy, but only if growth resumes and we see some profits.
Also, the stock has doubled from my first recommendation. Profits like these are not easy to come by and I am sure many investors will want to cash out.
So this is my verdict
For those who bought the stock close to my recommendation levels, I say sell and lock in those profits. The stock needs solid positive news in order for enough buyers to come in and push prices higher.
A Google take-over offer might push prices higher, but that is a wild-card and we can't really base our investment decision on a wild card.
For those who have bought the stock at higher levels and are out of the money, I still think you'll get you money back, just that you will have to wait longer term.
However, because timing is almost everything, if you are sitting on profits, take the money and run until we get a better picture of what is going on inside the company and what year end results will look like.
Disclosure: I have no positions in any stocks mentioned, and no plans to initiate any positions within the next 72 hours. I wrote this article myself, and it expresses my own opinions. I am not receiving compensation for it (other than from Seeking Alpha). I have no business relationship with any company whose stock is mentioned in this article.