The story...
Most people who have read my other articles on Seeking Alpha or subscribed to my newsletter have figured out by now I believe the shale gas/oil revolution occurring within the United States is a big deal. Probably, in my opinion, one of the largest investment opportunities currently available. In past articles, I have detailed out my favorite infrastructure and transportation companies. Today, I am going to discuss the "production" side of the equation.
After decades of declining domestic oil production, high international crude prices have provided the motivation to develop new drilling technologies for conventional and unconventional wells. Technologies like horizontal drilling, hydraulic fracturing, and drill bit advancements have all worked in conjunction with each other to help make US exploration and production economically viable.
Many investors have heard of the shale oil/gas areas of the country experiencing rapid economic prosperity. Bakken in North Dakota, Utica and Marcellus in the Eastern United States, and the Eagle Ford area in Texas - just to name a few. The Permian Basin is an area that is emerging as another potentially gigantic resource.
As recent as last Friday (January 11, 2013), Chevron (NYSE:CVX) specifically mentions the Permian Basin as one of the primary reasons the Q4 numbers look great. Chevron stated it expects Q4 earnings to be "notably higher" as U.S. net oil-equivalent production increased 39,000 bbl a day during the first two months of the period, reflecting a recovery from Hurricane Isaac and higher output via Permian Basin acreage.
The EIA (Energy Information Administration) describes the Permian Basin as follows;
The Permian Basin is a sedimentary basin largely contained in the western part of Texas and southeastern New Mexico.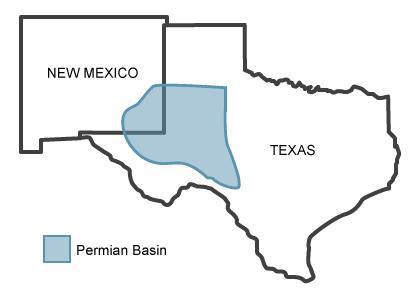 It is so named because it has one of the world's thickest deposits of rocks from the Permian geologic period. The Permian Basin extends beneath an area approximately 250 miles (400 km) wide and 300 miles (480 km) long and is comprised of several component basins, notably the Midland, Delaware and Marfa basins.

The Permian Basin produces 17% of United States crude oil and represents two-thirds of Texas' current oil production. Proved reserves are second only to Alaska. The Permian Basin, with production targets from 1,000 feet to 20,000+ feet in depth, has produced over 20 billion barrels of oil since the first oil well was drilled and produced in 1921. Deep wells are expensive - a well 10,000 feet could easily run more than $20 million.
The EIA goes on to say:
The Permian Basin-a long-time oil and natural gas producing region in west Texas and eastern New Mexico-is showing signs of new life. The active rig count has grown from 100 rigs in mid-2009 to over 500 rigs in May 2012. According to data from HPDI, oil production from the Permian has increased fairly steadily over the past few years, reaching the 1 million barrels per day (bbl/d) threshold in 2011-the first time since 1998.
A recent analyst report stated there are many multiple formations that are stacked on top of each other in the Permian. Through the use of horizontal drilling technology, companies now have the ability to reach each level - multiple zone targets.
This map from a 2012 Devon (NYSE:DVN) investor presentation illustrates this stacking of shale levels within the Permian Basin.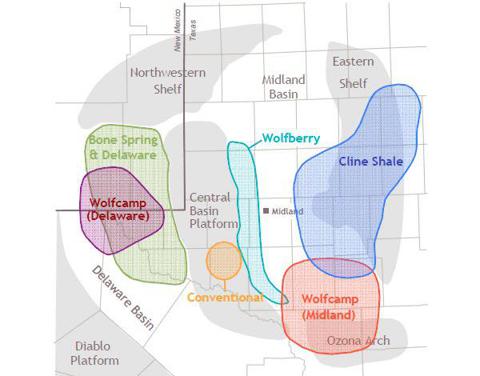 Additionally, since oil has been flowing from conventional wells in the Permian Basin since the 1920s, some of the "take away infrastructure" is in place. As production has grown, more pipelines are being built and are coming on line in 2013/2014 (as detailed in the illustration below). By the end of 2014, one-million barrels per day of new pipeline capacity is expected to be operational. Adequate pipeline capacity is an important fact for a growing production area like the Permian.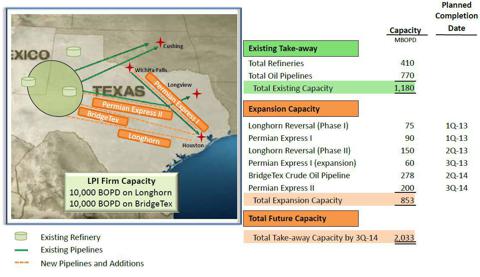 The Permian is a low cost producing oil region due to its proximity to Cushing/Houston processing facilities and the relative shallow well depths. Wells can be very expensive and shallow wells can save millions of dollars per well. When you own a commodity resource company, being a low cost producer is a tremendous competitive advantage over peers.
What are the best ways to take advantage of the situation within the Permian Basin?
There are many large multi-national, multi-billion dollar market capitalization companies exploring in the Permian Basin. Companies like Occidental (NYSE:OXY), Devon, Apache (NYSE:APA), Pioneer Natural Resources (NYSE:PXD), Linn Energy (LINE), EOG Resources (NYSE:EOG) and ExxonMobil (NYSE:XOM) are all major players in the Permian and have enormous land positions. However, they are also operating business in locations all over the world. As a result, they are not as leveraged to the potential success of the Permian Basin.
The mid-capitalization companies are significantly more leveraged to the success of the Permian Basin. Additionally mid-cap companies, once successful, are more likely to be gobbled up at a later date by one of the major players at a huge premium. Mid-cap companies in the $1 billion to $5 billion range include; Approach Resources (NASDAQ:AREX), Legacy Reserves (NASDAQ:LGCY), EXCO Resources (NYSE:XCO), Gulfport Energy (NASDAQ:GPOR), Laredo Petroleum (NYSE:LPI), Energen Corporation (NYSE:EGN) and Whiting Petroleum (NYSE:WLL).
The following is a list of land owners within the Permian Basin.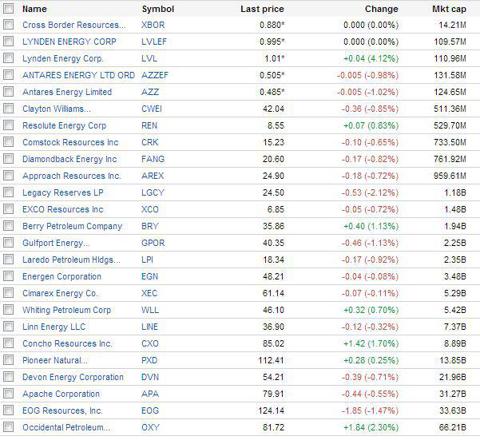 The risks…
I always try to acknowledge the risks that would change my investment thesis. I see three risks that I must keep an eye on - they are as follows:
1) There is a lot of shale oil/gas being discovered in North America. This could create an oversupply situation forcing prices lower. A break of the $84 area noted on the chart below would be bearish.
2) Change in the fracking laws in the United States (fracking is the process by which shale rock deposits are broken up allowing for oil/gas to flow).
3) Any political banter by government officials about not EVER allowing for the export of domestic production would be a cause for concern.
Price of West Texas Intermediate technical chart review -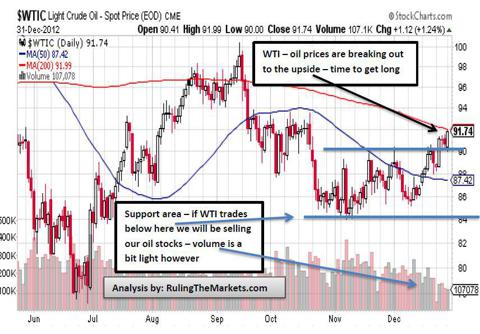 My ideal Permian Basin ETF
My ideal ETF would include all of the mid-cap companies mentioned above. If investors buy a basket of stocks all leveraged directly to the Permian Basin, they would eliminate individual stock risk and only be left with resource risk. Resource risk in the Permian can virtually be eliminated because of historical production and the current success the huge multinational oil companies are experiencing. This represents an excellent limited risk investment opportunity.
Disclosure: I am long LPI. I wrote this article myself, and it expresses my own opinions. I am not receiving compensation for it. I have no business relationship with any company whose stock is mentioned in this article.
Additional disclosure: This work is based on public filings, public events, interviews, corporate press releases, and what I have learned as financial journalists. It may contain errors and you shouldn't make any investment decision based solely on what you read here. It's your money and your responsibility.