Apple (NASDAQ:AAPL) is not only the most valuable in the company in the world, but likely the most-covered (certainly on this site) and perhaps the most-debated. The company is, depending upon the viewpoint, massively undervalued or on a "slow downward trajectory"; a savvy powerhouse building a best-in-breed ecosystem or an "arrogant" behemoth whose success is derived from an undeserved cult-like following.
Save for a few bullish mentions in late 2011, I have for the most part stayed out of the fray. But as Apple's share price has fallen over the last four months, dropping some 25 percent after first breaking the $700 mark in September, I've again become interested in the stock. The fundamentals, of course, remain outstanding. Even an AAPL bear would admit that, on a purely numerical basis, Apple looks cheap. At Friday's close of $520.30, the company's trailing P/E sits below 12. This despite revenue and earnings growth of 44 and 59 percent, respectively, in fiscal 2012 (ending in September). The company's cash hoard of $121 billion could buy all but 43 of the world's publicly listed companies, including Amazon.com (NASDAQ:AMZN).
Of course, as AAPL bears are quick to point out, stocks are valued based on the future, not the past, and there are challenges. Competition in the smartphone space is quickly increasing; Google's (NASDAQ:GOOG) Android platform is the market share leader, while former first movers Nokia (NYSE:NOK) and Research in Motion (RIMM) are attempting turnarounds. Both Amazon and Google have attempted to undercut Apple's iPad in the tablet space. Lurking in the distance is Chinese giant Lenovo (OTCPK:LNVGY), who plans to compete in the smartphone and US personal computer segments as both industries become more commoditized.
Those risks are real. As dominant as Apple is now, the tech world -- particularly its consumer segment -- is a highly competitive sphere, and leaders can turn to laggards exceedingly quickly. Barely more than two years ago, RIM's BlackBerry was the leading smartphone platform in the U.S.; it's now a distant third. The idea that Hewlett-Packard (NYSE:HPQ) and Dell (NASDAQ:DELL) would even consider exiting the consumer PC business would have been laughable just a few short years ago. Product cycles, like the news cycle, continue to compress and consumer tastes are fickle.
In evaluating any stock -- particularly those in the tech sector -- I look for a margin of safety. There's a reason that investors discuss "risk/reward" and not "reward/risk"; the "risk" must come first. So, for Apple, I wanted to design a simple exercise: under what circumstances would the stock drop to $400?
Why $400? First of all, it's a round number and it makes a good headline. Secondly, it's close to where Apple traded at the beginning of 2012 (it opened the year at $411). And the figure represents a reasonably acceptable loss of 23 percent from Friday's close; not something to brag about, to be sure, but a drop that would not destroy a reasonably diversified portfolio.
The first thing to consider in this exercise is Apple's substantial cash balance. While the company reported $121 billion in cash and (mostly) investments, much of the money is held overseas. At Forbes last month, Chuck Jones noted that 68 percent of those funds were held offshore; at a conservative estimated tax rate of 35 percent (should those profits be repatriated), the after-tax value of Apple's current cash hoard is about $92 billion. For convenience's sake, we will bump it up slightly -- we can rationalize this using potential tax credits for overseas taxes -- to $94 billion. At that level, Apple's cash balance is worth an even $100 per share.
So, how can Apple's enterprise value fall to $300 per share, or roughly $282 billion? The same way any other stock's value can fall:
1. Multiple Compression
There's probably an Apple shareholder or three screaming at their computer: "How can it compress any further?!?!" Based on analyst estimates provided by Reuters, Apple ex-cash (using the $100 per share figure that includes potential repatriation taxes) is already trading at just 8.6x 2013 EPS and 7.4x 2014 EPS. To reach $400 per share, those figures would have to fall to 6.2x (2013) and 5.3x (2014). Those multiples are in-line with those of Dell, and below those of struggling old-line tech companies such as Cisco (NASDAQ:CSCO) and Corning (NYSE:GLW).
Apple is none of those companies, of course. For it to reach those multiples would require a bear market of massive proportions (think March 2009), or real fears that the company's growth rates were headed toward zero by 2015. The odds of either happening over the next 12-24 months seem slim, at best. Granted, multiples may decline in the wake of worse-than-expected earnings (we will discuss that possibility shortly), but the potential of multiple compression being the primary driver in dropping Apple to $400 seems rather remote.
2. The "Black Swan"
Everybody seems to be looking for "black swans" nowadays, which kind of defeats the point; the essence of the "black swan" theory is that they are events that are nearly, if not completely, unpredictable.
But it's worth considering any sort of event that might cause a severe decline in Apple stock. An accounting scandal? Impossible; the company's products are too well-tracked and too well-covered. A disastrous and/or poorly-received acquisition? Similarly unlikely. Unless Apple buys Microsoft (NASDAQ:MSFT) or Amazon, the sticker price wouldn't be big enough to seriously dent Apple's share price, and in all seriousness, Apple has shown little interest in any sort of big-ticket purchases.
Any other unforeseen events of the types often seen in Silicon Valley and corporate America seem unlikely to overshadow a company that is worth half a trillion dollars. Any sort of scandal involving CEO Tim Cook or another executive would simply result in cold calls from every headhunter in the world and a rush of interest from the country's top executives. The company already had a mini-scandal in its backdating of stock options years ago, which did little to slow growth for Apple or its stock. It's overcome some questions about working conditions at its supplier Foxconn Technology (OTC:FXCOF), which, similarly, did little to dent the popularity of the iPhone or iPad. Even the Google Maps debacle earlier this year was quickly forgotten. Surely, another issue will raise its head at some point; but Apple's sheer size, its brand power, and the strength of its products make a single-day drop in the 20 percent -- or even 8-10 percent -- range seem highly unlikely.
3. Portfolio Re-Balancing
The suddenly popular explanation for Apple's recent decline (see here for another interesting take) is that Apple has simply been too good. Its outperformance over the last few years has meant that institutional investors have seen the stock take up a greater and greater percentage of their portfolios, and have had to sell the stock to bring Apple's weighting back in line. As Reuters wrote, quoting portfolio manager Mark Spellman:
"The stock didn't go from $700 to $520 because people didn't like the new iPad. It's become a favorite short of hedge funds because they know they can get in on this...Some of my competitors have 12 percent of their assets in Apple, which I think is ludicrous," said Spellman, who said the company is no longer trading on its fundamentals.
If indeed re-balancing is responsible for some -- or most -- of Apple's recent drop, it seems unlikely to continue. With the new year here, and tax considerations again on the back burner, the likelihood that managers will sit out another 20 percent loss without those fundamentals coming to the forefront seems unlikely. Wall Street, as many have noted, has a herd mentality; but the stampede can only last for so long.
4. Below-Average Earnings
In short, it seems that, to return to $400 per share, Apple will have to post earnings well below what is expected. But how low?
As noted above, AAPL is currently trading, ex-cash at 8.6x 2013 EPS and 7.4x 2014 EPS. To reach $400 per share at those multiples, 2013 EPS would have to be $34.88; 2014 EPS would come in at $40.54.
But Apple's FY12 earnings were $44.15 per diluted share. In other words, Apple would have to see an EPS drop of 21 percent this year to reach the $400 per share level. Even assuming some multiple compression as optimism toward future growth diminishes, flat earnings for the next two years would still require Apple to trade at less than 7x trailing EPS ex-cash. Add on the fact that Apple's cash balance would, based on FY12 performance and accounting for dividends and buybacks, grow by an additional $50 billion (roughly $40 billion counting foreign taxes), and two years of flat earnings would require Apple, in 2014, to trade at less than 6 times trailing earnings ex-cash.
It's worth pointing out that such a scenario is not out of the realm of possibility; indeed, the most bearish analyst surveyed by Reuters projects 2013 EPS of $42 per share and 2014 EPS of $40 per share, both representing modest year-over-year declines. While that analyst is clearly in the minority, we are attempting to model a worst-case scenario. Even under those circumstances, at its current multiple Apple would trade for $436 per share, a 16 percent decline from its current price.
In short, I do understand the bear case for Apple, and I think the risk of it becoming just another tech company -- if not a fallen star like RIM, Hewlett-Packard, or Nokia -- is material to the stock. But so much of it is priced in at current levels, giving the stock a substantial downside cushion.
Even if Apple does stumble -- or its competitors catch up -- there is diversity in its product lines. The iPhone did account for a bit over 50% of revenue in FY12, but the iPad line contributed over 20% and Mac sales 15 percent. Even if the demand trajectory currently seen slows down, there is still tremendous value in those products; Apple's revenues are highly unlikely to see a sharp drop. Simply look at the performance of the iPod, a product who was seemingly obsolete years ago: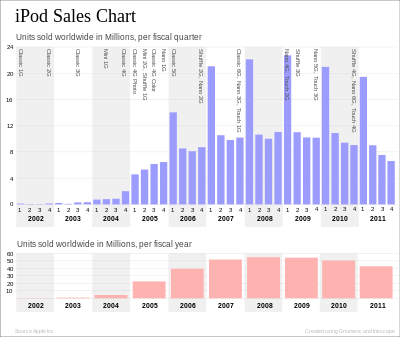 Sales did finally start to crater in 2012 (falling 25 percent); but does anyone doubt that older iPhones or first-generation iPads will see similar strength in their waning years?
Meanwhile, the variable-cost model the company has adopted gives it some flexibility to adapt. All told, the risk of a fall at Apple like those of RIMM (140 to 10), HPQ (65 to 16), or NOK (40 to 4) seems sharply remote. Even a drop to 400 from 520 seems to require outright struggles that Apple has managed to avoid for most of the past decade.
With an apparent downside cushion, investors can then focus on the upside, which remains vast. What is particularly impressive about Apple's performance over the last few years is not just its unprecedented top-line growth, but the fact that margins at every level have grown along with its explosive sales. (Gross margin rose from 39.4% in 2010 to 43.9% in 2012.) As marketing chief Phil Schiller told a Chinese newspaper this week, the company does not "blindly pursue market share." The potential rewards at Apple are vast. The risks appear to be acceptable, as a drop to $400 would require a confluence of unlikely events.
It's worth pointing out that investors can use options to guarantee a $400 entry point; the January 2014 435 put is currently bid at $34.75, offering an 8.7% return, while the January 2015 490 put is bid at $90.25, offering a 22.5% return (10.7% annualized). But those strategies would miss out on any upside moves from current levels. Investors would be better off taking the risk, because right now it is clearly outweighed by the rewards.
Disclosure: I have no positions in any stocks mentioned, and no plans to initiate any positions within the next 72 hours. I wrote this article myself, and it expresses my own opinions. I am not receiving compensation for it (other than from Seeking Alpha). I have no business relationship with any company whose stock is mentioned in this article.