The leading U.S. oil company by market cap Exxon Mobil Corp (XOM), along with its partners, has decided to develop the Hebron oil field, which contains 707 million barrels of oil, located in offshore Canada near the province of Newfoundland and Labrador. The project will come with a price tag of $14 billion, which is about 2.9 times more than the 2008 estimate of $4.85 billion, and will be able to pump 150,000 barrels of oil daily by the end of 2017. Exxon Mobil holds the biggest equity in the project with 36% stake followed by Chevron (NYSE:CVX) - 26.7%, Suncor Energy (NYSE:SU) - 22.7%, Statoil (NYSE:STO) - 9.7%, and Nalcor Energy - 4.9%.
The construction work at Hebron will be a challenge unlike in the Gulf of Mexico, the oil rigs in this area have to withstand sea ice and icebergs. Naturally, the structure needs to be much stronger and therefore Exxon is constructing a stand-alone gravity-based facility with reinforced concrete that can store up to 1.2 million barrels of crude oil. The company already has a similar gravity-based structure operating at Hibernia oil field which is just 18 miles northwest of Hebron.
The reserves at Hebron were discovered nearly 30 years ago. The companies got the regulatory approval from Canadian authorities in May 2012. Why did it take Exxon more than three decades to start development at Hebron? Firstly, Chevron, not Exxon, had the controlling stake in the venture for the better part of the 30 years. Secondly, when Exxon bought the controlling stake, it failed to negotiate royalty terms with Canadian authorities in 2006 and the project was put on hold. Then, 18 months later, the global financial crisis happened. This was followed by another round of negotiations with the provincial government which led to Nalcor Energy's 4.9% stake in the venture. Nalcor is the provincial energy corporation of Newfoundland and Labrador. Finally, just weeks before the announcement of its quarterly results, Exxon decided to tell the world about its Hebron decision.
The Hebron project is not highly lucrative because its crude is heavier as compared to Brent (NYSEARCA:BNO) or WTI Crude (NYSEARCA:USO). Furthermore, as mentioned earlier, the project's cost has ballooned by billions. But Exxon's output has now fallen in five consecutive quarters. While it has made significant developments in unconventional fuel and is now looking to tap into the British shale gas sector, conventional crude has been sitting in the backseat. The management has little choice but to work with what is available.
In its last quarterly results, Exxon's oil and gas output fell by 7.5% to 3.6 million barrels of oil equivalents per day while its earnings dropped by 7.4% to $9.57 billion. While profit from exploration and production dropped by 29% to $5.97 billion, the income from its refining operations more than doubled to $3.2 billion which helped the company beat analysts' estimates.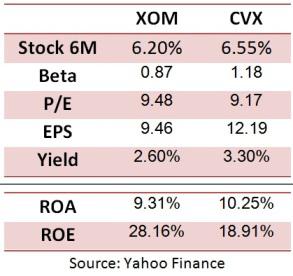 Both Chevron and Exxon will release their next quarterly results on 1st February. Exxon is expecting annual production to touch 4.37 million barrels per day which would show a 3% decline from last year, but the firm could do a downward revision as the consistent fall in output has been more than it would have liked. Furthermore, a 4% fall in average oil prices in the fourth quarter is also going to have a negative impact on revenues. The earnings per share for the current year are expected to be around $7.80 which will be about 62 cents lower than last year's EPS.
Traditionally, Exxon has been a conservatively managed company with strong fundamentals that is considered a relatively safer investment. The company puts better performance than its peers in a period of falling oil prices. Its stock has a lower historic beta as compared to Chevron and offers a higher return on equity.
Exxon's shares are currently trading at around $89.60. Barclays Capital has recently given a price target of $93. Dahlman Rose has a $100 price target while Goldman Sachs has reduced its target by $3 to $97. The company has a consensus overweight rating with most of the analysts advising either a 'buy' or a 'hold' for the stock. But given the decline in revenues and output, a hold rating is more appropriate at the moment.
Disclosure: I have no positions in any stocks mentioned, and no plans to initiate any positions within the next 72 hours. I wrote this article myself, and it expresses my own opinions. I am not receiving compensation for it (other than from Seeking Alpha). I have no business relationship with any company whose stock is mentioned in this article.