Supporters of green and clean technology, take heart. The news coming out of Europe in the past few days shows unilateral support for a groundbreaking climate package that is set to have far reaching effects for nations moving toward carbon reductions, increased efficiency, and the pursuit of energy independence.
Under the guidance of Summit Chairman and French President, Nicolas Sarkosy, the 20/20/20 plan is an accord by all 27 member states of the European Union to increase energy efficiency, cut carbon emissions and increase renewable sources of energy, each by 20% and all by 2020. Purists and activists are already claiming deficiencies in the agreement, largely in how some Central and Eastern European nations such as Poland are supported by certain subsidies and credits in helping them reach such targets. Poland is 95% dependent on coal power for its electricity needs and has been allowed some concessions to enable the pact to be pushed through.
Even with some softening, however, reaching a resolution during a global financial crisis is soundly impressive, many countries accepting the strain of meeting energy and industry standards while working to rejuvenate their own economies. Moreover, standards may even be raised to 30% beyond 2012 for CO2 reductions if a global deal can be reached with other countries backing a similar plan.

Criticism about the credibility of such a plan has been voiced in recent weeks, partly due to the delayed passage of the Lisbon Treaty. This week, fear has been reduced with the Lisbon treaty a step closer to becoming ratified, Ireland holding a second referendum in November of 2009. In June, Irish voters rejected the treaty, which attempts to streamline a number of EU procedures to enable the EU to act more quickly and collaboratively when faced with issues such as the current global financial crisis, recession and climate change. Having the Lisbon Treaty in place will add additional weight to the climate deal and project Europe as a more powerful presence on the global stage.

What makes this such a well rounded plan is that while many countries will likely fall short in one or more areas pursuing the 20/20/20 standard, implementing a broad range of goals can also provide multi-level successes. Countries struggling with overhauling their energy infrastructure may be able to make greater contributions in areas of energy efficiency and carbon reduction.
One encouraging example is Denmark, which suffered greatly in the oil embargo of 1973-74, then 99% dependent on foreign oil. In response, over the past 30 years Denmark has transformed itself into an alternative energy and efficiency leader. Now able to sell surplus energy to neighboring nations, Denmark has a staggering goal of reaching 75% of its energy production from wind power by 2025.

Rather than explore multiple ETFs (see future post), I have selected to highlight the differences between the only two wind ETFs available in the US today. First Trust's (NYSEARCA:FAN) offering is based on the ISE Global Wind Energy Index Fund. Powershares' (NASDAQ:PWND) fund tracks the NASDAQ OMX Clean Edge Wind Energy Index. Both hold favorable appeal from a European perspective; while launched and managed in the US, each has a heavy weighting to exposure on the European continent.

Below is a breakdown per country for the top 10 allocations: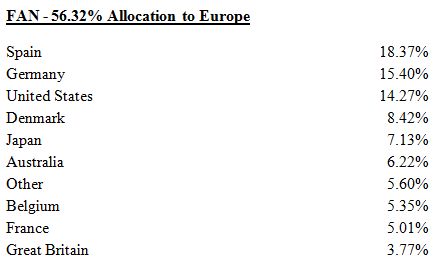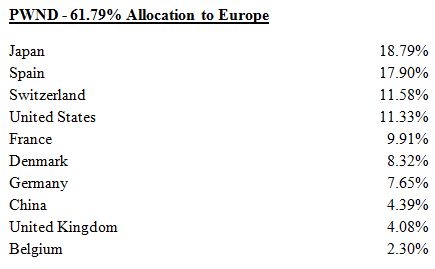 Currently, both ETFs correlate closely with each other. On face value, this suggests investing in either would yield similar performance returns. It should be borne in mind, however, that this apparent correlation is heavily influenced by their recent inception to the market place and our current economic environment. I would expect to see greater separation as changes in international business cycles come into play, particularly as we move out of global recessionary conditions.

Dual investments will certainly reduce risk from a diversification standpoint, PWND being more concentrated with 34 holdings, in contrast to FAN's 68, and with only 3 stocks in the top 10 holdings overlapping. PWND is considered more of a 'pure play', 90% of its holdings being in pure play assets versus 65% for FAN. This distinction differentiates the amount of exposure a company has that is directly related to its investment in wind technology. Larger companies investing in wind power that do not have significant business risk or profit centers are considered non-pure plays. Other non-pure examples include firms producing less than a 1,000 Mega Watts of energy, or generating less than $1 billion a year from wind-related power.

As technologies continue to mature and investment in the wind power sector is maintained, pure play opportunities have the potential to become more attractive for those wishing to see returns that reflect a concentration in the wind power sector. The larger allocation PWND has to Europe also provides an edge for those looking for growth from the recent climate accord. PWND contains investment in six of the top ten most efficient nations world-wide, whereas FAN holds four. However, while PWND has the greater European concentration, it also includes Japan as its largest holding; while the country holds the number one spot for world-wide energy efficiency, it has seen its wind power industry become stagnant in recent years, slipping to 14th on the global wind capacity growth list.

Other notable issues include a slightly higher expense ratio for PWND (0.75% vs. 0.60% for FAN) and daily trading volume (PWND is less than half that of FAN). While not of enormous significance unless personal trading is extremely high, the size of the fund may be of some concern. PWND assets are currently at $5.5 million versus FAN at $49.6 million. With a number of specialty ETFs dissolving over the past year due to vastly reduced asset sizes, this is something to carefully watch.

As we move into 2009, we can expect to see further commitments in the cleantech and green investment arena from President Elect Obama's campaign commitments. In fact, Mr. Barroso, the current European Commission President, has indicated that, in a personal conversation, the President-elect has shared his "first priority in working with the Commission will be climate change and energy security". For now, we wait to see if US action will follow the European lead. Meanwhile, these two ETFs, in spite of significant individual differences, provide a solid early opportunity in wind power for investors to benefit from a climate pact already in place.

Disclosure: Author holds positions in FAN and PWND